OPC (Object Linking and Embedding for process control) was released in 1996 by the OPC Foundation and was soon adopted for the interoperability of industrial systems.
The name was later changed to Open Platform Communications in 2011 to broadening variations beyond Microsoft's pioneer OPC. As a mechanism for interoperability, it is used by OPC Servers to provide data to PLC applications like HMI and Historian via OPC Clients.
OPC in PLC Systems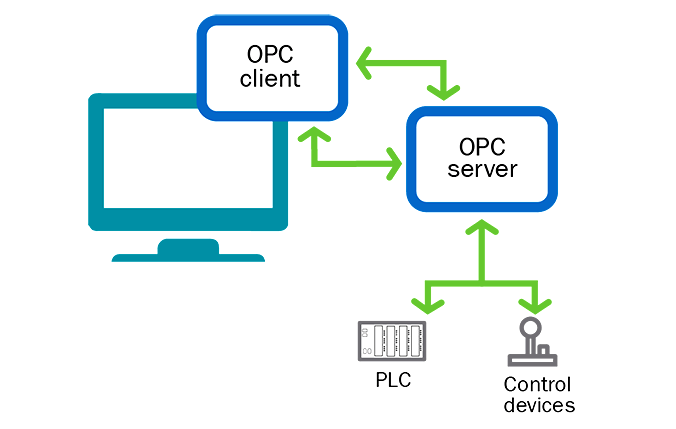 OPC Basics (Source: Novotek)
Which OPC is Commonly Used in Old PLC Systems?
Among the first OPC, versions to be introduced include OPC Data Access (OPC DA) in 1996, OPC Alarms & Events (OPC AE) in 1999, and OPC Historical Data Access (OPC HDA) in 2001. These three were designated as classic OPC after the introduction of OPC UA.
While all three are highly compatible and preferred for old PLC systems, OPC DA stands out as the most commonly used. Classic OPC Clients and Servers send commands, requests, and data using Microsoft's COM (Component Object Model) and DCOM (Distributed COM) technologies.
OPC Server and Client implemented in old PLC systems interact using COM when the programs reside in the same computer, and DCOM is used when the data being exchanged is located on a network.
How does Classic OPC Work in PLC Systems?
An OPC Client sends a request and goes into receive mode waiting for the OPC Server to transmit the data. With this classic architecture, OPC Server can support hundreds of OPC Clients without configuration or other details about the PLC.
On the other end, OPC Server exploits its knowledge of the protocol/API spoken by the PLC to retrieve the data requested by the Client from the PLC. Subsequently, the Server converts the data to OPC using embedded protocols like Modbus before sending it to the Client.
The design and specifications of classic OPC enable real-time interaction between hardware like devices on the factory floor and Human-Machine Interface (HMI) on Client-side like a jolly stick used by the operator via OPC Server.
OPC Servers are not designed as one-fits-all. For you to access data from a specific PLC, you need an OPC Server that knows how to talk to the PLC you're interested in. Some manufacturers design unique OPC Servers for their PLCs while others rely on third-party providers.
For example, setting up an OPC Server/Client for Allen Bradley's Controllogix and CompactLogix PLCs requires an RS-Linx Gateway license. Additionally, you will have to program an OPC Server for you to obtain the data you need. Apart from programming and suitability of OPC Server, data retrieval is also influenced by the robustness of the OPC Server software.
This is why it is important to seek the services of professionals and experts in classic OPC, OPC Server/Client, and all matters related to PLC systems. Through SupportPoint, you can access the expertise you need very quickly.
Why is Classic OPC Suitable for Old PLC Systems?
Classic OPCs are designed to offer a common bridge for process control hardware and software applications to interface SCADA and other HMIs. This protocol design allows access to field data from plant floor devices consistently regardless of data type and source.
In old PLC systems using the traditional I/O, OPC Server communicates securely over Ethernet, serial, and so on. For instance, the OPC Server used by Allen Bradley PLCs communicates over DH+, DF1, DH485, and Ethernet/IP.
One of the reasons why classic OPC is preferred for old PLC systems can be explained using Allen Bradley's DH+ electrical interface, which uses differential signaling. The electrical interface consists of two transmission channels that do not have the same ground potential, which carries data represented as the difference in voltage.
Any common interference as noise is ignored since the data exchanged is encoded differentially, and all non-transmitting nodes go into receive mode when one node transmits. This process protocol is compatible with Server-Client interaction under classic OPC specification, where the Server only serves up data requested by the Client.  OPC Server waits for a request, and OPC Client waits for data after sending the request.
Advantages of OPC in older PLC Systems
An OPC system can extend the usability and the economic lifetime of your older or obsolete PLC system. Older proper working PLC systems do not have to be replaced if the operating and process still meet the requirements. Just extend the useful lifetime by adding solutions like OPC.
If you do not have the knowledge for an update like this or run into problems: new possibilities are available! Online expert support for PLC challenges like this.
Visit www.supportpoints.com for more information or drop us a message via marketing@supportpoints.com and we're happy to help!
If you liked this article, then please subscribe to our YouTube Channel for PLC and SCADA video tutorials.
You can also follow us on Facebook and Twitter to receive daily updates.