Industrial Control Systems
Different Types of Industrial Control Systems are Distributed Control System (DCS), Remote terminal unit (RTU) and Programmable logic controller (PLC).
Distributed Control System (DCS)
Plant distributed control system (DCS) – While the term DCS applies in general to any system in which controllers are distributed rather than centralized, in the power generation and petrochemical process industries it has come to refer to a specific type of control system able to execute complex analog process control algorithms at high speed, as well as provide routine monitoring, reporting and data logging functions.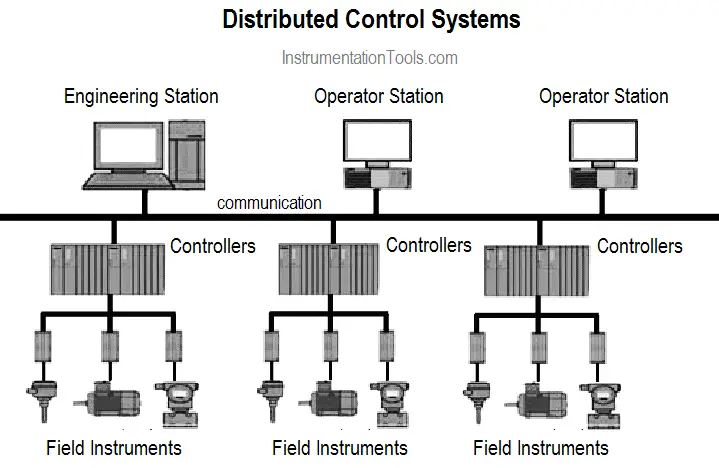 Figure : Simple example of distributed control systems
In most applications, the input and output modules of the system are distributed throughout the facility, but the control processors themselves are centrally located in proximity to the control room.
These systems typically use proprietary hardware, software and communication protocols, requiring that both replacement parts and technical support be obtained from the original vendor.
Direct digital control (DDC)
The DDC directly interfaces to the process for data acquisition and control purpose.
That is, it has necessary hardware for directly interfacing (optoisolator, signal conditioner, ADC, etc.) and reading data from process.
It should also have memory and arithmetic capability to execute required P, P+I, P+I+D control strategy.
At the same time, the interface to control vale should also be part of DDC.
The below Figure shows the various functional blocks of a DDC system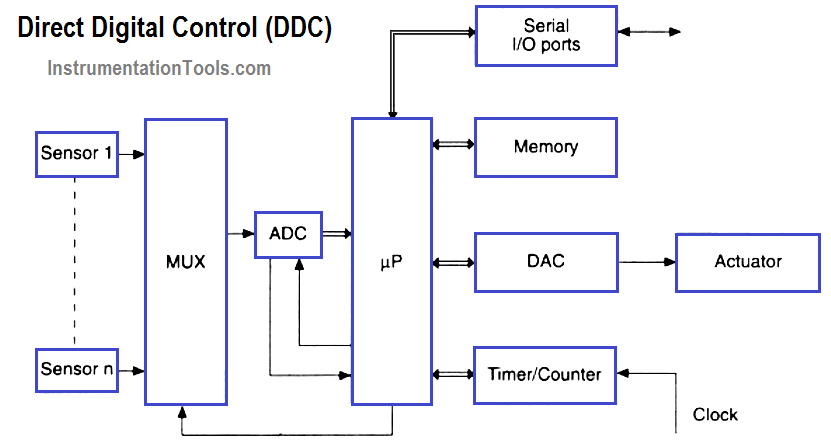 The microprocessor performs the following tasks.
It reads the various process variables from different transmitters through multiplexer and ADC.
It determines the error for each control loop and executes control strategy for each loop.
It outputs the correction value to control vale through DAC.
Direct digital control (DDC) systems are used in the commercial building heating, ventilation and air conditioning (HVAC) industry to monitor and maintain environmental conditions.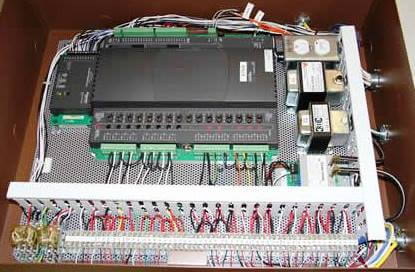 They consist of local controllers connected to a network with a personal computer (PC) based central station which provides monitoring, reporting, data storage and programming capabilities.
The controllers are optimized for economical HVAC system control, which generally does not require fast execution speeds. Their hardware and control software are proprietary, with either proprietary or open protocols used for network communication.
Remote terminal unit (RTU)
Remote terminal unit (RTU) based SCADA : RTU-based systems are common in the electric, gas and water distribution industries where monitoring and control must take place across large geographical distances.
The RTUs were developed primarily to provide monitoring and control capability at unattended sites such as substations, metering stations, pump stations, and water towers. They communicate with a central station over telephone lines, fiber-optics, radio or microwave transmission.
Monitored sites tend to be relatively small, with the RTU typically used mainly for monitoring and only limited control. Hardware and software are proprietary, with either proprietary or open protocols used for data transmission to the central station.
Programmable logic controller (PLC)
Programmable logic controller (PLC) based systems: PLCs, which are described in greater detail in the next section, can be networked together to share data as well as provide centralized monitoring and control capability.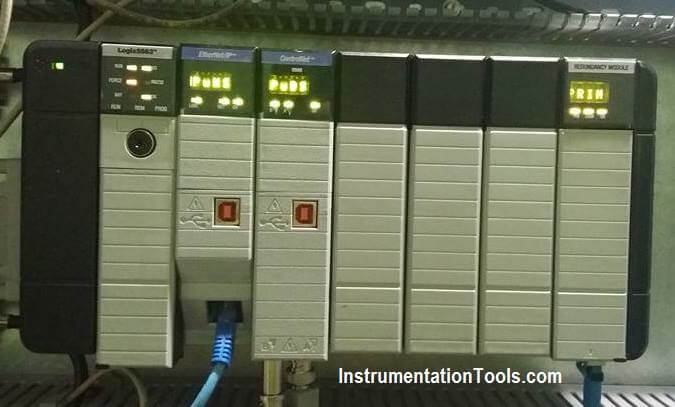 Control systems consisting of networked PLCs are supplanting both the plant DCS and the RTU-based systems in many industries. They were developed for factory automation and have traditionally excelled at high speed discrete control, but have now been provided with analog control capability as well.
Hardware for these systems is proprietary, but both control software and network communication protocols are open, allowing system configuration, programming and technical support for a particular manufacturer's equipment to be obtained from many sources.
Reference : This material adapted from the "Department of the Army, TM 5-601, Supervisory Control and Data Acquisition (SCADA) Systems for Command, Control, Communications, Computer, Intelligence, Surveillance, and Reconnaissance (C4ISR) Facilities, 21 January 2006."
If you liked this article, then please subscribe to our YouTube Channel for PLC and SCADA video tutorials.
You can also follow us on Facebook and Twitter to receive daily updates.
Read Next:
PID Controllers with Selection Logic