What is Namur digital input card? And what it is used for? 
If you open the hardware configuration in the SIMATIC manager platform for Siemens PLC programming software and want to add a digital input card to your project you will notice some digital input modules with suffix NAMUR.
Namur Digital Input
NAMUR DI modules have the ability to receive NAMUR sensors signals and can detect if the sensor status is on, off, wire broken, or sensor short-circuited. But how the PLC can detect that?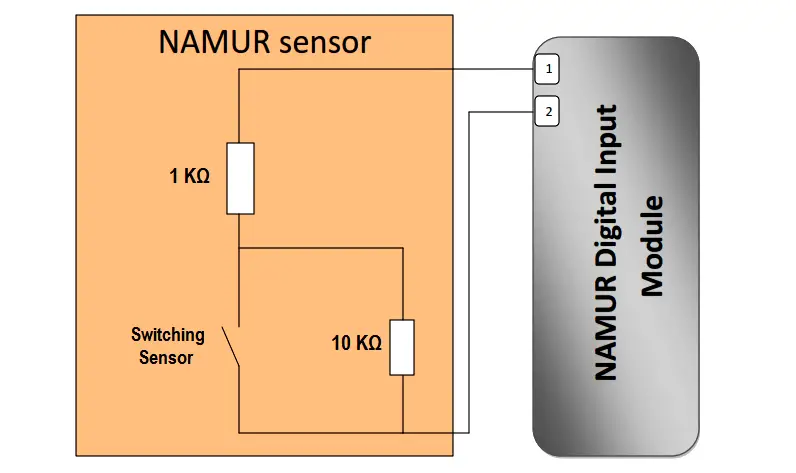 From the above figure the NAMUR sensor circuit composed of sensing switch and resistances, the NAMUR DI module can detect the sensor resistance in the following cases.
In case of the sensor is off
The sensor's total resistance = 10 KΩ+ 1 KΩ= 11KΩ
In case of the sensor is on
The sensor's total resistance = 1 KΩ
Because in that case the 1 KΩ resistor is neglected by the ohms law
In case of wire broken
The sensor's total resistance = ∞
In case of sensor short circuit
The sensor's total resistance = 0
So the NAMUR sensor is a special digital sensor with a special modules to be connected to. But why we need all of this?
In some plants, there are sensors in critical positions where it's important to know if the sensor is broken before it's too late. Or in other plants, it's used for personal safety protection and in minor cases to prevent electricians from bypassing the terminals of the sensor in order to simulate sensor on status.
Author: Karim Ali Anwar
If you liked this article, then please subscribe to our YouTube Channel for PLC and SCADA video tutorials.
You can also follow us on Facebook and Twitter to receive daily updates.
Read Next: