In this article, we will learn the basic concept of DCS (Distributed Control System) in industrial automation.
PLC is a logic controller used in industrial automation which processes the program written in it and controls the hardware outputs and inputs connected to it accordingly. It is used for automating a particular operation of a plant or system.
While a PLC is great in controlling a single operating system, it becomes tedious to use multiple PLCs for controlling multiple operations of a plant and synchronizing them with each other. Like, consider a milk manufacturing plant.
Concept of DCS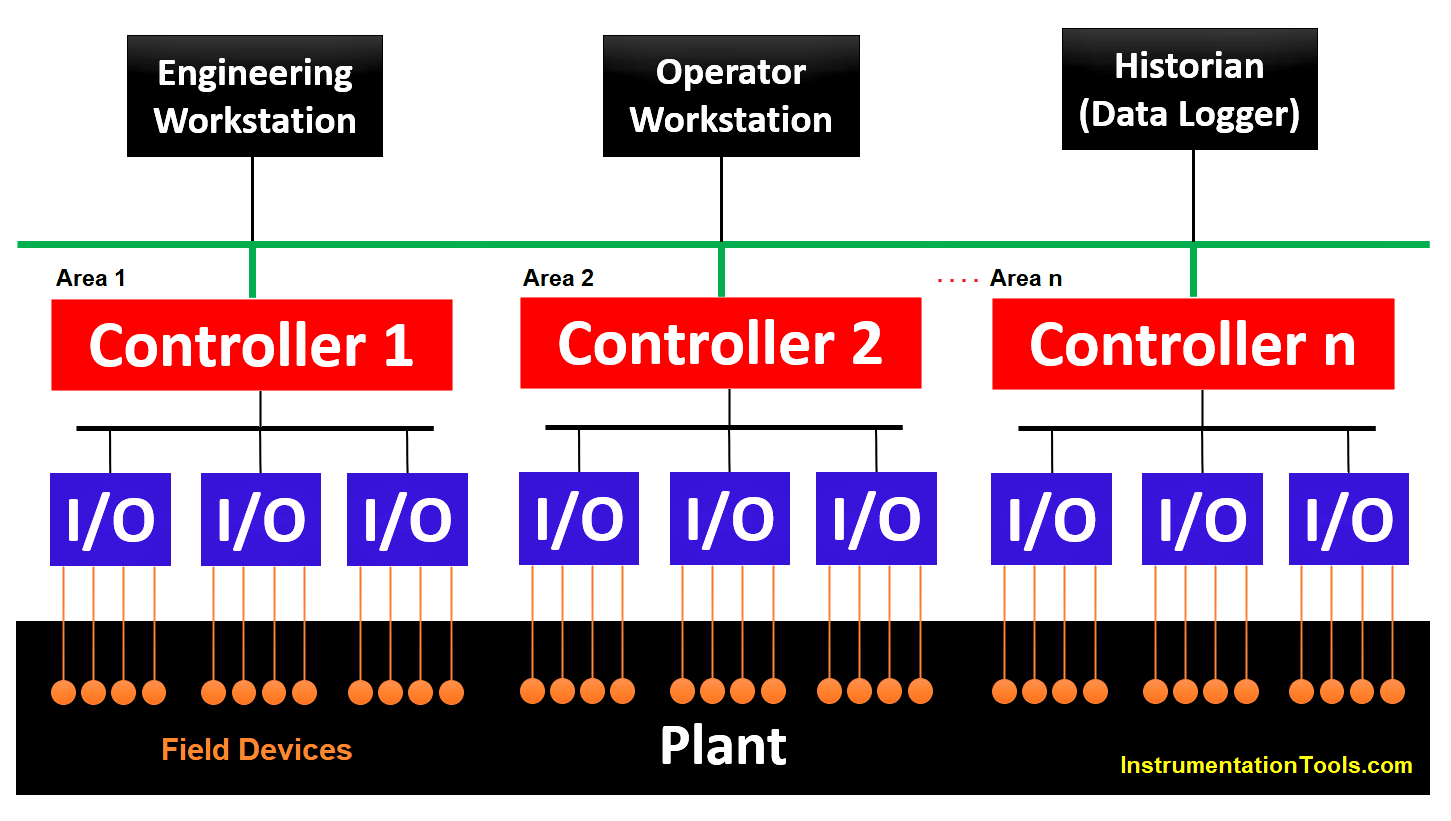 Suppose we take four operations in it – raw milk processing, pure milk generation, cooling, and packaging. Each of these operations will be controlled by respective PLCs.
But, these PLCs can be of different makes too and all of them will be required to communicate with each other for proper processing of the plant.
As each of the operations are dependent on each other, proper communication is a must factor between all these PLCs and transfer of their data with SCADA or other engineering station.
Distributed Control Systems
To overcome this, Distributed Control System was invented. DCS is nothing but a group of similar PLCs or controllers and distributes them for the complete industrial plant.
Each PLC is defined by a node address. In simpler terms, you can just say that suppose you have a certain PLC; to make a DCS system, you will have to use only that PLC (same model number).
So, DCS comes as a set of controllers to control the whole plant operation by splitting the individual operations between themselves.
Refer to the below image for understanding the concept.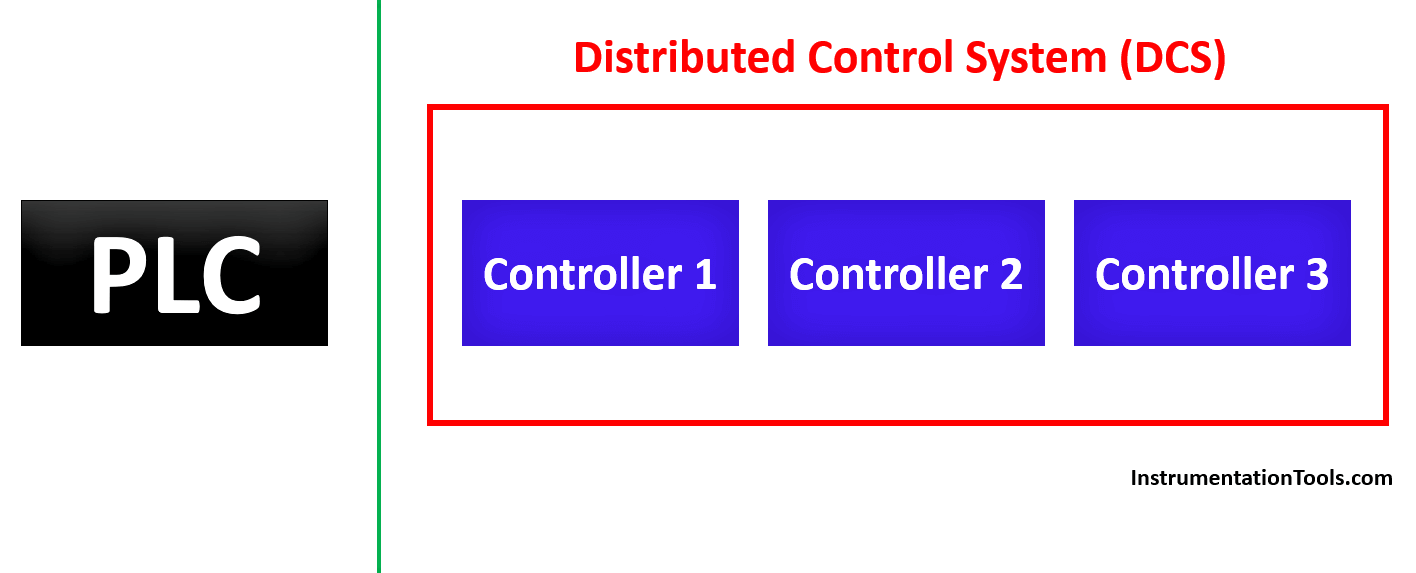 Also Read:
DCS is used in big and complex plants where multiple processes are controlled and always work in tandem with each other.
DCS will be the core system there and monitor and control the whole plant operation. It has a number of predefined functions that can be customized according to requirements and used for applications.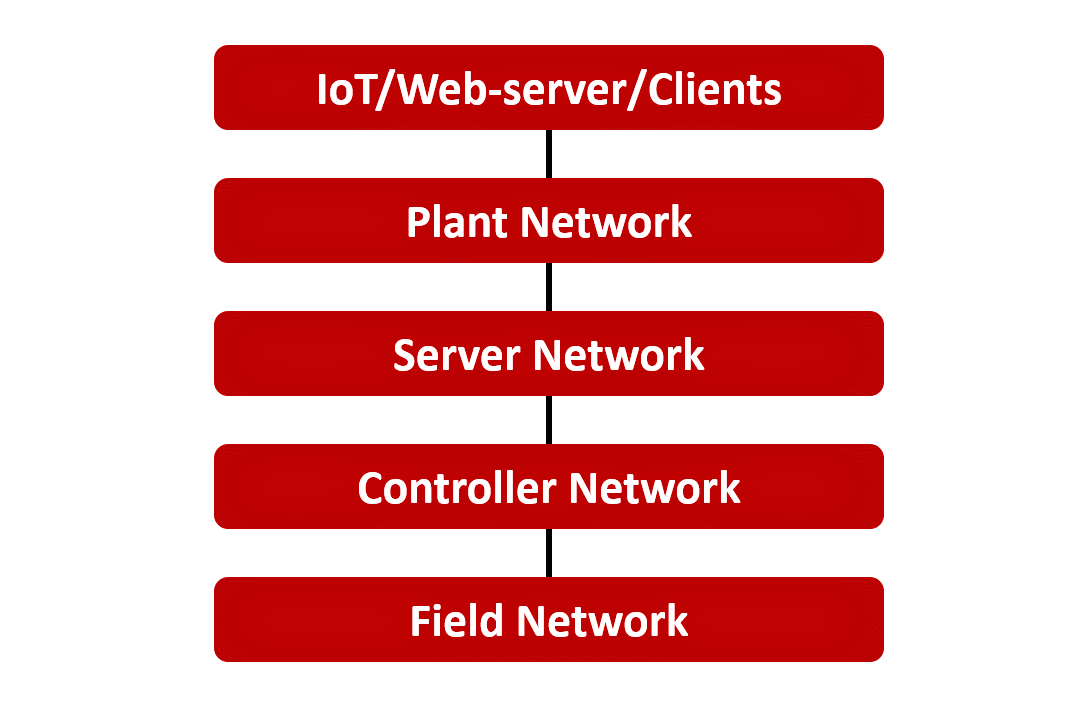 Refer to the above image showing a basic DCS layer plant operation. The network starts with field equipment and local communication devices (field network). They communicate raw and actual field data to the DCS controller network.
The controller then communicates the data through plant servers (server network) to the operator and engineering station networks.
They are basically SCADA or other types of systems. The output from these stations is communicated to the highest level of plant integration which can be MES, ERP, thin clients, web server, IoT, etc.
Well, if you compare DCS with PLC, you will find that it performs the same task as a PLC. So, you can use multiple PLCs as discussed earlier. But both have their pros and cons.
If you see a PLC, as it performs local tasks, the processing speed is much higher than DCS controllers.
But, DCS can make complex plant operations easier by synchronizing the tasks properly between them than multiple PLCs. This makes it reliable for such types of complex operations in a plant.
A PLC can handle only a certain number of IO's as compared to a DCS which can handle a large number of IO's, process enhancements, and data integration.
So, DCS networks are best suitable for big and complex plant operations like oil and gas, chemicals, refineries, water treatment, etc.
If you liked this article, then please subscribe to our YouTube Channel for Instrumentation, Electrical, PLC, and SCADA video tutorials.
You can also follow us on Facebook and Twitter to receive daily updates.
Read Next: