Most globe valves use one of three basic disk designs: the ball disk, the composition disk, and the plug disk.
Ball Disk
The ball disk fits on a tapered, flat-surfaced seat. The ball disk design is used primarily in relatively low pressure and low temperature systems. It is capable of throttling flow, but is primarily used to stop and start flow.
Composition Disk
The composition disk design uses a hard, nonmetallic insert ring on the disk. The insert ring creates a tighter closure. Composition disks are primarily used in steam and hot water applications.
They resist erosion and are sufficiently resilient to close on solid particles without damaging the valve. Composition disks are replaceable.
Plug Disk
Because of its configuration, the plug disk provides better throttling than ball or composition designs. Plug disks are available in a variety of specific configurations. In general, they are all long and tapered.
Globe Valve Disk and Stem Connections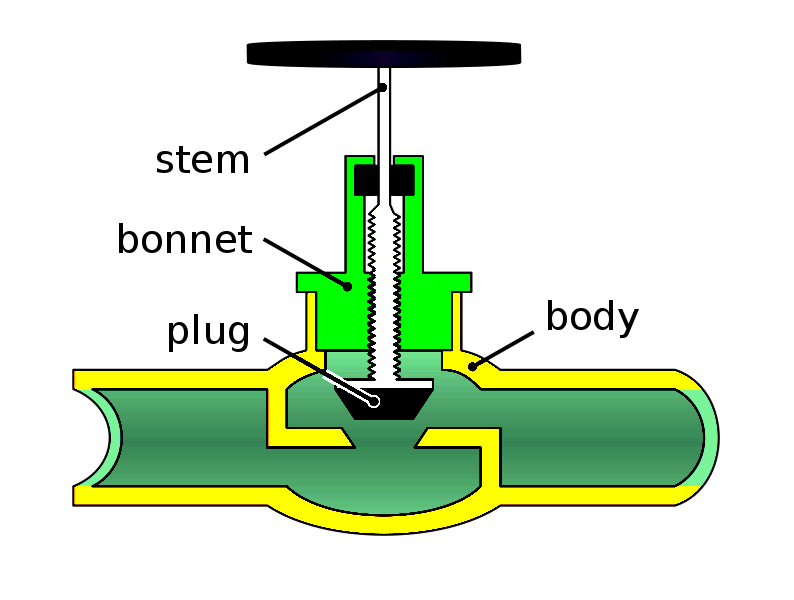 Globe valves employ two methods for connecting disk and stem: T-slot construction and disk nut construction.
In the T-slot design, the disk slips over the stem. In the disk nut design, the disk is screwed into the stem.
Globe Valve Seats
Globe valve seats are either integral with or screwed into the valve body. Many globe valves have backseats.
A backseat is a seating arrangement that provides a seal between the stem and bonnet. When the valve is fully open, the disk seats against the backseat.
The backseat design prevents system pressure from building against the valve packing.
Globe Valve Direction of Flow
For low temperature applications, globe and angle valves are ordinarily installed so that pressure is under the disk.
This promotes easy operation, helps protect the packing, and eliminates a certain amount of erosive action to the seat and disk faces.
For high temperature steam service, globe valves are installed so that pressure is above the disk. Otherwise, the stem will contract upon cooling and tend to lift the disk off the seat.
Articles You May Like :