Here we shall see detailed specifications of Transmitters used for Level, Pressure, Flow, DP applications.
Transmitter Specifications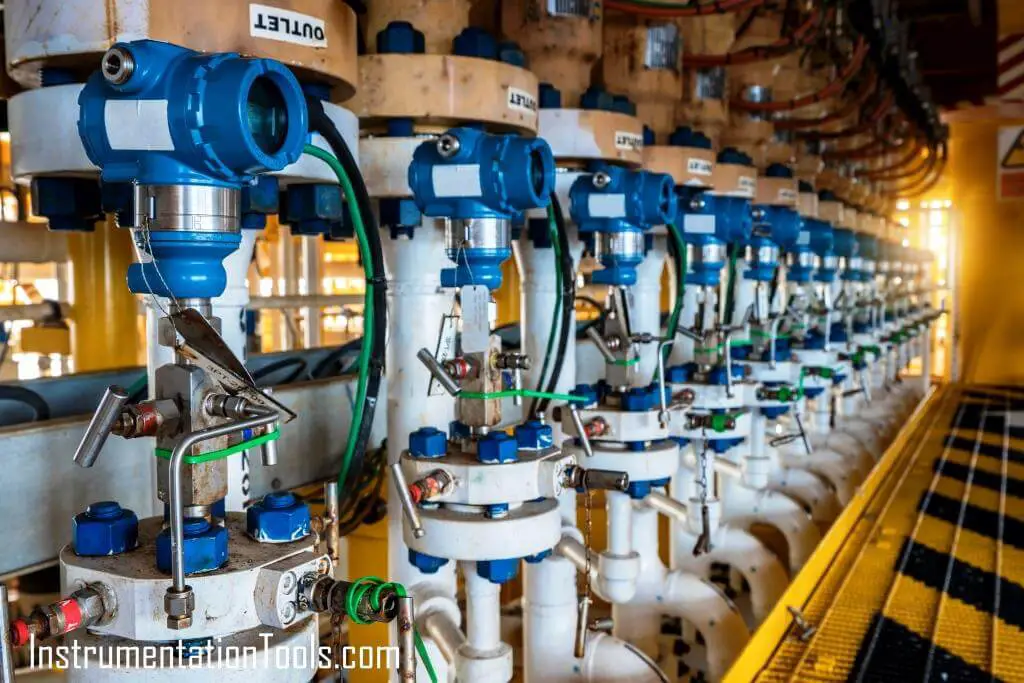 Transmitter used for flow, pressure, level, and DP applications are generally 2 wire 4-20 mA type depending on application and existing plan control system compatibility.
Sometimes foundation Fieldbus and Profibus protocols are also used for various applications.
Generally, transmitters should have the following features.
Transmitters should be SMART type
2 wire 4-20 milliampere signal to be used
Should support HART protocol
Generally, transmitters shall be
Certified Ex-proof and for intrinsic safe applications Ex ia/ib rated
Die-cast Aluminium housing
Compatible with Direct mount or remote mounting accessories
Wetted part material normally is SS 316, as a minimum depending on process suitability. 125-150% of over-range protection is generally required.
Both coplanar and in-line transmitters are to be used for different applications.
External zero adjustment and internal vent/drain provision required.
Transmitter capable of measuring gauge / absolute pressure
The transmitter should be field configurable and should support multiple units of measurement.
Microprocessor-based control chip inside transmitter required with non-volatile memory to store configuration.
Signal conversion should be carried out in the transmitter itself and the design of the electronics should comply with Electromagnetic Compatibility requirements as per IEC 60801.
It should be capable of self-diagnosis and in event of failure, it should retain the fail safe value of output.
Built-in temperature sensors shall be provided for temperature compensation wherever required.
Instrument connection on Transmitter should generally be ½" NPT.
Various types of certifications should be available to choose from depending on the region it is to be used for example the USA or Europe.
Transmitter accuracy should be +/- 0.1% minimum but it is not possible for every case for example orifice meters do not provide that much accuracy because of the complexity of the measurement mechanism but the transmitter selected should have min +/- 0.1% accuracy.
Normally transmitter is calibrated in a way that it should read process LRV at about 25% of its measurement span and it should read URV at about 80%.
The transmitter should have internal transient protection inbuilt.
The transmitter shall support the latest version of the HART protocol. It shall also support multiple alarm level signal transmission. Typically these signals are superimposed over a 4-20 mA signal.
Transmitters for anti-surge control loops are non-smart type and flameproof unless specified otherwise.
A special smooth surface finish is required for sanitary services.
Generally, process connection for pressure and differential pressure transmitter shall be ½" NPTF and flanged for diaphragm seal type. Diaphragm seal element is used for corrosive and highly viscous services at high operating temperatures.
Capillary material SS 316 as a minimum, shall have SS 304 armoring with PVC cover, and for minimum measurement lag, proper ID should be selected.
Transmitter shall be installed with 2/3/5 valve manifold wherever it needs frequent removing of the transmitter for maintenance purposes.
Here a snapshot from the brochure of one of the vendors of Transmitters is given for reference.
Example Specifications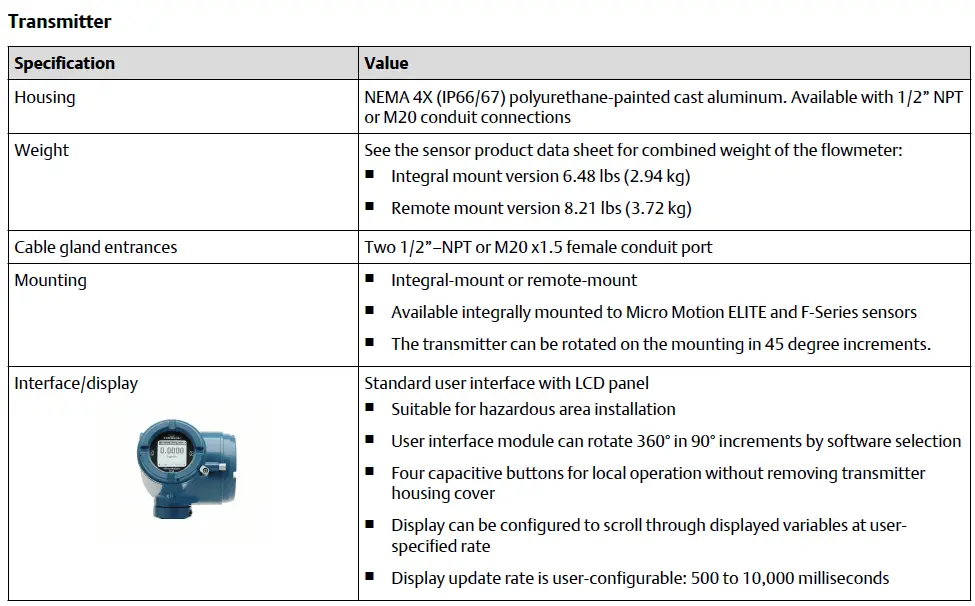 Interest to add any further points? Share with us through below comments section.
Author: Kalpit Patel
Read Next: