Cable tray systems are alternatives to wire ways and electrical conduit, which completely enclose cables.
Cable trays are capable of supporting all types of wiring: such as
High Voltage Power Lines.
Power Distribution Cables
Control cables
Telecommunication cables
Fiber Optical Cables
Purpose:
Cable trays are components of support systems for power and communications cables and wires.
A cable tray system supports and protects both power and signal cables and facilitates upgrading, expanding, reconfiguring, or relocating networks.
Most of the cable tray systems are open, allowing efficient heat dissipation and easy access for replacement and repairs. Although typically suspended from ceilings or affixed to walls, some cable tray systems are suitable for underfloor use.
Types of Cable Trays:
The following are popular cable tray types.
Ladder-type
Perforated type
Solid bottom type
Wire mesh
Channel type
An engineer or designer will usually specify the type of cable tray that has the features to suit the project. It depends on the situation and the environment.
Read: Instrumentation Cables
The selection of cable tray depends upon the number of cables, size, spacing, and weight of cable in the tray.
Ladder Cable Tray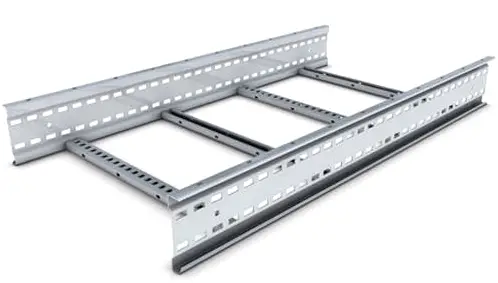 Ladder Cable tray has two side rails connected by rungs. This type of cable tray is effective because the ladder rungs give you easy accessibility to the cables, from the top or bottom.
The rungs of the ladder cable trays provide convenient anchors for tying down the cables in the non-horizontal cable tray runs or where the positions of the cables must be maintained in the horizontal cable tray runs.
Perforated Cable Tray
Perforated cable tray Consists of a ventilated bottom with side rails. It provides more support to cables than the ladder-type,
Solid-bottom Cable Tray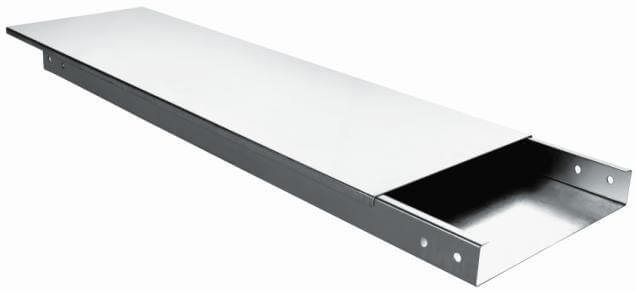 Solid-bottom Cable trays for fiber-optic cable installations where drooping of cables may affect system performance, solid-bottom (non-ventilated) cable trays are preferred.
However, the main reason for selecting solid-bottom trays is a concern for electromagnetic/ radio-frequency interference protection.
Wire Mesh Cable Tray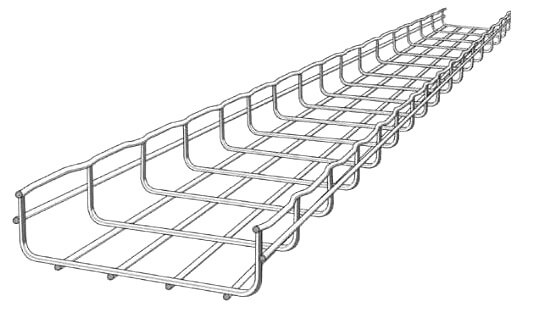 Wire mesh cable tray, also called basket cable tray, is a kind of cable tray made of stainless steel wires by welding wires together, forming a basket-like mesh
Cable Trays are mainly used for low voltage, telecommunication, and fiber optic cables supported on short spans.
Channel Cable Tray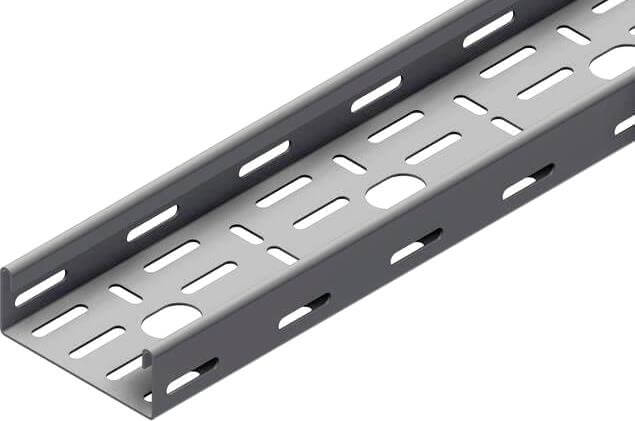 Channel cable tray nothing more than a metal tray that can be used for very small cable installations."
Materials
1. Metallic
Aluminum: Resists corrosion; excellent strength-to-weight ratio. Aluminum is most commonly used because it is lightweight.
Steel: Electric shielding; low thermal expansion
Stainless steel: Superior corrosion resistance; withstands high temperatures.
2.Non-Metallic
Fiberglass: Nonconductive; resists corrosion; lightweight
Precautions:
The most important issue is to ensure that the bend radius for the fiber-optic or coaxial cable is maintained within the standards.
Combustible dust and clutter may accumulate if the trays are not routinely checked and kept clean.
Advantages:
Less expensive: One of the big advantages that using a cable tray has that it costs a lot less than other methods of protecting wiring on the production floor.
Maintenance: Cable are instantly visible for maintenance checks, changing of cables is easy because cables can enter or exit the tray at any point of the system.
Safety: Regular housekeeping is important for safety, as cable trays are often installed in hard to reach places.
Disadvantages:
The solid bottom cable tray system has a disadvantage. In that moisture can build up in the cable trays.
Read Next: