Tilt Switches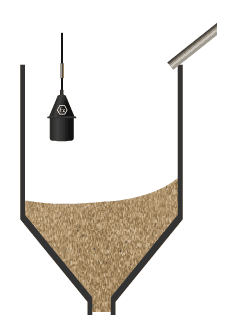 Monitor's line of tilt bin level switches are economical, trouble-free point level controls available for detection of dry bulk materials. The units can be used as high level indicators to eliminate bin overflow or to control levels in open piles. In addition, the tilt switches are useful in determining over or under-load on conveyor belts. The simple yet efficient internal construction (one moving part) provides indication when unit is tilted at a 17° angle throughout the complete 360° of axial arc. Each tilt switch includes a threaded bore for attaching extension actuators which can increase sensing repeatability and protect the tilt switch from direct contact with coarse material. Monitor offers two different models of tilt switches, each suited to satisfy different application requirements.
Summary:
Tilt level switches are used for high level indication as they are installed suspended on a cable or chain above the material being sensed.  As the material height increases and comes in contact with the probe the material pushes the probe to the side and tilts it.  When the probe is tilted at approximately 25 degrees a ball on the inside rolls off the contact and actuates the switch.  When the material level decreases the probe falls back to being vertical and the switch reverts to its normal state.
Principle of Operation
A tilt switch provides level indication by detecting the angular position of the tilt switch enclosure. Typically the unit is suspended above the material to be sensed. Internally, a steel ball centers itself over a switch resulting in switch actuation. As rising material contacts the tilt switch (or the extension actuator) the enclosure begins to tilt. When the enclosure body is tilted at 17° (or any other angle specified by vendor), the steel ball rolls off center, deactivating the switch. As material falls away from the switch enclosure body (or the extension actuator) and the unit becomes upright, the ball returns to its original centered position, once again causing switch actuation. The change in the internal switch status is user accessible for signaling alarms, lights, or interfacing with a PLC.
Advantages: This technology is very advantageous for open storage applications where it would not be possible to mount a fixed sensor.  They are also very good for large particulate materials.
High level detection of grains, granules, pellets, or ingredients in bins, tanks and silos
Mounts on the top of the bin as an alternative to an extended rotary or can be mounted over a conveyor belt
Works in powders and solid materials
Disadvantage: They are mechanical and will wear, will only work for heavy products, and are mounting specific.
Applications:

• High Silo Level
• Crusher Bowl Level
• Empty Conveyor Alarm
• Classifier Screen overload
• Conveyor Belt Overload
• Hopper Railcar Loading Tool 
• Conveyor Belt Misalignment
• Vibratory Feeder Starvation
• Plugged Chute Alarm
• Differential Level Control
Also See: Tilt Switch Working Principle Animation