Solenoid Operated Valves and Latching Valves
Looking For a Way to Reduce Energy Usage in Your Fluid Handling Application?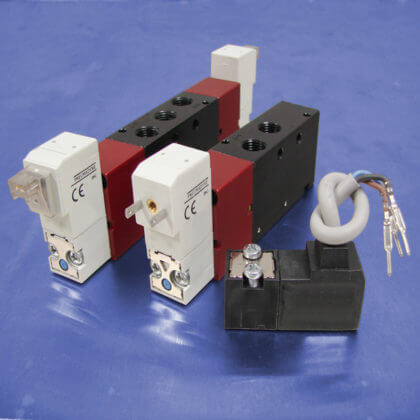 Consider using Latching Solenoid Valves or Solenoid Operated Valves in your application.  While these pneumatic components are very different in function, they both provide an opportunity for energy savings.
Latching Solenoid Valves are the ideal solution for applications in which access to power is limited.  Continuous power is not required to maintain the valve's energized position saving electricity.  A momentary electrical pulse, 10 milliseconds, opens the valve allowing an internal magnet to hold this position (latched) when the power supply is removed.  Applying a second 12 millisecond pulse unlatches and closes the valve permitting system pressure to exhaust.
Solenoid Operated Valves are generally used in control systems to pilot larger directional valves.  Since large size pneumatic valves require more energy to shift an internal spool, larger high wattage coils are needed.  By installing a Solenoid Operated Valve in the system, you can draw on a smaller, energy saving solenoid and utilize the pilot pressure to shift the larger valve.
Also Read: Pressure Control Valve Vs Pressure Regulator