Skin Type Thermocouple is designed to measure the temperature of the pipe or tank surface. It is tied to the surface of the body to which temperature is to be measured through an insulating pad so that it collects temperature.
Generally, they are used where rapid detection of temperature is required and there is no way to apply the immersive method of temperature measurement. 
Design of Skin Type Thermocouple
For better measurement, accuracy and acceptable detection time skin type thermocouple should be carefully selected and installed.
Skin-type thermocouples should have higher insulation properties to ensure process temperature hazards to the material of the thermocouple.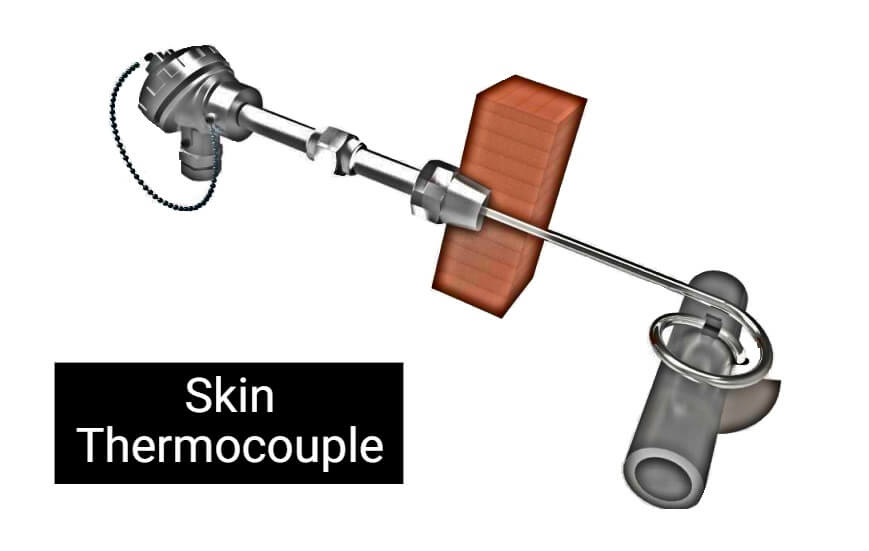 Thermocouple type should be carefully selected depending upon your requirement. It is suggested to study the min/max temperature of the pipe or tank is supposed to attach.
Thermocouple material should be carefully selected and should be compatible with tank or pipe.
Mounting accessories should be selected appropriately to ensure proper installation so it can be protected from malfunctioning in extreme conditions.
In addition to that some basic design requirements should be cleared before ordering the thermocouples and some which are:
Mounting of thermocouple head (Check if space is available with preliminary dimensions).
Check if adequate space is available for the expansion loop.
Orientation of the whole assembly (Check if space is available with reference dimensions)
Always check if the new thermocouple is suitable for existing control system requirements.
Assign control philosophy to new thermocouple e.g. how the signal will be useful for plant control
Intrinsically safety requirements.
Installation
The installation of these type of thermocouple are very important. Thermocouples should be directly welded to the pipe or tank surface in a manner which allows better measurement and also insulation from the process temperature.
Another factor to keep in mind is the thermocouple cable. The cable should be routed very carefully keeping it away from the harsh process temperatures.
Also, note that in most cases proper installation supports are also needed to support the thermocouple head. Proper routing of Instrument cable to the junction box is also necessary.
Expansion loops are another game changing factor to consider. As we know metal pipes and tanks are subject to expand with heat, it can greatly damage the thermocouple assembly if provisions are not made.
Types of Skin Thermocouples
The most common types of skin type thermocouples are as follows.
V-Pad
Shroud Sensor
Weld Pad
Washer Pad
General Specifications
Here are some general specifications of skin type thermocouples to check before procurement.
Sheath diameter(Generally 3.2 to 12.5 mm)
Sheath Material(suitable for material of pipe/tank and process environment)
Sheath Thickness
Insulation Material
Conductor Diameter
Response Time
Junction Type
Expansion Loop
These specifications will depend on which type of skin thermocouple is used.
Some will have a v-pad type block welded to the surface some will have a washer type block welded as shown in the figure below.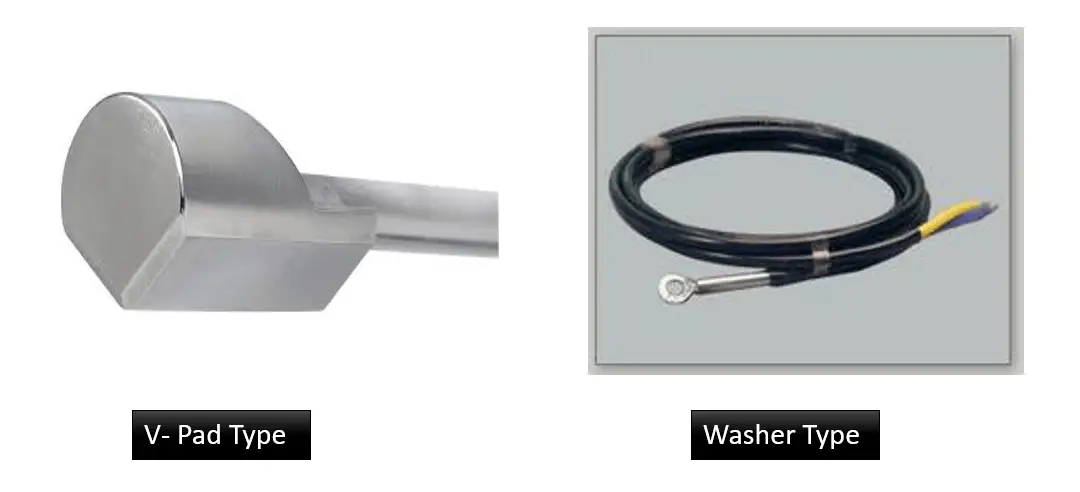 Difference Between Skin Type Thermocouple From Other Thermocouples
A major difference between Skin Type thermocouples and other thermocouples is the need for thermowell.
In a normal thermocouple, mostly thermowell is required to protect temperature elements from breakage due to fluid velocity because insertion is required in these cases whereas skin type thermocouples do not require any kind of insertion.
That's why there is no need for thermowell for skin type thermocouple which can save a lot of money for thermowell and its engineering man-hours.
We all know the hard critical component the thermowell is. It needs precise calculations to ensure proper selection and installation of the whole assembly.
In many cases, due to fluid properties, exotic materials are needed for the construction of thermowells which can be very costly.
Applications
Chemical and petrochemical industries.
Energy and power plant technology.
Furnaces, kilns, ovens, and boilers.
Oil and Gas industries.
Power and utilities.
Pulp and paper.
References:
Author: Kalpit Patel
If you liked this article, then please subscribe to our YouTube Channel for Instrumentation, Electrical, PLC, and SCADA video tutorials.
You can also follow us on Facebook and Twitter to receive daily updates.
Read Next: