The advantages of Emergency Shutdown Valve (ESDV), controls process media flow and is responsible for isolating the supply of hazardous gasses and fluids within the pipeline in the event of an emergency.
As a result, these valves provide more reliable performance than standard on-off valves.
Also Read : What is Emergency Shutdown System (ESD) ?
Emergency Shutdown Valve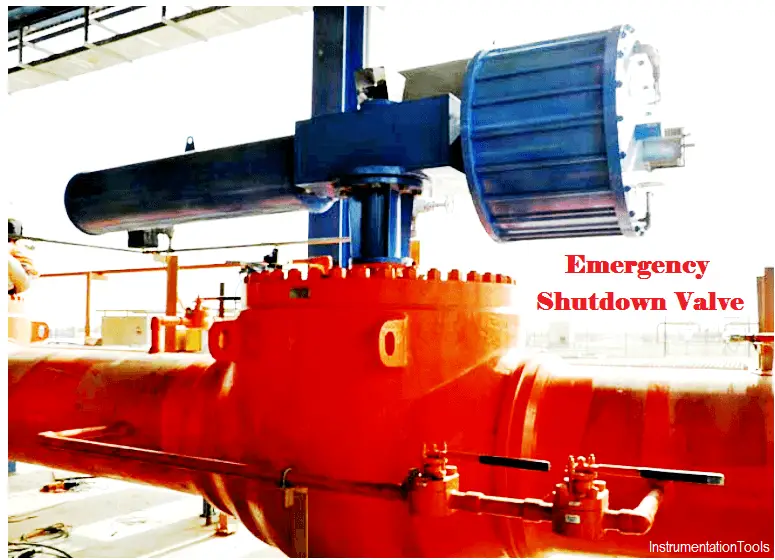 Advantages of Emergency Shutdown Valves
Tight Shut Off : With a double-seated design, ESDV's are rated up to ANSI Class VI shutoff providing bubble tight shutoff.
Fire Safe : In the event of an emergency, your assets may be exposed to fire, all ESDV's are rated to API 607 Fire Safe.
Fast-Acting : Quick response is critical to reducing escalation of hazards, ESDV's can go from full-open to full close in less than a second.
Manual and Automatic Release Options : Users have flexibility on resumption of system operation after shutdown.
Rugged Design : Designed to withstand shocks and vibrations that could cause false trips, ensuring your systems is up and running when it needs to be
Certified Safety Integrity Level (SIL) per IEC 61508 : The ESDV has been evaluated by an independent third party, those that have not been evaluated are relying solely on manufacturers' product claims
Capable of Both Local and Remote Partial Stroke Test : Users can minimize system disturbances to prevent and diagnose potential operational problems
ESDV features are designed for accuracy and dependability
Trunnion-mounted ball valve
Fail-safe spring return actuator
Low emissions design
Anti-blow out stem configuration
Fast response time
Suitable for use in SIL 3 applications
Partial Stroke Test Assures Reliability
Since the Emergency Shutdown Valve remains open and not in use for prolonged periods, the system's performance and reliability should be checked periodically but without interrupting the operation.
Without proper testing, the probability of this component failing when called upon increases over time. Recent technology offers test procedures, such as partial stroke testing, an effective and practical method for testing device functionality.
Also Read : What is Partial Stroke Test ?
A device that does not have this option is at risk for false trips and potential failure to react when require. Additionally using devices without this capability may required complete shutdown and potentially removing equipment from the line. These types of methods are labor intensive and therefore prone to human error.
Emergency Shutdown Valve is capable of both local and remote partial stroke testing through pneumatic configurations. Using a device that can perform partial stroke testing provides the following benefits
No operation disruptions
Eliminates need for bypass line
Improved SIL rating
Prevention and diagnoses potential problems
Even while testing, the valve will still shut if emergency signal received
SIL 3 Certified
The Emergency shutdown valve is rated to Safety Integrity Level 3, or SIL 3. This standard is governed by the International Electrical Committee (IEC).
SIL 3 certification validates valve technology has met:
Risk reduction requirements
Limitations for random hardware failure
Quality and engineering procedures to prevent systematic design errors
To achieve a given SIL, the device must have less than the specified probability of dangerous failure and have greater than the specified safe failure fraction. These failure probabilities are calculated by performing a Failure Modes and Effects Analysis (FMEA).
Also Read : Safety Integrity Level (SIL)
The targeted SIL level depends on parameters such as likelihood of an event, device complexity and redundant configurations. PFD (Probability of Failure on Demand) and RRF (Risk Reduction Factor) for SIL levels set forth in IEC61508 are:

While risk can never be completely eliminated, using SIL-rated equipment is one means of reducing risk and improving system safety.
The SIL calculations provide a third-party statistical evaluation of the unit's long-term reliability and integrity.
Reference : geoilandgas