An Industrial plant facility typically executed in mainly three domains:
Engineering,
Procurement, and
Construction.
Once construction is completed then it is commissioned with respect to design (Engineering) requirement.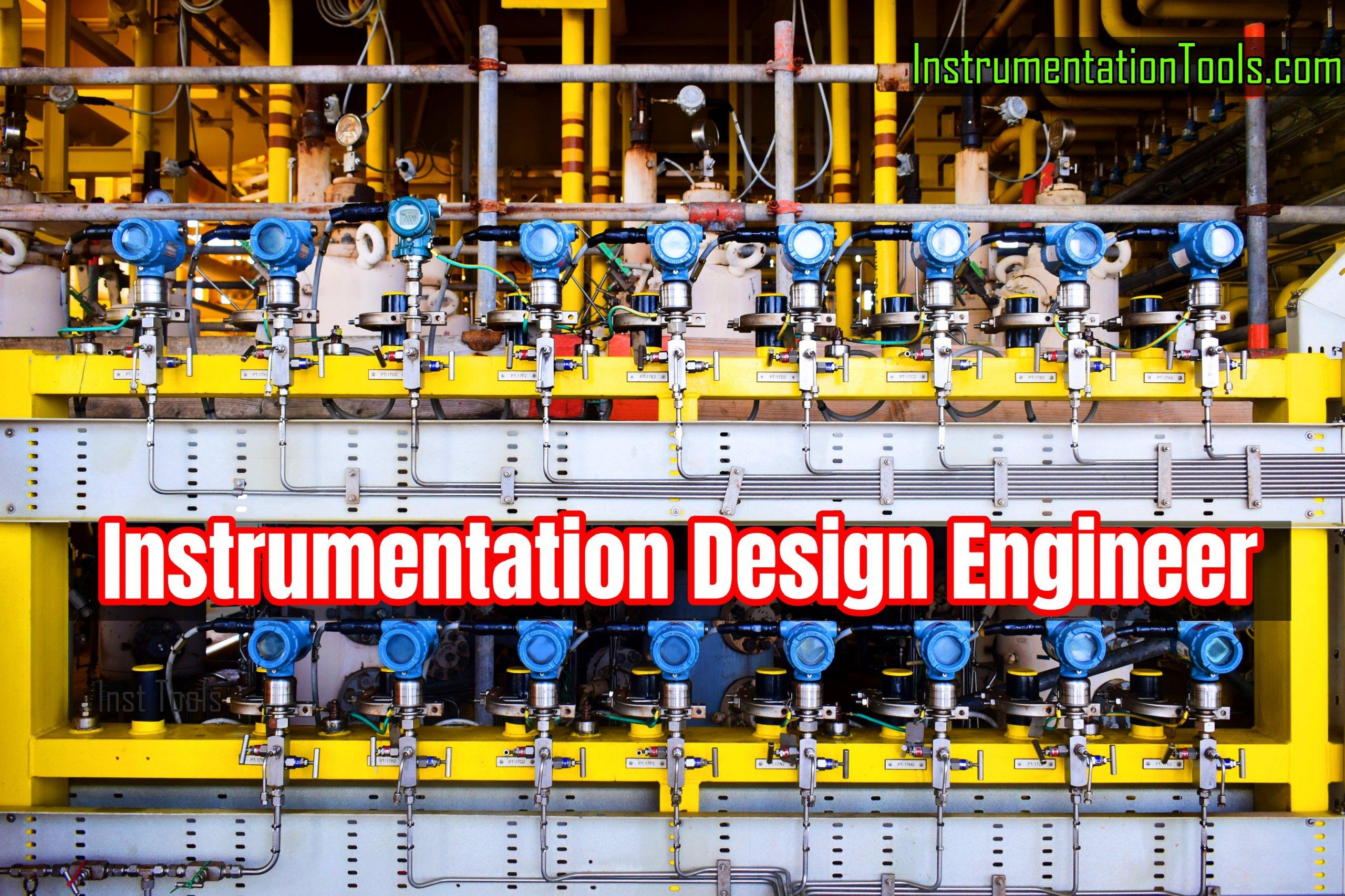 After the commissioning phase plant is handed over to the Operation and maintenance team for further production and related maintenance.
Engineering of any plant deals with lot of documents, specifications, drawings, calculation, special studies, reports, and modelling work etc.
Procurement deals with floating RFQ (request for quotation) for material and services, getting offers from vendors, aligning commercial & logistic aspects and issuing purchase orders etc
Construction deals with installation / erection of all items purchased by procurement as per drawings and in accordance with documents produced by Engineering.
Engineering of industrial facility involves close coordination between various disciplines like Process, safety, piping, civil, mechanical, electrical and instrumentation, etc.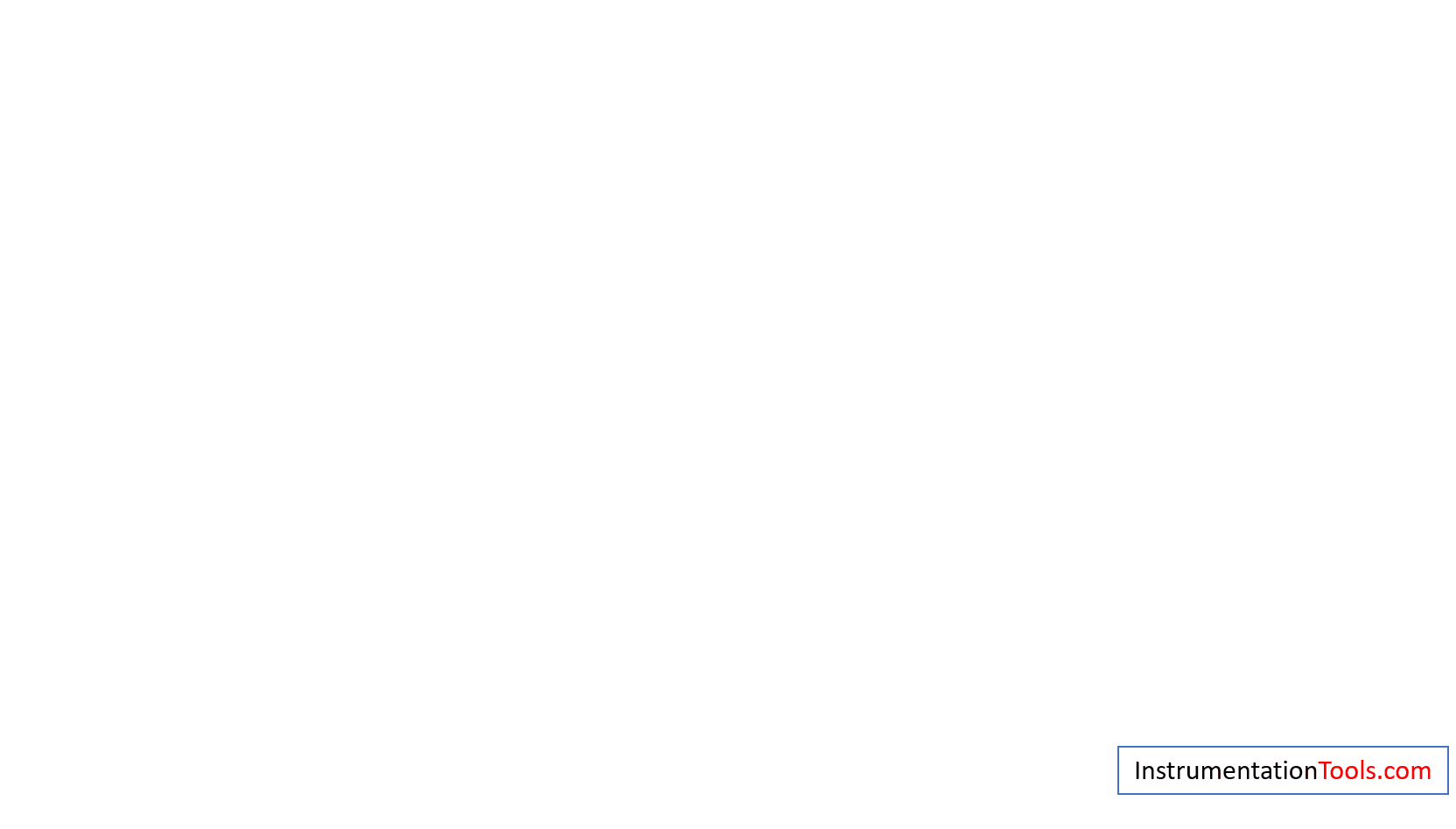 Instrumentation Design Engineer
For detailed Control and Instrumentation Engineering, one should understand list of deliverables, its purpose, and contents inside document or drawing.
For any typical project following are drawings/documents generated by the instrument Engineer.
A Control and instrument (C&I) engineer performs field instrument engineering, control system engineering, installation engineering, and package engineering.
Field Instrument Engineering
General specification of Instrumentation / Design Basis
Instrument Index
Datasheet of Valves, Instruments (Pressure, temperature, flow, level, Analyser, Fire and Gas devices, etc
Selection/ sizing calculation for control valves, flow elements/ meters, thermowell, DP Level calculation, Pressure safety valve,
Level Sketch drawing
Voltage drop calculations
SPI / AVEVA / COMOS database setup
Control System Engineering
Specification of Control and Safety systems
I/O List including alarm and trip summary
Serial interface database
System Architecture drawings
Functional schematic, Graphics
Logic Diagram / write-up
Trend, Control group
Auxiliary/ Hardwired console layout
Interface with Electrical
Intrinsically safe calculation
UPS Load list / requirements
SIL verification calculation
FF Segment Validation
Installation Engineering
Standard installation drawing
Instrument Air Supply and distribution layout
Main cable tray/ trench/ duct routing drawing, Cable Tray sizing, Junction box grouping
Fire and Gas detector layout
Control room Building layouts
Cable block diagram / Instrument Cable Schedule and Termination details,
Instrument Loop drawing/wiring drawing
Instrument location / Junction box location drawings
MTO for installation materials
3D modelling review
Package Engineering
Specification of MMS, HIPPS, BMS, WHCP, Packaged control system, etc
Interface with Field instrument engineering, Control system Engineering and installation engineering.
MMS: Machine Monitoring system,
HIPPS: High integrity pressure protection system,
BMS: Burner management system,
WHCP: Wellhead control panel
For each deliverable an Instrument engineer must closely coordinate with other discipline either for seeking input or providing output.
Project success lies in timely and correctly co-ordinating with other disciplines.
Control Valve Selection during Design Phase
Following is a typical example for Control valve interfaces for various input and output with multiple disciplines, but not limited to.
Activity
Interface
Purpose
Control Valve Process data
From Process Team
Process data/process datasheet for control valve to instrument Team by process team (which includes flowrate, diff pressure, temperature, density, etc)

A special requirement such as Max flow limitation, the applicability of fire zone, etc to be indicated by the process team
Sizing calculation
By Instrument Team
Instrument team performs the sizing calculation by tools like Conval and/ Instrument datasheet with indicative Cv is sent to vendors for their offer.

In case of cavitation/flashing, process data should be cross-checked with the process team for further selection
Material Specification
From Piping Team
Valve material specification / Piping material specification are referred for Control valve body material, Trim material, flange rating,  etc requirements
Selection
By Instrument Team
Based on valve sizing and vendor offer; valve type and size are indicated by the instrument team on P&ID.

Special attention for severe service like high temperature, cryogenic service, Large size valves, Governing valves etc
P&ID Interface
To Process Team
Legend mark up to process team to be provided in case of additional accessories like Partial stroke testing or MOV related signals. Valve Typical to be modified if required.
Utility requirement
To Process Team
Instrument Air required for control valve is given to process team for IA compressor / receiver sizing      
Utility requirement
To Electrical Team
In case of Electrical actuator, power requirement is given to electrical team for feeder and ACDB sizing
Face-Face dimension
To Piping Team
Face-to-face dimension, valve size, rating, facing of control valve to be given to Piping team to incorporate in 3D models
General arrangement drawing
To piping team
1. GAD of control valves to be given to the piping team to reserve the space for accessibility and maintenance.

The instrument team shall ensure accessories orientation and location for ease of maintenance.

2. Fire-proofing jacket dimensions, in case valve is in fire zone
Nozzle interface for utility
To Piping Team
In case, steam jacketed control valve interface should be done with piping for nozzle orientation for inlet and outlet nozzles.
Special Case
To piping team, Civil team, process team and electrical team
In the case of hydraulic actuators, interface with the piping team, civil team, process team, and the electrical team is done for Hydraulic tank, pumps, oil tubing/piping up to actuator, Panels, etc

(e.g. Steam Governing Control valves, although vendor engineered item but interface required when you receive documents.)
Typical Example
Below is a typical example showing how international codes & standards and local regulations are considered for Control Valve during the design or engineering phase.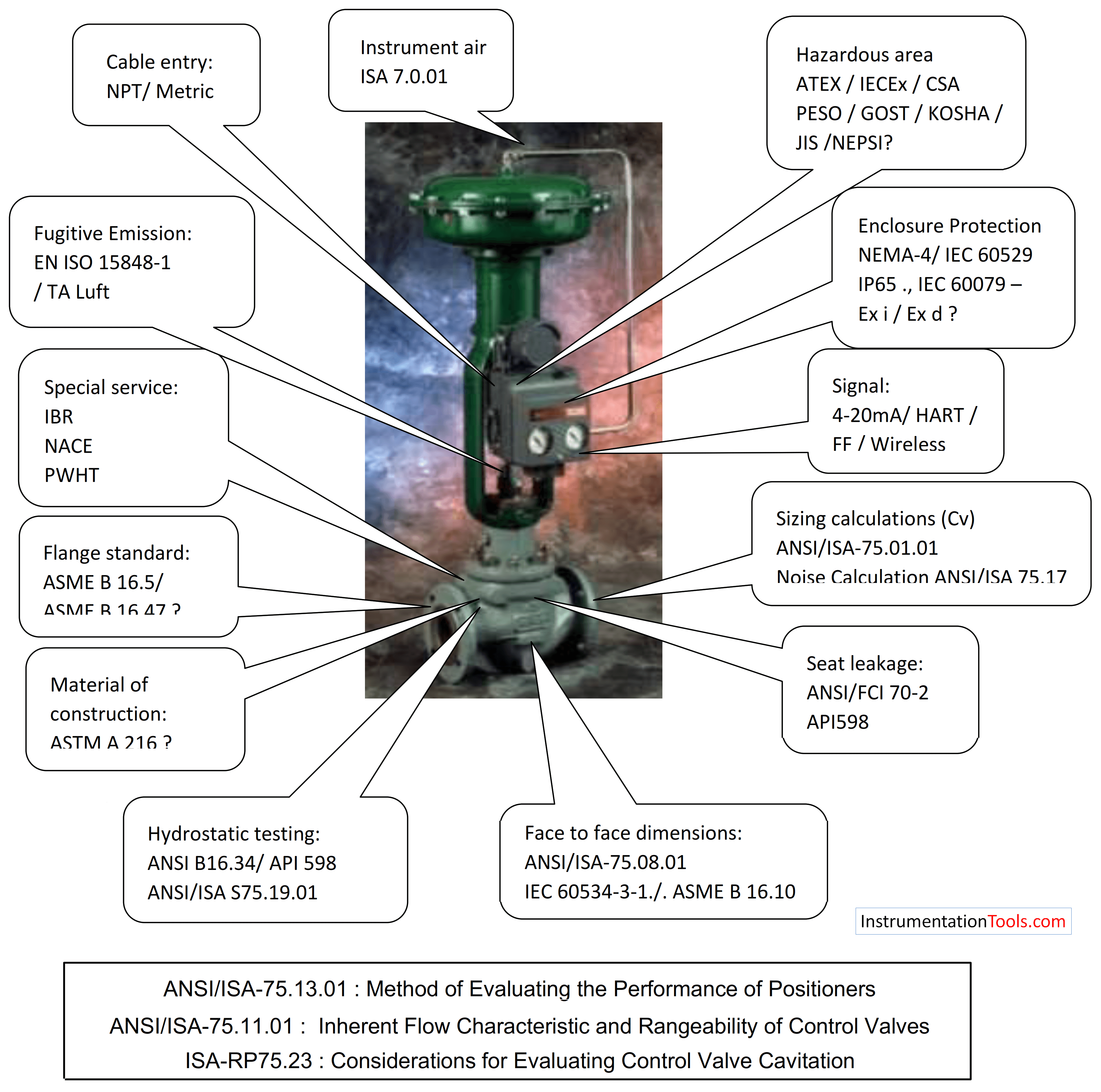 Engineering Team Activities
Activities done by Engineering team during procurement phase
Material requisition to approved vendor list
Evaluation of offer submitted by vendors
Technical queries to vendors
Technical bid analysis
Purchase requisition
Vendor drawing review
Review of client/ PMC comment on Engineering and/vendor documents
Prepare Comment resolution sheets
Inspection
Change order if any, PO amendments inputs
Instrumentation Design Softwares
Software used in instrument calculation/layouts/modeling but not limited to following
3D modelling software – Plant Design System (PDS – 3D) / Smart plant 3D (SP – 3D), Plant design management system (PDMS)
3D review Software –  Smart plant reviewer/ Naviswork Freedom
2D CAD Software – Microstation / AutoCAD
Instrument Database – Smart Plant instrumentation – SPI (Intools) / AVEVA / COMOS
Instrument Sizing – SPI / Flowel / Conval / InstruCal, PRV2Size, Instrument Toolkit®
SIL Study – ExSILentia, SIFPRO, SIL Comp
In-house developed tools like voltage drop calculation, IS calculation etc are also used.
Special Studies during Design Stage
Special Studies performed during Engineering in which C&I Engineer participation is needed (these are multi-disciplinary studies), but not limited to following
Studies performed during Engineering by Control system vendor along with C&I engineer, but not limited to following
Hardware Freeze
Software Freeze
Automation Architecture and network philosophy
Challenges during Engineering
Lack of co-ordination across the disciplines and Ignorance
Improper/insufficient specification / requirement from client / owner
Tight schedule, difficult project location / weather condition
Lack of knowledge and/ lack of awareness on Codes and standards
Tips for those who want to make a career in Design Engineering
Never stop learning
Try to figure out input and outputs for each deliverable
Learn and practice codes and standard
Figure out details mentioned in each document and question why?
Start with small activities
Understand the process first then think about the instrument
Never assume something (e.g. You just can't select 3" Control valve in 8" line. Know your input and question them)
Document everything in detail
Share your knowledge. Be it maintenance or operation issue or Root cause analysis
Read technical articles, processes, and trends
Seek Guidance from Seniors, mentors, industry specialist
It is not rocket science. However, you must know the impact of wrong selection / wrong design, etc (e.g. How can you imagine 2 barg range of pressure gauge in the line where pressure is 20 barg?)
Don't hide your mistakes. Just correct it before it is too late.
Engineering Design Job Profile Workload
Design jobs are mostly office jobs, you must love documents, computer screen.
Sometimes you are also involved in Factory acceptance test or inspections at vendor's workshop.
Control and Instrumentation (C&I) Engineer also needs to support/answer site queries.
Design engineers are sent to the site for close co-ordination with construction and commissioning teams.
As the production drives the commissioning, Commissioning drives the Construction, Construction drives the Procurement, and procurement drives the Engineering, your focus must be first time right, on time, with consistency and quality.
Any delay in Engineering results in an overall schedule delay. In case of ambiguity, delay, bottlenecks raise the hand.
Better value engineering results in cost-saving for the project.
ISA Instrumentation Books
Books to read (ISA), but not limited to below
1. Instrumentation and Control Systems Documentation
2. A Guide to the Automation Body of Knowledge
3. Electrical Instruments in Hazardous Locations
5. Industrial Flow Measurement
6. Applying FOUNDATION Fieldbus
7. Alarm Management: Seven Effective Methods for Optimum Performance
8. Safety Instrumented Systems: Design, Analysis, and Justification
9. Industrial Network security
Do you know any other good books? Share with us through the below comments section.
This article does not show all the activities performed by C&I engineer during design phase, also does not indicate how to do that.
The aim of this article is to show the role of C&I engineering during the design phase to the extent possible.
Users are advised to do engineering activities under supervision. Get used to codes/standards and best engineering practices.
Exercise for you
Please share your answer in comment box
1. Suppose because of the HAZOP study outcome, one pressure transmitter is added. Which are documents you revise?
2. Suppose you are doing junction box grouping, if you found that one transmitter is wrongly assigned to that JB. Which are documents you revise for correction?
3. If you receive input for a process that where line pressure is revised from 20 barg to 50 barg, what is the impact on instrumentation if that line has a flow meter, control valve, pressure transmitter, and safety valve?
Author: Jatin Katrodiya
If you liked this article, then please subscribe to our YouTube Channel for Instrumentation, PLC, SCADA, and Industrial Automation video tutorials.
You can also follow us on Facebook and Twitter to receive daily updates.