Head mount temperature transmitter receive the signal from the resistance temperature detector (RTD) or Thermocouple (TC), and converts the measured temperature signal into 2 wire loop powered 4 to 20 mA equivalent signal.
Head Mount Temperature Transmitter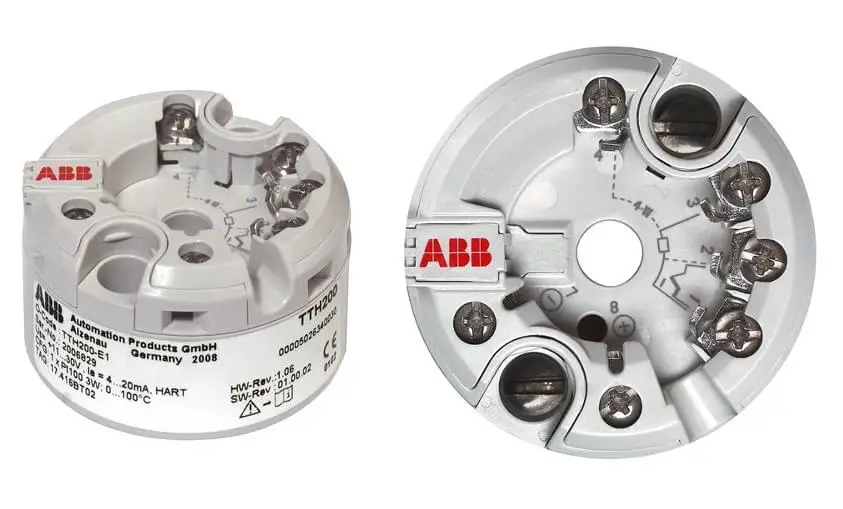 Head mount transmitter is in housed in the connection head of the sensor and thus the transmitter size is very compact. Moreover, it has minimal wiring because the transmitter is fitted in the head section of the sensor.
The conventional transmitter is mounted far from the sensor, and the additional precautions like lead wire compensation is required to minimize the measurement error. It also requires the long cable which incur additional cost. If the sensor is thermocouple type, then the additional thermocouple compensating cable is required.
However, in the case of head mount transmitter the lead wire compensation is not required as sensor and the transmitter is fitted in the same housing. As a result of this, the measuring accuracy of head mount transmitter is much better than the conventional 2 wire or 4 wire temperature transmitter.
If the head mount transmitter is used for thermocouple sensor, then no thermocouple compensation cable is required.
The head mount transmitter is a universal temperature transmitter and it has many advantages over a conventional temperature transmitter. The head temperature transmitter have a HART communication protocol , and the transmitter parameters like temperature range, type of temperature sensor and other parameters can be remotely programmed.
The salient features of Head Mount Temperature Transmitter are as follows.
It accepts Pt-100 input and Types J/K/T/E/R/S/B/N Thermocouples.
User can configure the transmitter with PC software
Universal setting with HART protocol for various input signal.
It has galvanic and optical isolation and hence signal to noise ratio is more, and loop grounding problem gets eliminated.
It has non-volatile memory with data logging
It has internal temperature sensor for active temperature compensation
Advantages of Head Mount Temperature Transmitter
Higher measuring accuracy resulting from decreased cable length from sensor to transmitter.
No compensating cable required with use of thermocouples
Easy replacement of the sensor and transmitter.
Easy programming of various input signals
Built-in cold junction compensation
Low signal to noise ratio
Reduced cabling
Remote programming and calibration
Low cost
Author: Satyadeo Vyas
If you liked this article, then please subscribe to our YouTube Channel for Instrumentation, Electrical, PLC, and SCADA video tutorials.
You can also follow us on Facebook and Twitter to receive daily updates.
Read Next: