For a Thermocouple, Temperature should be measured with the cold junction at 0°C or 32°F (At thermocouple terminated side i.e. transmitter).
Meaning that we have to maintain 0°C or 32°F at temperature transmitter terminals which is practically not possible. so compensation is required to correct the measured temperature reading.
Cold Junction Compensation
When a thermocouple or its extension wires are connected to the terminals of a device like a thermocouple transmitter the cold junction is at the room temperature T1°C.
If both temperatures of the hot and the cold junctions are above 0°C, the device receives a lower emf than when the cold junction temperature is 0°C.
In order to measure the temperature accurately, we need to add the emf value which corresponds to T1 to the measured emf. To add this emf is called cold junction compensation.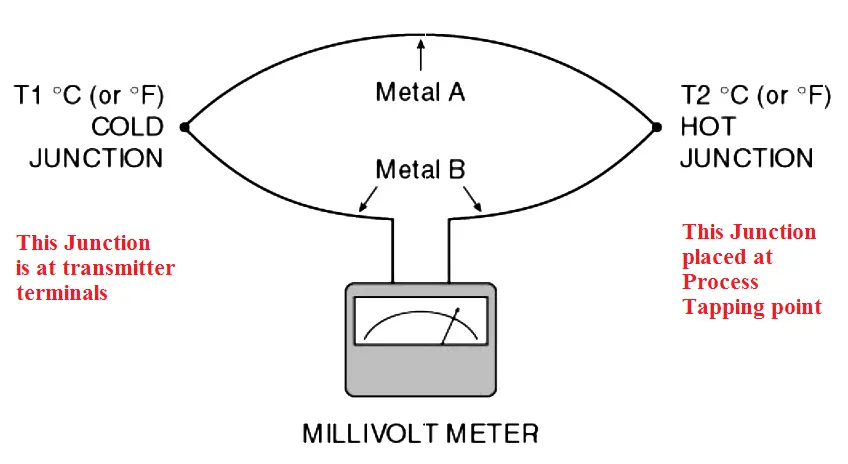 The figures show the temperature-emf curve (not to scale) and a temperature measuring setup with a thermocouple and a millivolt meter. Assume the cold and the hot junctions are at T1°C and T2°C, respectively.
According to the temperature-emf table of the standard, the thermocouple generates emf of E1 mV at the temperature T1 and E2 mV at T2. The millivolt meter receives the potential difference, E2 – E1 which corresponds to T2 – T1.
In order to obtain T2, we need to add E1 to the potential difference, E2 – E1 for elimination of E1.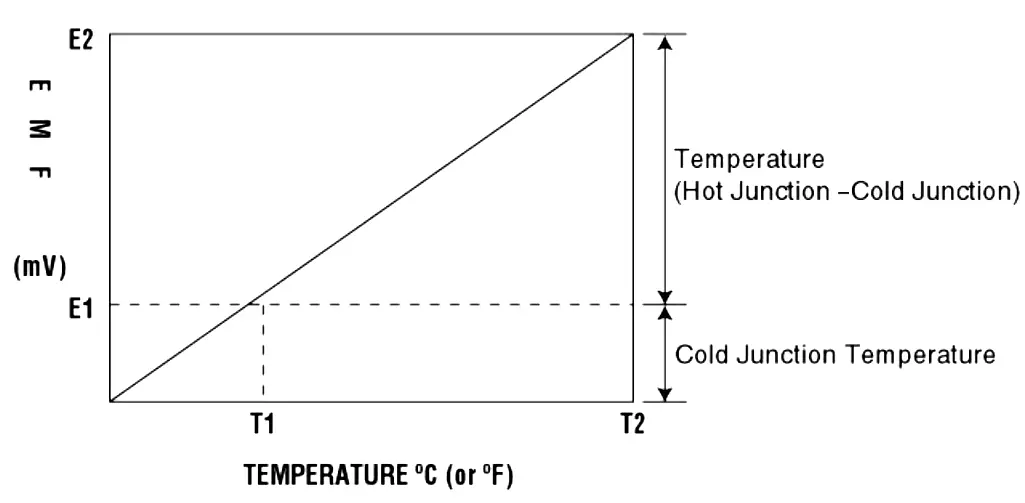 An actual example may better clarify the above discussion. Assume that we are using a Type E thermocouple to measure T2 (say process temperature), which is 550°C (1022°F). Now the another thermocouple junction T1 say which is terminated at temperature transmitter or in control room & T1 temperature is at room temperature which is 25°C (77°F)
According to the temperature-emf table of Type E, the thermocouple generates (with reference to °C):
Process temperature (T2) is 550°C and so as per Type E thermocouple table or measured voltage is : 41. 045 mV at 550°C
Now room temperature (T1) is 25°C and so as per Type E thermocouple table or measured voltage is : 1.495 mV at 25°C
The potential difference is 39.550 mV.
The thermocouple type temperature transmitter displays the temperature value based on 39.55 mV which is equivalent to 531.5°C. But actual process temperature is 550°C, so there is 18.5°C error exists (Error=550-531.5).
This temperature error will be compensated using cold junction compensation technique.
In Cold junction compensation, we place a temperature sensor near the temperature transmitter terminals (if thermocouple terminated in field) or at control room terminations  (if thermocouple terminated in control room) then this temperature sensor measures the room temperature T1 value say 1.495 mV @ 25°C.
Now this measured milli volt will be added to the already measured potential difference value i.e. 39.55 mV, so 39.55mV + 1.495mV = 41.045 mV, so temperature transmitter shows compensated corrected temperature reading.
Read Next: