Emergency Shutdown (ESD) System are specialized highly reliable control systems for high risk industries like Oil and Gas, Nuclear Power or other Environments with explosion risk (Ex.). Their purpose is to protect personnel, plant, and the environment in case the process goes beyond the control margins.
Emergency Shutdown System (ESD) is designed to minimize the consequences of emergency situations, related to typically uncontrolled flooding, escape of hydrocarbons, or outbreak of fire in hydrocarbon carrying areas or areas which may otherwise be hazardous.
There are several purposes of the ESD System which is:
Protection of personnel
Protection of the environment
Minimize loss of production and damage to plant assets
Typically, the ESD System could fulfill the above objective by the following implementation:
Monitoring of an operational or equipment condition
Automatic action in case of process hazardous conditions is exist by de-energizing electrical equipment, shutting down and/or isolating process equipment and, isolating and depressurizing the installation.
Enabling manual initiation of ESD actions through ESD push button all around the plant.
Monitoring the Fire & Gas conditions (F&G) by the F&G System
Automatic action in case of F&G hazardous conditions exist by providing audible and visual alarms for personnel.
Typical ESD System Components
Dedicated process transmitters
Logic Solver
Shut-Down valves (SDV), Fail to Close type. The purpose of this valve is to isolate.
Blowdown valves (BDV), Fail to Open type. The purpose of this valve is to depressurize.
In practice the plant is usually divided into several isolable units that can be depressurized and isolated.
Purpose of Emergency Shutdown System (ESD)
ESD system ensures priority control of process equipment which is required for switching the process in safe mode. The system performs the following functions:
Collection and processing of ESD-connected information about process parameters and equipment state
Detection and alarm of emergencies and process deviations from preset limits
Automatic shutdown of production facilities (or separate piece of equipment) in case of parameters deviation from preset limits or manual shutdown by operator
Alarms and notifications management
Prevention of repeated start of production facilities (or separate piece of equipment) until the cause of shutdown is eliminated or forced unlocking is performed
ESD system can be developed both as a technically separate system which is integrated into DCS at the middle level of control and as a system functionally integrated into DCS at the lower control level.
Example Diagram of ESD system
The integration of different systems like Fire and Gas system, compressor, DCS or other systems may vary from from one industry to another. It depends on specific industry standards. The below figure is an simple example of ESD system.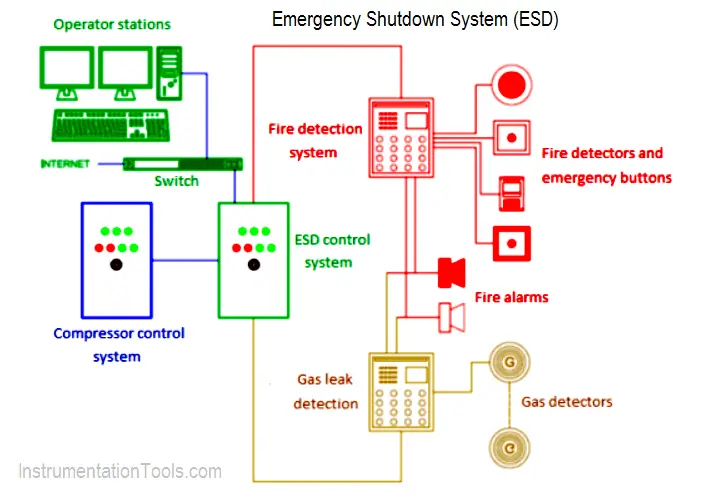 Functions of Emergency Shutdown (ESD) System
Shut down of part systems and equipment
Isolate hydrocarbon inventories
Isolate electrical equipment *
Prevent escalation of events
Stop hydrocarbon flow
Depressurise / Blowdown
Emergency ventilation control *
Close watertight doors and fire doors *
* May alternatively form part of the fire/gas detection and protection system.
Articles You May Like :
What is Burner Management System
Hazardous Area Classification Questions