In this article, we will discuss the major differences between a programmable logic controller (PLC) and personal computers.
PLC and Computer Architecture
PLC and personal computers (PC) are sharing the same architecture. Input devices of Computers are keyboards and mouse but PLC is having Input ports for making the communication.
The common input devices of a PLC are switches, sensors connected to the respective input modules. The common output devices of a PLC are control valves, VFD drives, Solenoid valves connected to the respective output modules.
We can able to make personal computers (PCs) to work as PLC if we add some modules to execute the pre-written program. Both are having processors for doing their process.
Working Temperatures and Environment
Features of the personal computer require clean space and sometimes air-conditioned room for its lifetime operation but PLC is designed in such a way that it can withstand industrial environments like different ambient temperatures and humidity. It can also withstand electrical noise.
A simple PLC can work in a personal computer environment but personal computers cannot work in a PLC environment (for example hazardous areas).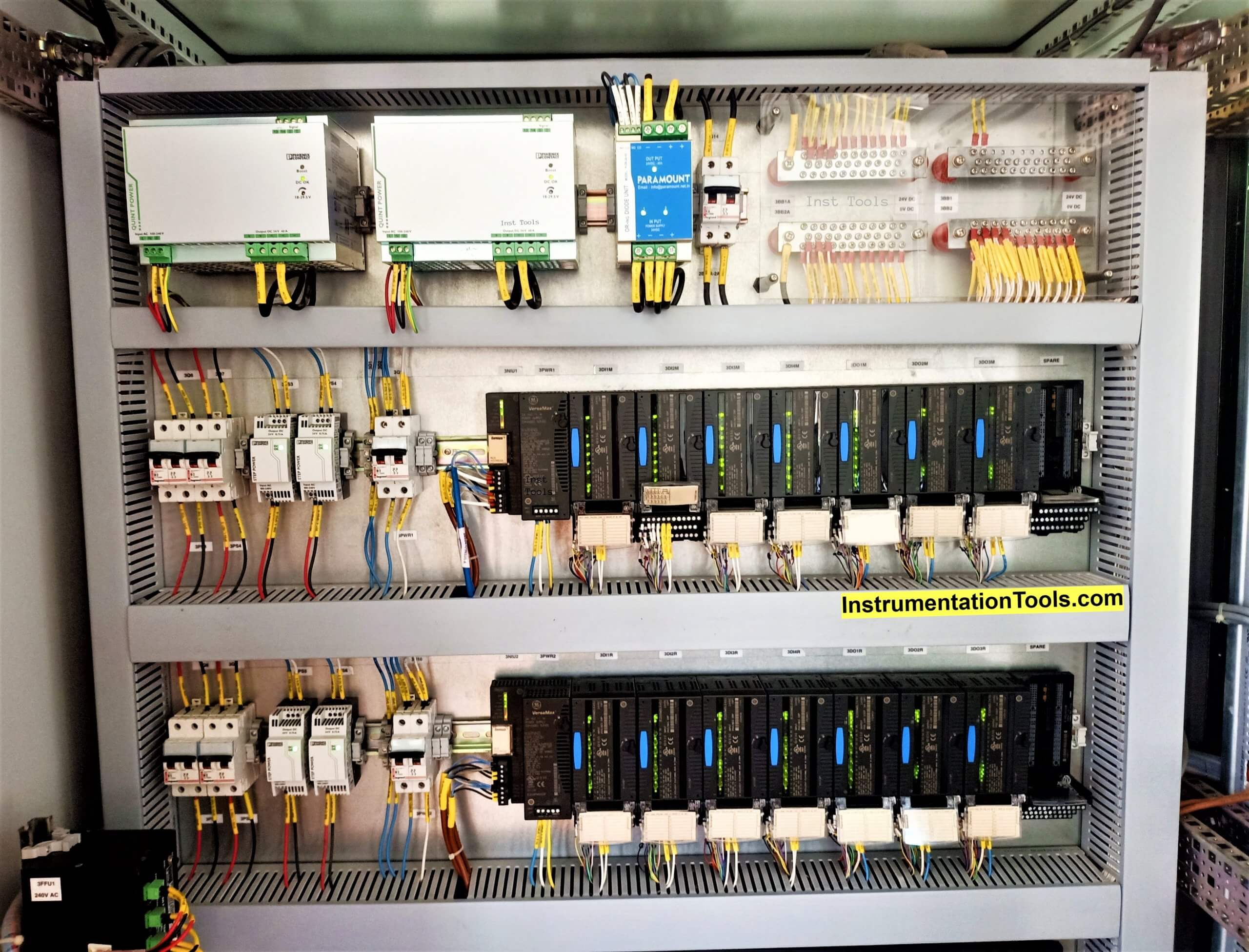 PLC Processor and Memory
We cannot find computer's IO like keyboard, monitor and CD port in PLC. Only processors with memory space are common in both devices.
PLC is equipped with different types of input and output modules and communication ports for making communication with other devices.
Software
Computers with installed software can do the required operation simultaneously in any order rather in PLC the process will be sequential, it should be in the order of how we write the program to execute the application using logic (top-to-bottom.
Installation and Maintenance
The control system of PLC is built such that it can be easily installed and maintained.
Indicators of IO's (inputs and outputs) over the PLC hardware will be helpful in troubleshooting. The input-output (IO) modules can be easily removed and replaced.
Communication
PLC software's running on a personal computer can make communication with other user interface software.
We can use those software's like Virtual basic /HMI as the front end for making communication with PLC and operator. PLC programming software's like RSLOGIX, Simatic Manager, Tia Portal are used for writing logic for PLC.
In Industry, operators can interact with only front-end software but not with PLC programming software, only the programmers or engineers can able to deal with it (example-ladder logic).
Programmable Automation Controller (PAC)
Programmable Automation Controller (PAC) introduced in some industry which will be the PLC control with PC based system.
PAC is a combination of PLC's features and PC functionalities. In an advanced control system with data logging features, signal processing, Motion, and vision control, PAC is recommended.
If you liked this article, then please subscribe to our YouTube Channel for PLC and SCADA video tutorials.
You can also follow us on Facebook and Twitter to receive daily updates.
Read Next: