Here we can simulate a process variable or create a disturbance and observe the PID controller response with different set of PID controller gains.
PID Controller Simulator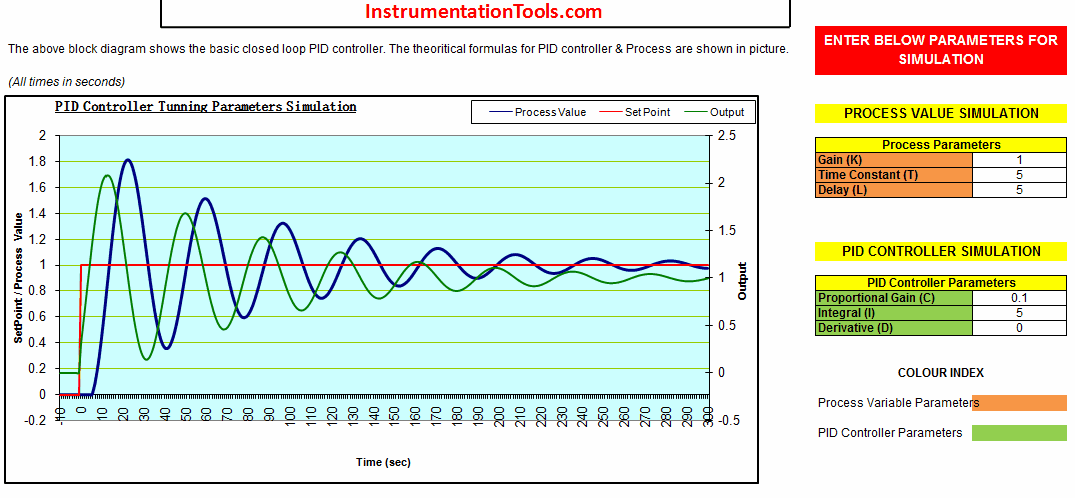 Download the PID controller simulator created using excel and learn about how to tune a controller and observe its response.
INDEX OF PID CONTROLLER SIMULATOR EXCEL
Sheet # 1
contains basic instructions for using this excel PID controller simulator.
Sheet # 2
contains the PID Controller Simulator.
Sheet # 3
contains various types of parameters set for different PID controllers.
Sheet # 4
contains basic theory of a PID controller philosophy.
Sheet # 5
contains basics of PID simulator functions.
Sheet # 6
contains PID controller calculations (Internal Purpose).
CLICK HERE TO DOWNLOAD SIMULATOR
Password:   instrumentationtools.com
This simulator designed for a Five minutes time span only, so the process variables values and PID controller gains value ranges are limited.
Steps to Follow
First Download Excel PID Controller simulator and follow the below steps
1.Here we are giving an fixed step change input to the setpoint of a PID controller.
2.Parameters sheet: we can get the Process parameters & PID Controllers gains or you can use your own.
3.Enter the Process Parameters values (K,T & L) for simulating a Process variable (PV).
4.Enter the PID Controller Parameters values (C, I & D) for simulating PID Controllers action.
5.Understand the Process variable & PID controllers response from the graph.
6.Repeat above procedure for different controllers and observe the response
Basic Block Diagram of a Closed Loop PID Controller

The above block diagram shows the basic closed loop PID controller. The theoretical formulas for PID controller & Process are shown in picture.
PID Controller Response: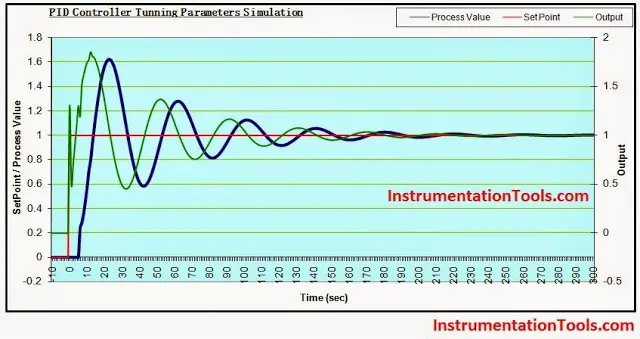 Note:
1. Enter different values and simulate the process variable and observe the PID controller response for the respective tunning parameters.
2. As the above time scale was created for a period of 5 minute so range of parameters to be entered are limited.
PID Controller Simulation Parameters:

Credits : engineers-excel.com
Read Next: