Corrosion / Erosion rate of a process fluid is provided in Piping material specifications (PMS)
Now mag flow meter has Liner material. Example :- PTFE
Magnetic Flow Meter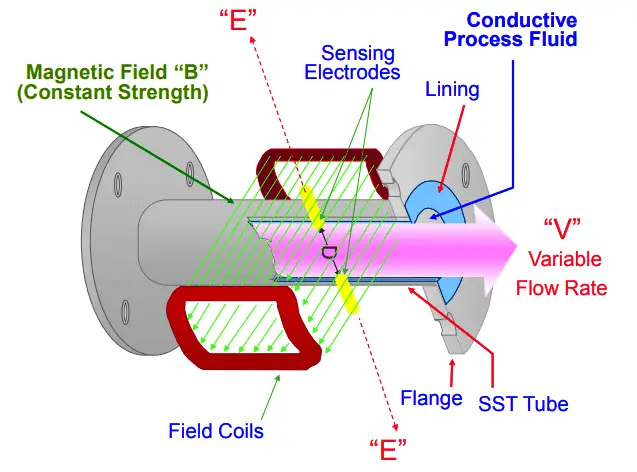 so where is corrosion coming in picture ?
Well there is one important but small part in mag flow meter that gets affected with corrosion / Erosion rate is :- "The Electrodes "
Because of the relatively small size of the electrode and the importance of the seal between the electrode and flow tube liner only small corrosion rates are acceptable, typically less than 0.002 inches per year.
Whenever possible, it is essential to select an electrode material with a corrosion rate of less than 0.002 inches per year
Reference :- Rosemount Technical Data Sheet TDS 3033

Image courtesy : Rosemount
so if your pipe is of stainless steel due to corrosion issue we cannot blindly go with same Stainless steel electrode. The corrosion rate must be checked !!
The piping compensate for this by increasing the thickness of the piping wall :- Corrosion allowance & pipe schedule thus comes in picture !!
A common Question:-
I have not checked corrosion rate while procuring mag flow meter but still it worked ?
This so because usually Pipe material is carbon steel and we instrumentation dept. take SS316 as our choice on carbon steel pipe and since Stainless steel is far more corrosion resistant than Carbon steel we don't check corrosion rate .
But when pipe material is stainless steel or higher this becomes a significant consideration .
Especially if we are also selecting the same material as that of the pipe ,we must verify the corrosion rate .
I have come across pipe with corrosion / erosion rate as high as 0.125 inches / year for Duplex 2205 pipes
Another instance where this Corrosion rate is critical to Instrumentation is while selecting diaphragm seal material
The Below article explains this concept in detail
Read this : Diaphragm Seal Material Selection
Thanks for Reading !!!
Hope it was useful !!
Author : Asad Shaikh
Profile : Linkedin
Articles You May Like :
Temperature Sensor Accessories