Instrument Process Datasheet (IPDS)
Instrument Process Datasheet (IPDS) document plays a vital role in determining the type of instrument required to achieve the required parameters of the process. Instrumentation helps in better process monitoring and enhanced safety operation in plant
Process Engineer is responsible for providing basic process inputs & critical process information in the IPDS. It is sent to Instrumentation to do further works related to Instruments.
Instrument Process Data Sheet (IPDS) is developed by the process engineer. This information enables the Instrumentation & Control engineer to prepare documentation required for inquiry and purchase of instruments.
Types of Instruments used in Process Industry:
The following information is required to prepare IPDS:
Instrument Tag Number
P&ID Number
Fluid name
Nature of fluid
Location
Flowrate / Liquid level
Operating & Design Conditions (Pressure & Temperature)
Fluid Properties
Hazardous Area Classification
Temperature Class
Alarm Set Points
The specific type of Instruments (If any)
Dielectric Constant
MOC (Material of Construction)
Insulation Requirement
Valve Specification Requirement
The key things to consider while selecting the Instrument:
Accuracy
Repeatability
Rangeability
Ease in Installation
Calibration
Turndown Ratio
Density Compensation
Reference Documents required for the preparation of IPDS:
Process Design Basis Report
P&ID
Process Datasheet
Line-list
Heat & Mass Balance
Calculation Report
Hazardous Area Classification Diagram
Vendor Catalog
Instrument Specification
Codes & Standards
Example Instrument Process Datasheet for Restriction Orifice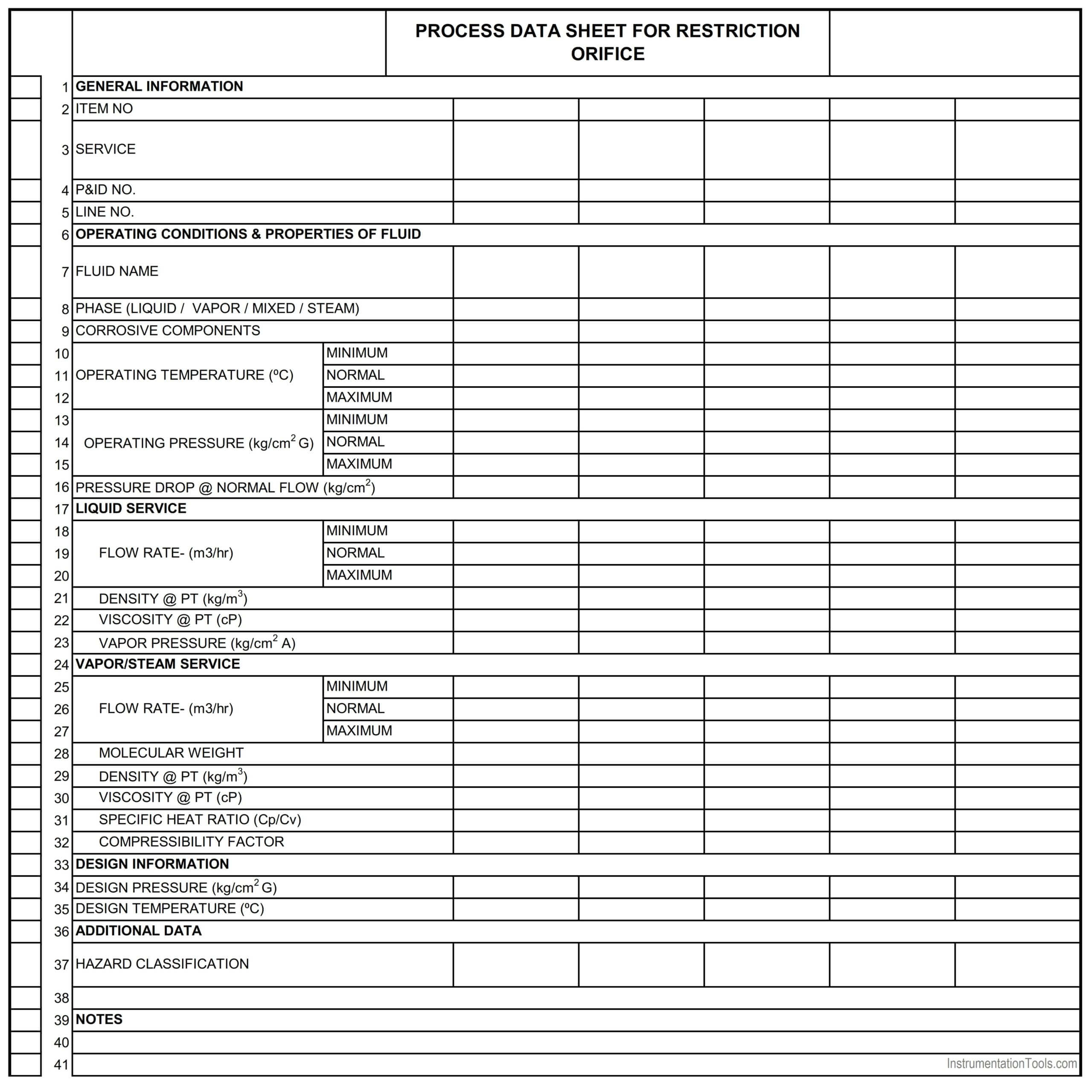 Interest to add any further points? Share with us through below comments section.
Author: Kalpit Patel
Read Next: