A pH analyzer is a measuring instrument that measures acidity and alkalinity. The pH sensor measures the difference in potential of a pH electrode and a reference electrode.
In the chemical plant, Parma, and water treatment industries, pH is a crucial parameter that measures the chemical conditions of process material.
Selection Criteria of pH Analyzers
In this article, we are going to discuss some important specifications of pH analyzer that are to be considered before purchasing or technical bid analysis.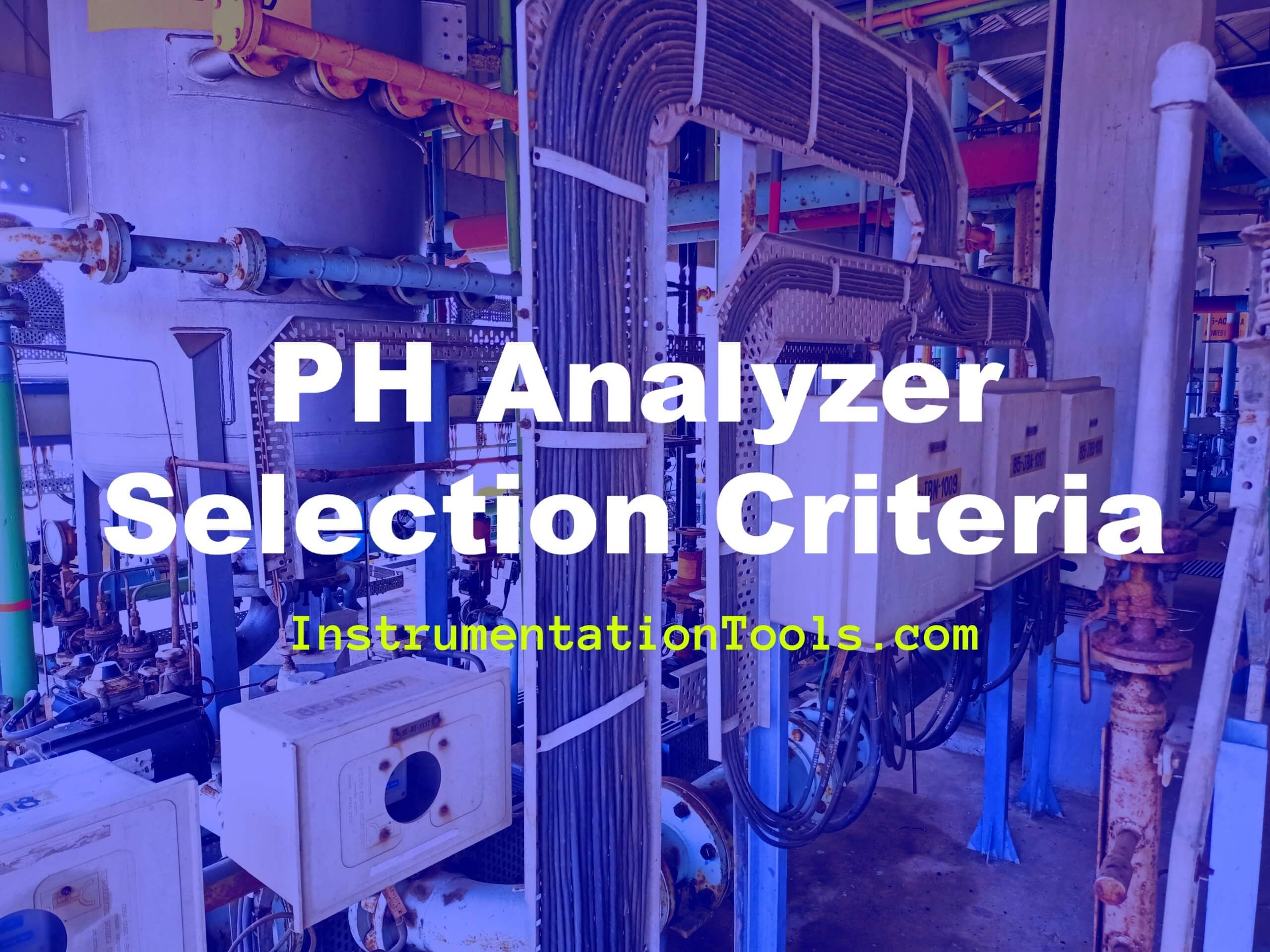 Electrode Assembly
The electrode assembly should flow through / Immersion assembly type with the retractable arrangement, complete electrode assembly shall be weatherproof and water tight to IP – 65.
It consists of combining a pH electrode with a glass electrode, reference electrode, and Temperature sensor.
Measuring Electrode
The pH electrode is a glass membrane type with an asymmetric, potential drift of less than ± 0.05 pH unit per week.
The electrode should be shockproof and screened with metal foil.
Reference Electrode
The reference electrode ought to be the diffusion type (non-flowing) and the diffusion shall take place without the need for external pressure.
The electrode should be linear with respect to temperature changes. The electrode should be silver – silver chloride and the diaphragm for contact with the process medium shall be ceramic or porous PTFE.
The reference liquid is KCL.
Temperature Sensor
Automatic Temperature Compensation for the changes of temperature coefficients of the electrodes shall be provided with an electrode with a Pt 100 or Pt 1000 Temperature sensor.
Interconnecting Cables
The interconnecting cables between the electrode and the pH transmitter must be screened with anti-noise sheaths. The length is as per standard and it should be around 10 meters.
pH Transmitter
The transmitter should be the smart type with HART/FF protocol. The supplier shall guarantee that the instrument can operate safely at ambient temperatures which are up to 65 °C.
All electronics including terminal compartment and local indicator shall be weatherproof, IP – 65, and suitable for operation in a tropical climate with relative humidity up to 95 %.
The electronics need to be put in a compartment separate from wiring terminals. The terminals could be vibration-proof and suitable for 1.5 mm2 wires.
The cable entry shall be 1/2" NPT (F). All transmitters' enclosures shall be minimum weatherproof to IP – 65.
Accessories
Complete mounting accessories of suitable material to be mounted on each sensor and transmitter.
Flow through type assembly, Tee type 1 " Flanged connection and 1/2″ NPT (F) Sensor connection with CPVC material should be provided.
Nameplate
Each Transmitter should have a nameplate attached firmly to it at a visible place, furnishing the following information.
Instrument Tag Number
Manufacturer's Name
Model Number
Serial number
Calibrated Range
Output mA
Inspection
Following Inspection should be carried out at vendors' workshops or at standard calibration LAB.
Visual & Dimensional check
Calibration check
Test certificate
Accuracy, Linearity, Repeatability.
The above-mentioned specifications are basic and essential in order to finalize the pH analyzer.
If you liked this article, then please subscribe to our YouTube Channel for Electrical, Electronics, Instrumentation, PLC, and SCADA video tutorials.
You can also follow us on Facebook and Twitter to receive daily updates.
Read Next: