Calculate the equivalent Percentage for any given current signal 4 to 20 mA. For conversion, we need transmitter Lower Range Value and Upper Range Value.
Current 4-20ma to Percentage Conversion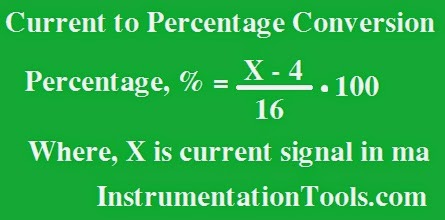 Formula:
Percentage, %  =   ((X-4)/16)(100)
Where
X is current signal in mA
Example: 
An electronic Pressure transmitter is ranged -1 to 5 Bar and has a 4-20 ma. Calculate the Percentage output by this transmitter if the measured output current is 13ma.
Percentage %  = ((X-4)/16)(100)
Percentage %  = ((13-4)/16)(100)
Percentage %  = 56.25
Articles You May Like :