I searched many sources to know the difference between Tongue and Groove Flange and RTJ flange, both looked same as per construction.
RTJ and T&G Flange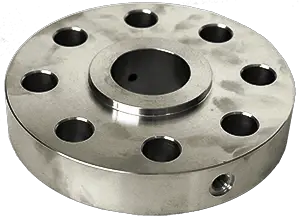 Mostly (not always) we go above 600# rating of flange with RTJ facing or T&G facing .
So what is the difference ?
RTJ Flange
Well the difference is that in RTJ type the Ring (Sometimes referred as gasket) and the 2 flanges are THREE DIFFERENT PARTS.
1. Flange (Groove)
2. Ring
3. Flange (Groove)
From the above list, we have Three Separate parts
Tongue and groove (T&G) Flange
But in case of Tongue and groove, the flange has the ring attached (Referred as Male or Tongue) and the flange with groove (female )
1.Tongue (Male) (i.e Ring already attached to flange)
2. Groove (Female)
From the above list, we have Two Separate parts
This is important in cases like when orifice plate has to be procured by instrumentation where the ring gets attached so if piping procures tongue (Male flange ) they will not mate and cause problems.
Author : Asad Shaikh
Profile : Linkedin
Articles You May Like :