In this article, you will learn about the CP (Communication processor) module used in the Siemens PLC.
CP module is used to transfer the data in a case of not having the required port on your CPU.
Communication Processor Module
For example, we have a redundant system installed in a plant. We have an S7-300 series of CPU 315-2DP is installed.
On the first rack, we have power supply and CPU is installed, the same way for redundancy one more CPU with power supply is installed.
On the second rack, two IMs are installed as you can see in the below window.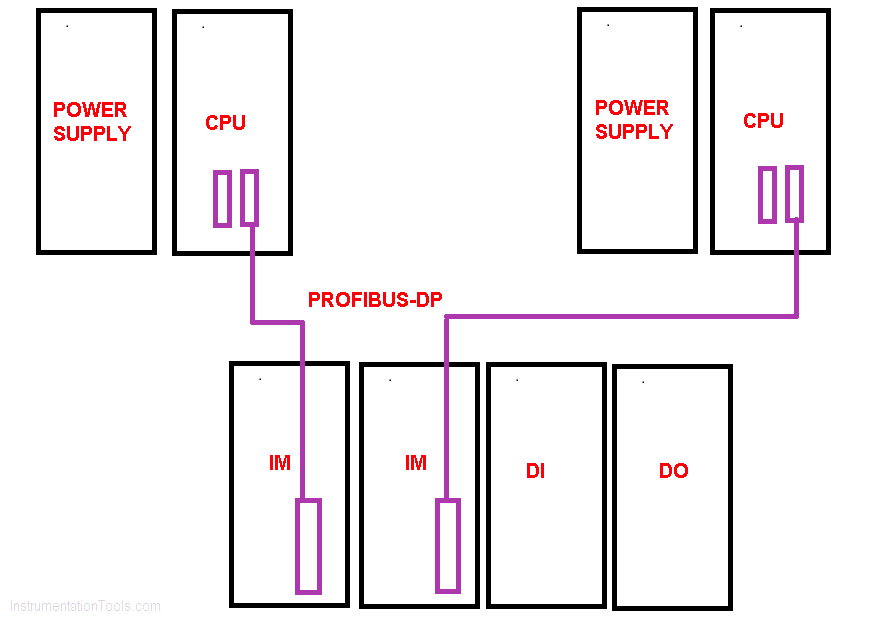 Now, both CPUs are communicating with IMs through the PROFIBUS-DP network.
But how the 1st CPU will exchange the data with the 2nd one? First, you may think of the second MP (Multi-Point Interface) to exchange the data.
But as you know MPI is a very slow network and it is not possible to send out a large amount of the data using this network.
If you use MPI to exchange the data then you only have to use the MPI network throughout the communication.
But I want to communicate or exchange the data in terms of the PROFIBUS-DP network.
To do that we have to install Simatic NET or CP having DP port on it into the rack beside the CPU as you can see in the below window.
As you can see by pulling one more PROFIBUS-DP cable with the help of the CP module and using some software arrangement you can exchange the data.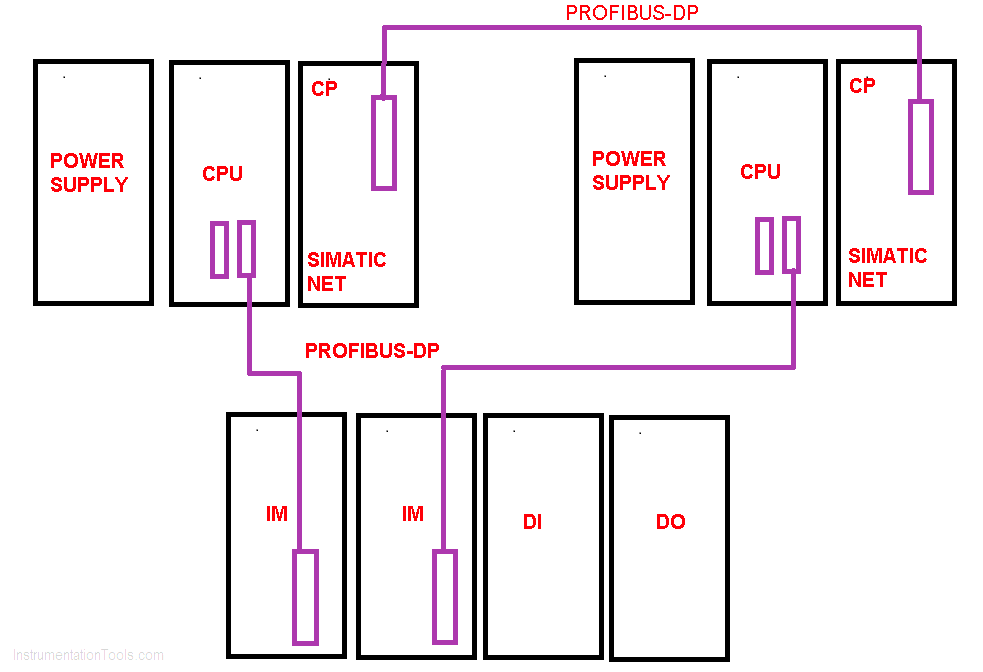 The CP module which I have shown you contains a single DP port is a CP 342-5.
There are other types of CP modules that are used that depend on an application and requirement of the network.
Other CP modules for an example are,
* CP 342-5
* CP 1243-8
* CP 343-1
* CP 443-1
* CP 342-2
Below is the image of each type of module having a different capability of communication. (PROFIBUS-DP, Ethernet, ProfiNet, etc.)
Whatever module you use, the connection technique remains the same. only the way and speed of the data exchange will differ based on the requirement.
Author: Suhel Patel
If you liked this article, then please subscribe to our YouTube Channel for PLC and SCADA video tutorials.
You can also follow us on Facebook and Twitter to receive daily updates.
Read Next: