Before 4-20 mA the signals were 3-15 psi and 10-50 mA. These signals all have a "live zero" (3 psi, 10 mA, and 4 mA) rather than a "dead zero" (0 psi, 0 mA) which can be used to detect a severed pneumatic tube or signal wire.
The live zero can also be used to power a 2-wire loop-powered device. 3-15 psi, 10- 50 mA, and 4-20 mA etc. all have a ratio of 1:5 (20% bias).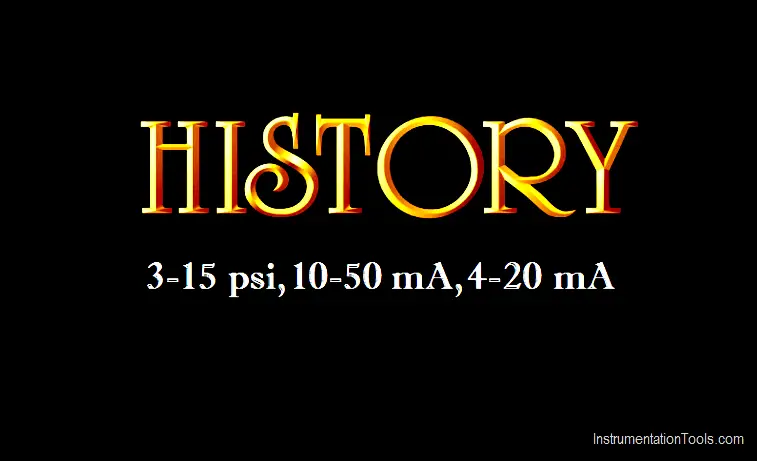 Nobody remembers the exact reason why the signal ranges 3-15 psi, 10-50 mA, and 4-20 mA were selected and there appears to be no definite source documenting this decision such as minutes of meeting from a standards committee.
Some research has uncovered the following technical reasons why these signal ranges were chosen.
3-15 psi Pneumatic Signal
Pneumatic instruments operate on the flapper-nozzle (baffle-nozzle) principle. It appears 3-15 psi with the 1:5 ratio was chosen because it the most linear portion on the curve for the movement of the flapper (baffle) and the backpressure resulting in the nozzle.
10-50 mA Analog Electronic Signal
Early analog electronic instruments used magnetic amplifiers. 10 mA live zero was chosen as it is the lowest at which instrument based on magnetic amplifiers could operate. Maintaining the 1:5 ratio the signal was chosen 10-50 mA.
4-20 mA Analog Electronic Signal
With the introduction of the transistor, it became possible to make devices operating on 4 mA. Thus the signal was chosen 4-20 mA maintaining the 1:5 ratio. With the introduction of microprocessors in instrumentation and digital communication, the HART protocol was introduced superimposed over the 4-20 mA signal.
The HART commands supported by the device, how device information is displayed, and the wizards to make tasks like calibration easy, etc.
Also, Click here to read the advantages of the 4-20mA signal.
Source: Eddl.Org