There are many factors to consider when selecting cable glands for industrial installations. Neglecting to pay due attention to some of these factors may cause unnecessary anxiety at a future point in time when the equipment and cables have been delivered on site, but for example the cable glands have either been forgotten to be ordered or it is discovered that they are the incorrect type or size at the very point when they are needed the most.
Selection Guidelines for Cable Glands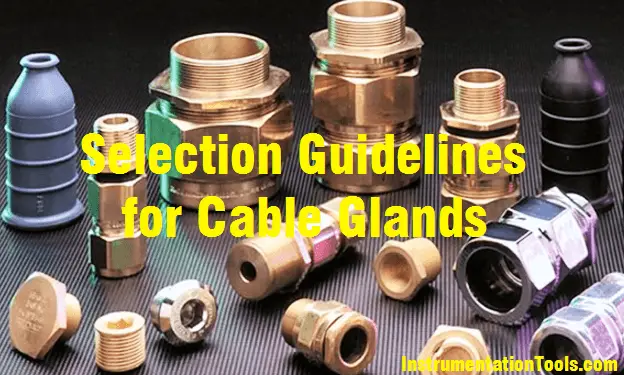 Good advice would be to allocate some value added planning and preparation time to the subject of cable gland selection so as to avoid the great inconvenience which is likely to occur at a critical point in time. In the event that a user or contractor is in possession of a cable schedule that requires a cable gland selection and sizing process to be carried out.
Here is a summary of some aspects to carefully consider when selecting cable glands.
Identify the type of cable to be used.
Check the construction, size & material properties of the cable.
When the cable is armoured, verify the following :-
Check the type and material of the cable armour
Check the short circuit fault current rating of the cable armour
Check the actual diameter of the inner bedding.
Check the actual diameter of the lead covering.
Check the actual size of the overall cable diameter.
Check the size and type of armour or braid.
Check any special environmental requirements in relation to corrosion protection.
Check the material of the mating electrical enclosures to eliminate dis-similar metals.
Consider whether any protective plating is required to be applied to the cable gland.
Check the type and size of the cable entry hole in the mating electrical equipment.
Check the ingress protection rating of the electrical equipment or site standard
Check whether a single seal or double seal cable gland is required.
Check whether an entry thread seal is required for IP66 (or IP67/IP68) conditions.
Check whether fixing accessories such as locknuts and serrated washers are required.
Check whether earth tags are required.
Check whether shrouds are required.
For installations in Hazardous Areas, special considerations should be taken into account to ensure compliance with national or international codes of practice.
Check whether a thread conversion adaptor / reducer is required to make the installation.
Check whether any stopper plugs are required to close unused cable entries.