A piping and instrumentation diagram/drawing (P&ID) is a diagram in the process industry which shows the piping of the process flow together with the installed equipment and instrumentation.
P&ID Guidelines for Control Valves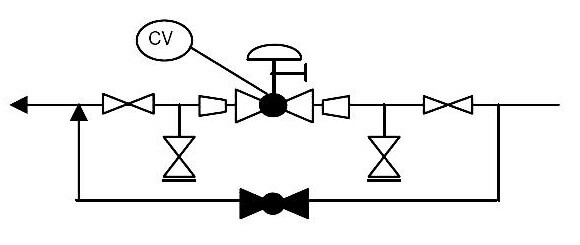 The sample drawing presented here represents a typical arrangement generally used to represent control valves on P&ID. Depending on the projects legend sheets, control valves may be represented by globe or gate valves. Here a globe valve symbol is used. First of all a proper valve symbol should be selected to represent the control valve as per the project standards.
Generally, the control valve size is smaller than the corresponding line size. This change in diameter should be clearly indicated in the P&ID with reducer and expander.
Block valves should be provided upstream and downstream of the control valves in case of shutdown and maintenance.
A drain valve is normally provided between the control valve and upstream block valve. If the control valve is of 'Fail Open' type, this drain valve is sufficient to drain the piping segment. If the control valve is of 'Fail Close' or 'Fail in Position' type, then additional drain valve is required between the control valve and downstream block valve as shown in the sample drawing.
Normally, either a bypass or a handwheel is provided for control valves which are under continuous service. If two or more control valves are installed in parallel, bypass or handwheel is not required.
The choice between providing either a bypass or a handwheel for the control valve is made based on the size of the control valve. For control valves bigger than a certain size, provision of handwheel is preferred. For control valves smaller than certain size, provision of bypass with block valves is preferred.
For control valves on certain critical services, a spare control valve may be installed on the bypass of main control valve. This limiting control valve size between handwheel and bypass is specific for a project and may vary from one project to another.
If the control valve is equipped with a handwheel, then only the drain between control valve and upstream block valve is sufficient for draining by opening the control valve using handwheel.
Normally globe valve is selected as the bypass valve on the control valve as it allows better control with opening.
Additional details such as failure position, tightness class, # rating etc. are also indicated on the P&ID for control valves, as per the project standards.
All the guidelines given here are very general and may be modified as per specific requirements of any particular project.