Examine this portion of a P&ID. This particular diagram shows some of the piping and instrumentation associated with a chemical reactor vessel:
Chemical Reactor Vessel P & ID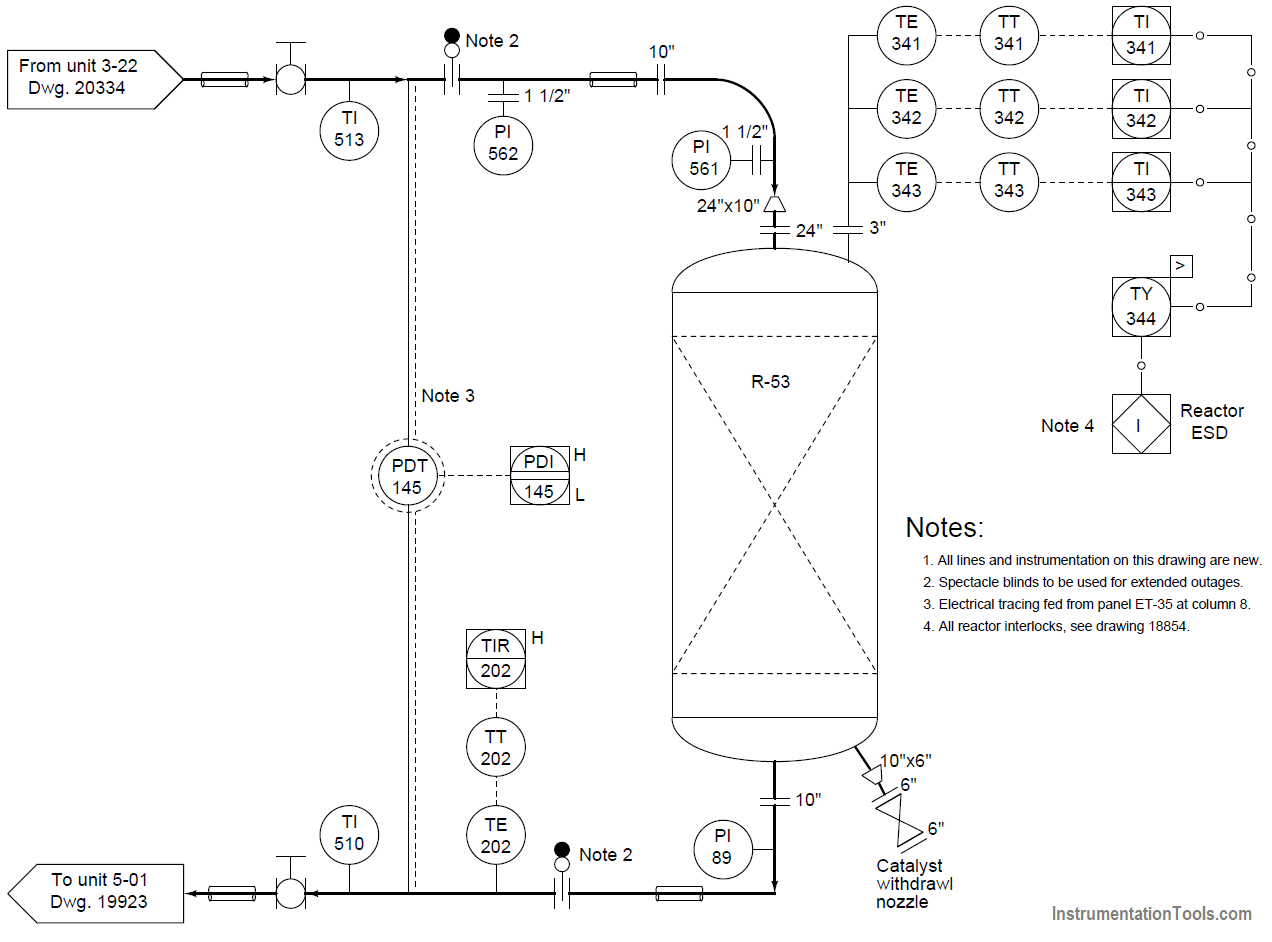 Question 1:
Which direction does process fluid flow through this reactor vessel? How can we tell from the diagram?
Question 2:
Identify the functions of all instrument "bubbles" shown in this diagram, as well as the meanings of their identifying tag letters (e.g. "PDT").
Question 3:
How are piping flanges shown in a PFD or P&ID?
Question 4:
What is the meaning of the trapezoidal symbols with two sizes (e.g. 10" × 24")?
Question 5:
Two places on this diagram show the placement of a blind, used to positively seal off a pipe at a flange for maintenance purposes. Locate these two blind installations in the diagram.
Note: If a blind or another other safety device needs to be left in its safe state for any specific reason, the person engaging that safety device must lock it in place and tag it with an informative tag stating the reason and duration of the lock-out. This is commonly referred to as a lock-out, tag-out procedure.
Question 6:
Some of the indicators shown in this P&ID serve double-duty as process alarms. Identify which of the indicators also have alarm functions, and which of those are high alarms, low alarms, or both.
Question 7:
Based on what you see in this P&ID, what do you think the purpose of PDT-145 is?
Question 8:
Based on what you see in this P&ID, what do you think is the purpose of having three temperature transmitters at the top of the vessel?
Share Your Answers with us through comments.
Credits: Tony R. Kuphaldt
Read Next: