Standardization of Life-Saving Rules across the oil and gas industry:
Enables better transfer of knowledge, experience, and lessons learned
Increases individual awareness ownership of critical safeguards that prevent fatalities
Is a step towards an industry-wide common safety language
Improves clarity and allows consistent use by contractors and operators doing similar work across the world
To achieve the benefits of standardization and prevent workforce fatalities, all 9 Rules should be adopted.
Life-Saving Rules for Oil and Gas Industry
The nine Life-Saving Rules are shown in Figure. These Rules focus on the activities which, through rigorous data analysis, have been shown to most likely result in fatalities. Each Rule consists of an icon and simple life-saving actions individuals can take to prevent a work-related fatality.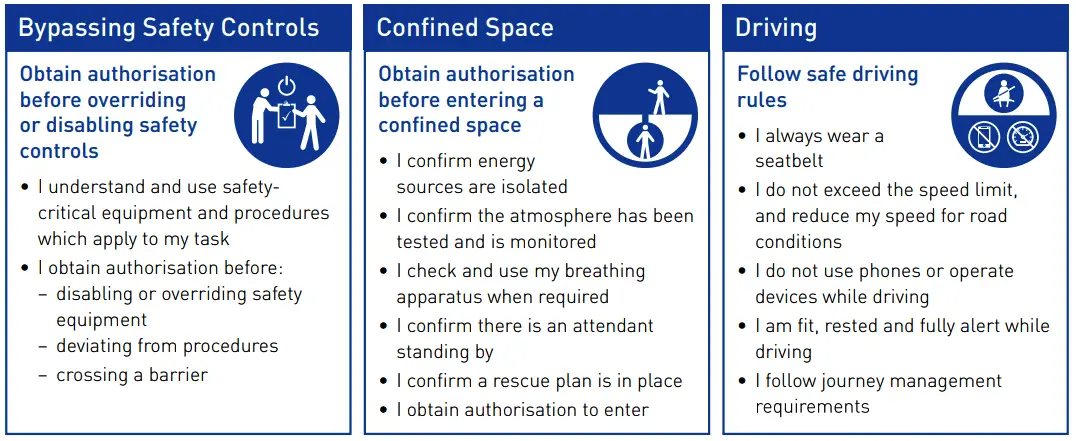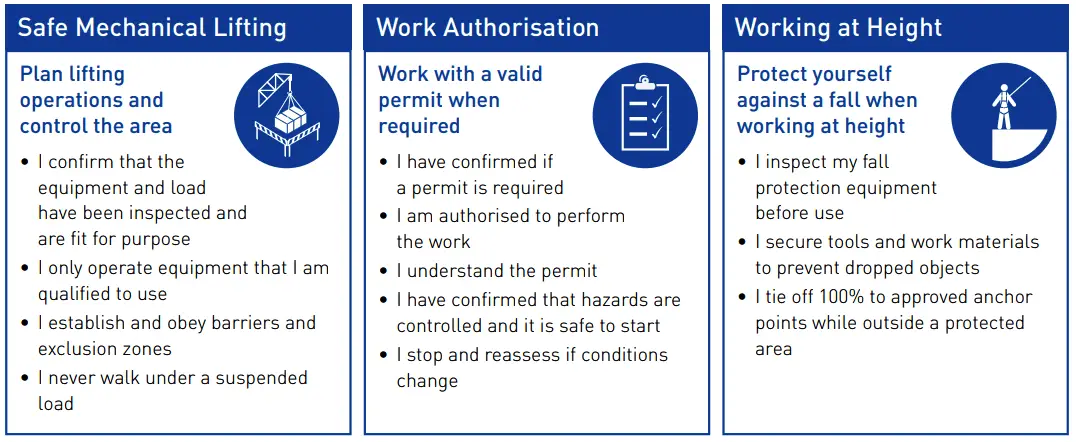 Standardization of Life-Saving Rules simplifies training, aids compliance and understanding of critical safeguards, and helps the transfer of experience and lessons learned. Effective industry-wide implementation requires collaboration between operators, contractors, and subcontractors.
It is accepted that operational risk profiles may differ, and the Rules may not address all an organization's fatality risks. In this case, companies are encouraged to manage these other risks through existing management systems or in other ways, e.g., campaigns, training, and workforce engagement, rather than creating additional Life-Saving Rules.
It is important that the Rules are understood by all individuals, their supervisors, and their leaders, and that management has created the conditions necessary to enable everyone to follow the Rules.
Successful implementation of the Rules requires the following, at a minimum:
Organizations have an existing safety management system, containing the following supporting policies, processes, and systems:
Worker Fitness for Duty including a drug and alcohol policy
Contractor (and subcontractor) Management program including bridging arrangements, if applicable
Journey Management program
Safe systems of work including permit to work, and energy isolation
Management of change
Hazard identification and awareness, risk assessment and safeguard management
Field (self) verification providing checking and verification of critical tasks
A commitment that work does not start until all individuals involved are aware of and can confirm they can follow the Life-Saving Rules that are relevant to that work.
A requirement that work is not conducted without a pre-job risk assessment and a safety discussion, such as a toolbox talk, appropriate for the level of risk.
Organizations define which procedures and equipment are safety-critical and ensure impacted workers clearly understand what these are.
Personnel is trained and competent for the work they conduct.
Equipment is fit for purpose, properly maintained, and in working condition.
Before work starts, there are emergency response plans in place that have been developed from a review of potential emergency scenarios, which have suitable and sufficient resources available, and which are periodically drilled/tested.
Everyone is authorized to intervene or stop work without adverse consequences if they are in any doubt about the safety of an activity.
Suitable personal protective equipment is provided and worn in accordance with the requirements identified by the risk assessment and worksite policies.
To enable individuals to follow the Life-Saving Rules, organizations need first to provide the right conditions:
Everyone needs to know the Rules, understand their value, and what following the Rules means for their role.
The physical workplace conditions required to be able to follow the Rules need to present (e.g., certified anchor points provided for all work at height, vehicles equipped with seatbelts)
There need to be clear expectations set and supported from the top of the organization that work must not start unless the Rules can be followed, and these must be visible to the workforce, by, for example, ensuring physical workplace conditions are present.
Everyone must be given the authority and be encouraged to stop work and intervene if they observe a Life-Saving Rule (or indeed any other unsafe activity) actually, or potentially, not being followed. Proactive intervention may be the last opportunity to prevent injury or fatality.
The focus on personal accountability for following the Rules is about care and concern for the individual and the well-being of everyone who works in our industry.
Bypassing Safety Controls
Safety-critical controls include:
Equipment (such as fire and explosion protection and mitigation systems, guards, interlocks, alarms, and safety-critical monitoring equipment) whose purpose is to prevent a fatality or other major accident, limit the consequences of a major accident, or whose failure could cause or contribute substantially to a fatality or other major accident.
Procedures that if not performed correctly or at the right time could result in a fatality or other major accident.
Confined Space
A confined space, such as a vessel, tank, pipe, cellar or excavation, can contain explosive gas, toxic or asphyxiating atmosphere or other dangers such as energy releases, lack of oxygen, exposure to hazardous chemicals, things that can fall on you or crush you, or that you can fall from. Authorized access keeps you safe.
Organizations should determine if any work involving excavations or trenches creates confined space conditions and ensure necessary work authorization and controls.
Driving
The driver and passengers should take responsibility for each other's safety, including ensuring all occupants are wearing a seatbelt.
Fitness for duty means assuring that an individual can complete a task safely and without unacceptable risk to themselves or others. This includes not being under the influence of drugs and alcohol.
Energy Isolation
Energy isolation separates people from hazards such as electricity, pressure and energized equipment. Energy isolation also provides protection from potential energy sources e.g. positioning valves to prevent tanks filling with materials due to gravity.
Any stored energy (e.g., hydraulic or pneumatic power) should also be dissipated before the work starts.
Hot Work
Hot work includes any work that creates an ignition source performed in an area that potentially contains hydrocarbons or flammable materials.
Ignition sources are open flames or sources of heat that could ignite materials in the work area such as welding, grinding, smoking, torching, (un)loading of hazardous materials, internal combustion engines, chemical reactions, batteries, etc.
Hazardous areas are defined as "any place in which an explosive atmosphere may occur in quantities such as to require special precautions to protect the safety of workers".
Line of Fire
Other rules focus on specific activities, whereas this Rule is intended to raise personal awareness of struck-by and caught-in-between hazards. Line of fire hazards are not always obvious or constant and can be introduced as the task progresses (e.g. underground and overhead powerlines, pipelines, objects under pressure, stored energy, lines under tension, poorly supported excavations, shifting cargo, moving equipment).
At all times individuals need to continually monitor their surroundings and position themselves to avoid being in the line of fire. This includes ensuring they are visible to vehicle drivers and equipment operators.
Individuals recognize when they create a line of fire hazard and put others or themselves in the line of fire.
Safe Mechanical Lifting
Lifting operations need to be planned and performed by competent personnel using certified equipment.
To protect people around suspended loads and any mechanical lifting operation, access should be controlled through physical barriers and exclusion zones.
When mechanically lifting people (e.g. man-riding, man-baskets, personnel transfer, mobile elevated work platform), organizations should provide equipment which is designed and certified specifically for lifting people.
Work Authorization
Work authorization is more than just a person in charge signing a Permit to Work form: it is seeking and has the authorization to start, resume, or hand-over a task.
The person in charge of the work confirms that it is safe to start, that controls are in place and effective, and the task can be performed as planned.
Working at Height
Working at height outside a protected area (such as an elevated work area not enclosed by handrails) requires the use of approved fall protection equipment secured to an approved anchor point.
Other considerations for working at height include ladders, work over water, rope access, floor openings, access hatches, and inspection pits. Floor openings should be protected with physical barriers to prevent falls.
Preventing objects from falling from height and using physical barriers below the working area keeps you and people working below you safe.
Standards recommend that companies define working at height as work at or above 1.8m/6ft unless the local legislation requires a lower height.
Scaffolds should be properly constructed, inspected and certified.
Source: International Association of Oil & Gas Producers