In a previous article we talked about technical standards, what are they, why are they important and different types of standards.
In this article, we will discuss the differences between standards and codes as they get mixed up sometimes, and we will also give a simple explanation of specifications and regulations.
Contents:
What are technical standards?
Importance of standards.
What are technical codes?
Why technical codes are needed?
Examples of different codes.
Difference between standards and codes.
What are the specifications?
What are regulations?
Conclusions.
What are Technical Standards?
A standard is a document that contains guidelines and recommendations prepared by a group of people with high expertise in a certain topic to show how a certain thing is made or done.
So in simple words, a technical standard is a "how to" document.
So if I'm a manufacturer of a certain product or a service provider, the technical standard will be the document explaining to me how to manufacture this product with minimum required qualities and specifications, or it will be the document telling me how this service should be provided.
Importance of Standards
Standards are important because they ensure Compatibility between different products and components; they also ensure the quality and safety of the products and make interoperability of components made by different companies possible.
A very important thing to know about standards is that they are not mandatory to follow, they are just guidelines and recommendations, it is a best practice to adopt your products or process to an approved standard, but following the standard is not a low abiding act.
What are Technical Codes?
Technical codes are legal rules and requirements that are enforced by a governmental body to protect the safety, health, and other relevant values. These rules focus on what needs to be done when for example manufacturing a product, but a code doesn't care how it should be done.
To put it in a more simple way, a code will tell a manufacturer to ensure safety and quality for their products, but it will not tell the manufacturer how this level of safety and quality can be obtained. For example, building codes, sanitary and health codes, and fire codes. These codes will focus on what needs to be done regarding the safety and quality of buildings, sanitary, and fire protection.
So in simple words, a code is what is needed to be done, and a standard is a how-to do it.
For the same product, service, or process you could have different technical codes for different governmental bodies all following the guideline and recommendations of the same standards, but the code will be slightly different from one place to another to attain specific requirements for this place. For example, producing electric equipment to be sold in the US and in Egypt.
For the US, the code will ask for a 110 V supply and in Egypt, the code will dictate a 220 Vac product. But both products will have the same safety and quality standards.
 Why Technical Codes are Needed?
Each country formulates the code however they see fit, so a code will ensure safety and quality from the point of view of the code originated. 
Code provides a set of rules that specify the minimum acceptable level of safety & Quality for manufactured, fabricated, or constructed goods mandated by law in a certain country.
A code is a standard that has been enacted into law by a local, regional, or national authority having jurisdiction so that the engineer or contractor is legally obligated to comply with the code.  So every advantage of following the standard is now transferred by following the code.
Codes can also refer to standards or specifications for the specific details of additional requirements that are not specified in the Code.
Examples of Different Codes
IEC 60364 is the International Electrotechnical Commission (IEC)'s international standard on electrical installations of buildings. This standard presents the recommendations and guidelines of best practices for wiring and electrical installations of buildings.
The IEC 60364 serves as the basic structure of electrical codes in many European countries. For example, the British Standard BS 7671 is the set of regulations for electrical wiring in the United Kingdom.
Other examples of different codes for the requirements of electrical installations of buildings are:
All previous codes provide the rules for the same electrical installations of buildings but these rules will slightly differ from one country to another to fit the special requirements of this country.
Difference between Standards and Codes
See the following table: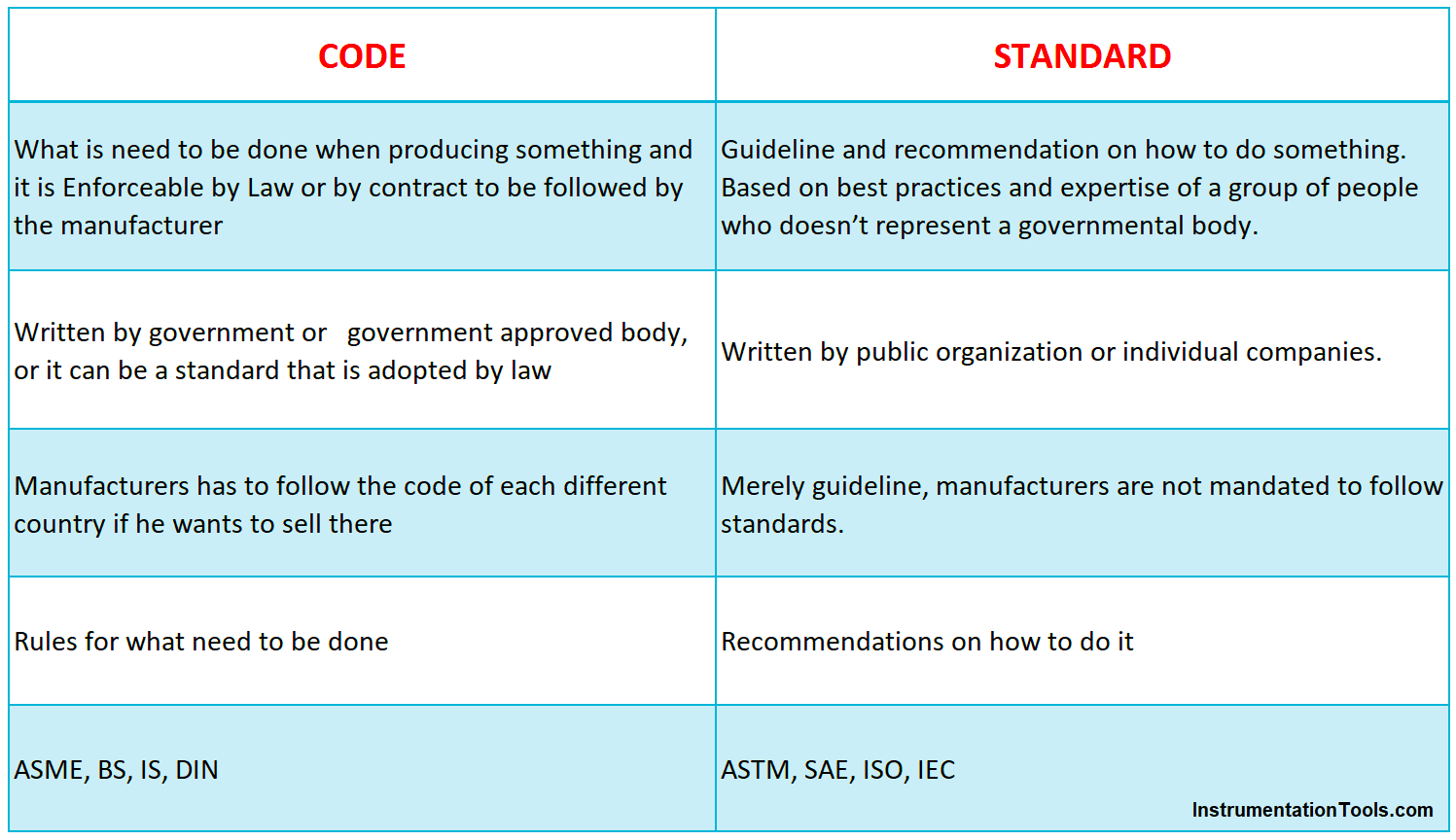 What are the Specifications?
 Specifications are extra special requirements from the customer to the manufacturer or service provider. They are requirements for the materials, components, or services that are required by the customer beyond the code or standard requirements.
Specifications are a must-meet requirement for the manufacturer and have to be met as the customer requires.
 Specifications are generated by private companies to address additional requirements applicable to a specific product or application.
Why is Specification Important?
It allows customers to include special requirements as per design and service conditions.
It allows customizing products.
It presents extra rules to be followed by a manufacturer that is not in the standard or the code.
What are Regulations?
Regulations are rules that are mandated by a government body and require that—by law—those in the industry must comply. The regulation can incorporate codes or standards, or be created completely on its own.
Unlike a code or standard, a regulation does not necessarily require any industry consensus or knowledgeable body to put it into effect.
Conclusion
Technical codes and standards serve the same objective in the sense of providing high-efficiency of products. And ensure values like interchangeability, compatibility, and efficiency.
They also serve moral values such as safety, health, environmental sustainability, and privacy. 
And although standards are just recommendations and guidelines to be followed, codes and adapted by governments or contracts between customer and manufacturer and must be met by both parties.
When codes and standards don't ensure all requirements of the customer the Specifications come into the hands, where companies or customer will set their extra and additional rules that are not met by the code or the standards.
Regulations on the other hand are the rules that don't have to be driven by a code or a standard, and manufacturers are abiding by the law to follow these regulations.