Defining Cable Glands
A device designed to permit the entry of a cable, flexible cable or insulated conductor into an enclosure, and which provides sealing and retention.
It also provides significant functions such as earthing, bonding, insulation, cable guarding, strain relief or a combination of these. They are mechanical fittings that form part of the electrical installation material.
A cable gland (also known as a cable connector or fitting) is a device designed to attach and secure the end of an electrical cable to the equipment.
A cable gland provides strain-relief and connects by a means suitable for the type and description of cable for which it is designed—including provision for making electrical connection to the armour or braid and lead or aluminium sheath of the cable, if any. Cable glands may also be used for sealing cables passing through bulkheads or gland plates.
Cable glands are mechanical cable entry devices. They are used throughout a number of industries in conjunction with cable and wiring used in electrical instrumentation and automation systems.
Cable glands may be used on all types of electrical power, control, instrumentation, data and telecommunications cables. They are used as a sealing and termination device to ensure that the characteristics of the enclosure which the cable enters can be maintained adequately.
Cable glands are made of various plastics, steel, brass or aluminum. Glands intended to resist dripping water or water pressure will include synthetic rubber or other types of elastomer seals.
Certain types of cable glands may also serve to prevent entry of flammable gas into equipment enclosures, for electrical equipment in hazardous areas.
Although cable glands are often called "connectors", a technical distinction can be made in the terminology, which differentiates them from quick-disconnect, conducting electrical connectors.
For routing pre-terminated cables (cables with connectors), split cable glands can be used.
These cable glands consist of three parts (two gland halves and a split sealing grommet) which are screwed with a hexagonal locknut (like normal cable glands). Thus, pre-assembled cables can be routed without removing the plugs.
Alternatively, split cable entry systems can be used (normally consisting of a hard frame and several sealing grommets) to route a large number of pre-terminated cables through one wall cut-out.
There are at least three types of thread standard used:
Panzergewinde (PG standard)
Metric thread
National Pipe Thread (inch system)
Cable Gland Parts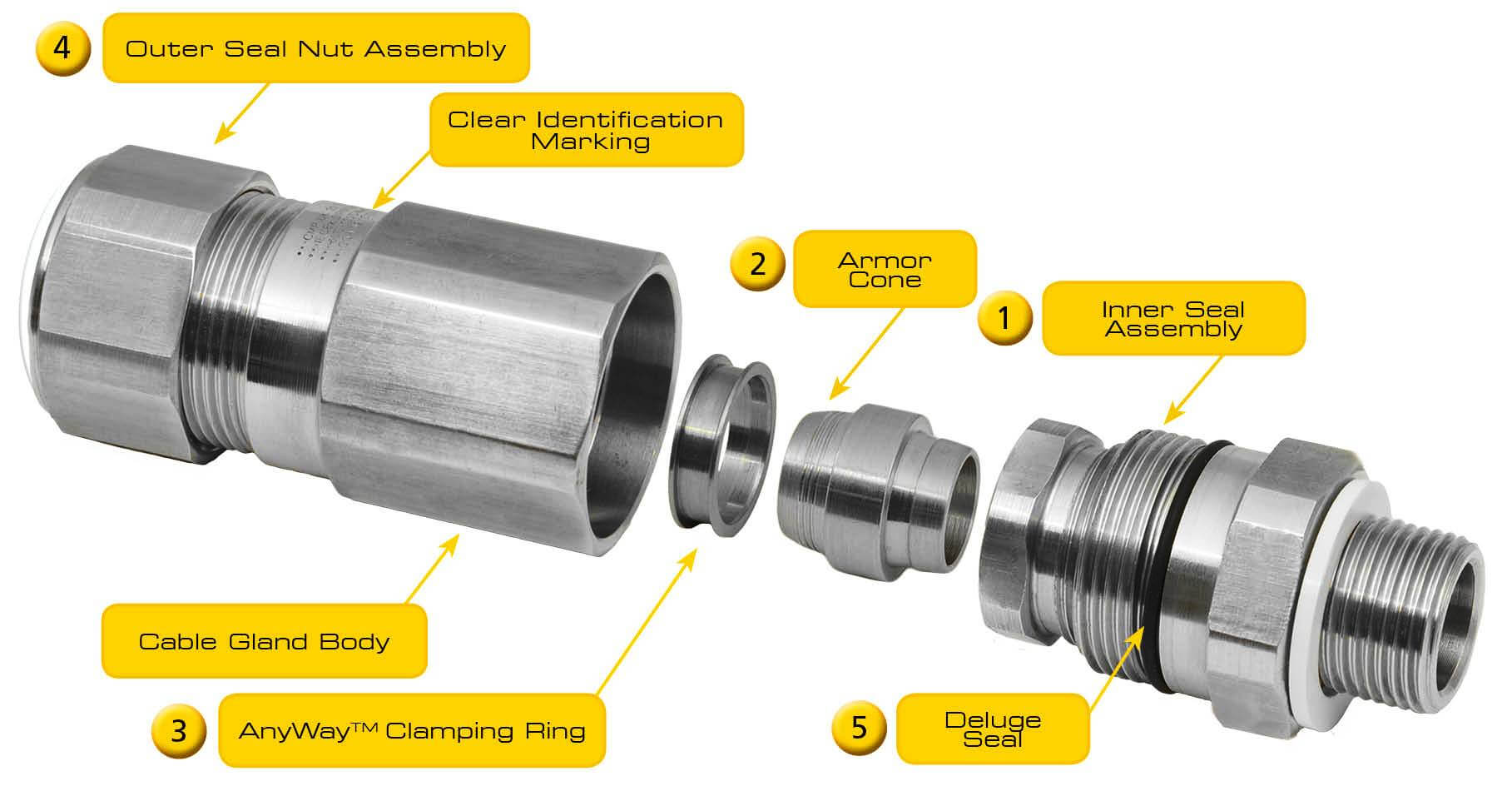 Above is a typical CMP double seal Cable Gland showing the parts in an exploded view
Note : CMP is a Manufacturer of cable of glands
(1) Unique Independent Inner Sealing
The CMP inner sealing principal is quite different from other cable gland types and because the activation of the inner sealing ring is separated from the armour clamping components this means that the possibility of inadvertent over-tightening is eliminated.
Unlike traditional compression seals that have no means of direct control on their application, the CMP inner sealing technique is achieved using a displacement seal that is independently controlled by the user during installation.
The Compensating Displacement Seal System (1) has helped CMP to take its original displacement sealing ring concept to another level.
The unique Compensator has allowed the cable gland components to be fully tightened metal-to-metal and relieve the potential excess forces that could be transferred to the cable bedding, eliminating potential cable damage and coldflow.
(2) (3) Secure Armour Termination
CMP Products' armour clamping method involves a unique termination solution that ensures a permanent crimping of the cable armour, creating a low impedance connection that does not suffer from self-loosening.
The patented AnyWayTM clamping ring aids an easy 'Right First Time' installation. Secure armour clamping like this also contributes to enhanced levels of EMC performance as well as reliable earth continuity.
(4) Outer Seal
The unique CMP Products Outer Seal Tightening Guide (OSTG) and Load Retention Sealing Ring (LRS) ensure an IP/NEMA rated seal is formed around the cable to the correct degree.
As similar solution is also provided for the sealing rings in our Cable Glands for unarmoured cables.
(5) Proven Internally Enclosed Deluge Seal
CMP Products integrated 'O' ring deluge seal (tested to DTS 01:91) prevents corrosion of the cable armour by ensuring that moisture cannot track around the Cable Gland threads and into the armour termination body.
As an internally enclosed deluge seal the 'O' ring is protected from mechanical damage and harmful UV rays.
Reference : cmp-products.com