A coke calcining operation (where petroleum coke is burned to decrease its hydrogen content) uses a large bin to collect coke dust that forms around its hooded conveyor systems.
The level of coke dust inside this bin is measured by a gamma-radiation instrument:
Gamma Radiation Level Instrument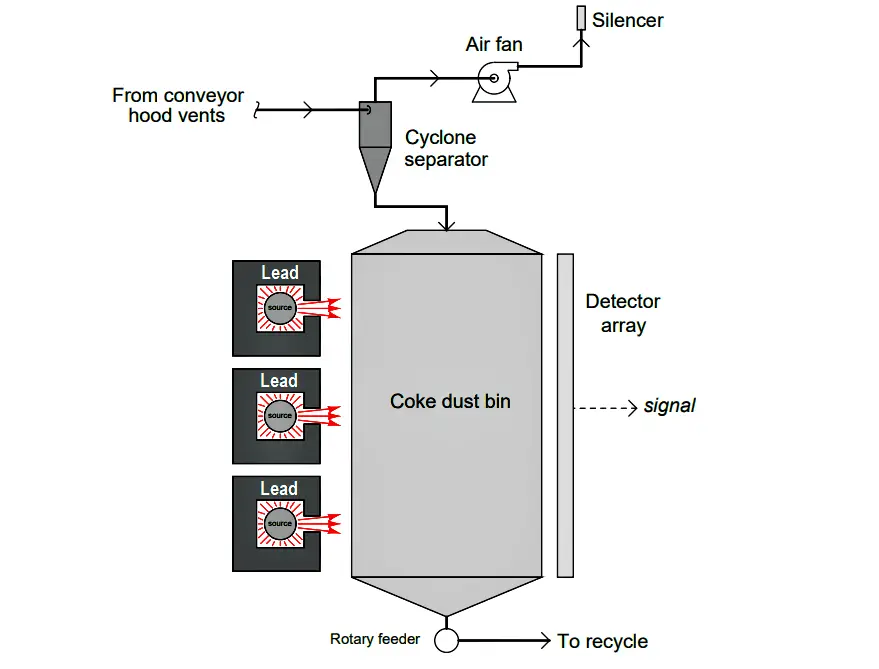 1. Explain how this system uses nuclear radiation to measure coke dust level?
2. Why does this system use multiple radioactive sources? Why do you suppose one is not sufficient?
3. Suppose some radioactive material accidently entered the storage bin along with coke dust. Would this shift the level instrument's zero, the span, or both?
4. Identify some alternative technologies which we could use to measure the coke dust level.
5. What function does a cyclone separator perform, based on an analysis of this simple process flow diagram?
Note: cyclone separators are commonly used in sawmill operations, to handle wood chips in a moving air stream.
Share your answers with us through below comments section.
Read Next:
Credits: Tony R. Kuphaldt