CCTV systems provide surveillance capabilities used in the protection of people, assets, and systems. A CCTV system serves mainly as a security force multiplier, providing surveillance for a larger area, more of the time, than would be feasible with security personnel alone.
CCTV systems are often used to support comprehensive security systems by incorporating video coverage and security alarms for barriers, intrusion detection, and access control.
For example, a CCTV system can provide the means to assess an alarm generated by an intrusion detection system and record the event.
A CCTV system links a camera to a video monitor using a direct transmission system. This differs from broadcast television where the signal is transmitted over the air and viewed with a television.
New approaches within the CCTV industry are moving towards more open architecture and transmission methods versus the closed circuit, hard-wired connection systems of the past.
CCTV systems have many components with a variety of functions, features, and specifications. Key components include cameras, lenses, data distribution, power, and lighting, among others.
CCTV technologies continuously undergo feature refinements to improve performance in areas such as digital equipment options, data storage, component miniaturization, wireless communications, and automated image analysis.
The components, configuration options, and features available in today's CCTV market create a complex set of purchasing options. It is the intent of this handbook to provide information on the capabilities and limitations of CCTV components that will aid an agency procuring a new CCTV system or upgrading an existing one.
CCTV Book
This CCTV free book consists of 8 chapters, as listed in the below table.
| S.No. | Chapters |
| --- | --- |
| 1 | Introduction to CCTV |
| 2 | CCTV System Design |
| 3 | Components of CCTV System |
| 4 | Transmission |
| 5 | Video Analytics |
| 6 | System Integration |
| 7 | Emerging Technology |
| 8 | Vendor Selection Considerations |
CCTV System Design Considerations
System design considerations include factors such as lighting, power, transmission, and cost. These factors are important in the design and layout of a CCTV system.
In addition to these factors, camera types, lenses, monitors, multiplexers, and other components are also important considerations.
Selection of the CCTV components is an iterative process that takes place in conjunction with the design phase. This book contains more details on common component features and specifications that should be considered when selecting equipment for a CCTV system.
Basic Questions for Addressing CCTV System Requirements
1) What areas require coverage by the CCTV system? 
2) What are the highest value assets that need to be protected?
For example:
• High-value material property;
• Critical infrastructure;
• Intellectual property; and/or
• Classified material or intelligence information. 
3) Where are the sites of greatest vulnerability?
4) Does the information technology infrastructure adequately support the number of cameras? 
5) Will the system integrate with an existing physical security system? 
6) Will the system integrate with an existing electronic access control system? 
7) Does the security budget cover regular maintenance, training, and upgrades to the system? 
8) Does the system's installer/vendor provide adequate training to operate the system?
Components of CCTV System
CCTV uses components that are directly connected to generate, transmit, display, and store video data. A CCTV system can be as simple as a camera purchased from a retail electronics store connected to a video monitor.
However, larger systems operated by professional security personnel are comprised of a number of components falling into several basic categories:
Cameras;
Lenses;
Housings and mounts;
Monitors;
Switchers and multiplexers; and
Video recorders, etc.
Many features exist within each of these categories that can satisfy an agency's operational requirements in the most challenging environments. The most complex CCTV systems may incorporate hundreds of cameras and sensors integrated into one overall security network.
The below-figure provides a CCTV component diagram example.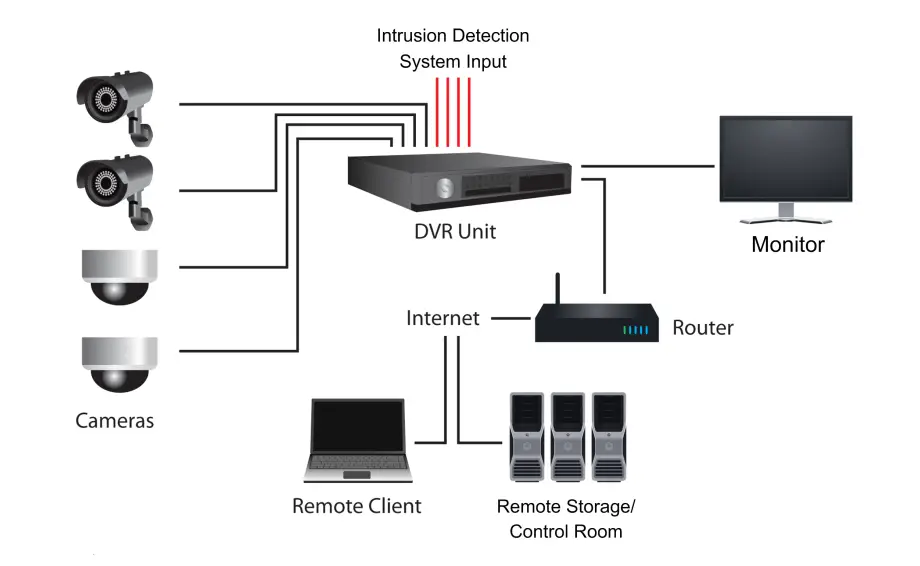 Most new CCTV systems maximize the advantages of digital technologies by utilizing electronic databases, compact components, and wireless transmission techniques. With larger quantities of data being collected, it is essential that the system be capable of retaining data in accordance with the organization's policies and procedures.
Cameras are an essential component of any CCTV system. Matching the right CCTV camera to a particular application is increasingly complex due to rapid technological developments and a greater range of applications.
A system's performance is affected by many factors beyond those listed in the vendor data sheets. Effective camera selection requires detailed knowledge of the camera, application, supporting architecture, and host environment.
All CCTV cameras include three basic elements:
Image sensor – Converts light (photons) into electronic signals;
Lens – Gathers light reflected from a subject and focuses the light on the image sensor; and
Image processing circuitry – Organizes, optimizes, and transmits video signals.
The type of camera best suited for a CCTV system depends on the operational environment and how it will integrate into the system.
The answers to the following questions may help determine the best camera type:
What is the desired image quality?
What size is the desired field of view (FOV)?
How much lighting is available?
Will the camera be installed indoors or outdoors?
Will the video be monitored on a full time basis?
How will the video be transmitted?
Will the camera be exposed to extreme conditions?
There are many types of cameras designed to perform under specific environmental conditions but cameras can be grouped into two primary categories: fixed and pan-tilt-zoom (PTZ).
Fixed cameras are intended to constantly view a single scene, while PTZ cameras are motor driven and can pan left or right, tilt up or down, and zoom in or out to instantly customize the view as needed.
A combination of fixed and PTZ cameras are often used to provide the required surveillance coverage.
IP-based CCTV systems
IP-based systems have emerged as an attractive alternative to other technologies, due in large part to their ability to achieve high-performance video capabilities at a low cost.
The industry has found ways to implement IP-based systems that use existing cameras, cables, and other equipment. However, organizations planning and designing new systems should consider IP-based technology.
IP-based CCTV systems are designed to provide the ability to monitor, record, and stream video over a network to computers or other equipment. The system can use existing local area networks (LANs), wide area networks (WANs), and/or wireless LANs (WLANs) to save on installation costs.
However, for added security, an organization could install its own private area network (PAN) cabling and support hardware. Power over Ethernet (PoE) technology is also an option within an IP-based system to increase savings and reliability.
PoE enables various networked devices to receive power and data through one standard cable, which can be a significant cost savings when designing CCTV systems.
A simple IP-based CCTV system, such as the one seen in the below figure consists of a network camera (although analog cameras can be used with additional equipment), a network switch, and a PC for viewing, storing, and analyzing data and managing the CCTV system.

Traditional analog-based CCTV systems require dedicated point-to-point cabling from each camera to the recording and/or viewing locations. In an IP-based CCTV system, video is digitized at the camera and can then be transmitted over the IP network to virtually any location around the world.
Most analog systems are traditionally unidirectional, whereas network based systems are bidirectional, easier to integrate into larger systems, and highly scalable.
Network cameras and other devices can not only send audio/video, but can also send other data like text or short message service (SMS) messages to users as well as receive audio and data (which can activate alarms, door entries, and external alarms).
In addition, IP-based systems have the ability to interface and communicate with multiple parallel applications (e.g., motion detection or license plate readers).
Digital systems in general have a variety of advantages over analog systems such as ease of use, advanced search capabilities, simultaneous record and playback, improved image quality, and efficient compression and storage options.
IP-based systems also provide many benefits that include:
Remote accessibility
High image quality
Future integration with digital technologies
Flexibility
Scalability and
Cost-effective transmission.
IP-Based System Components
The flexibility of IP-based systems is attributed to the variety of configurations and types of components compatible with IP technology.
Since the number of possible custom configurations is so vast, the following list is just a sample of the type of components compatible with IP-based systems.
Cameras – Both IP network cameras and analog cameras can be used in an IP-based system.
Video Encoders – When using analog cameras, a video encoder or video server needs to be connected to the analog cameras to convert the video to a digital format. The encoder then sends the data over an IP network.
Network Switches – Switches allow CCTV devices to communicate with each other and share information.
Networks – A network can be small or extensive, wired or wireless or a combination thereof. The most common approach taken by organizations is to use LANs or WANs.
Network bandwidth capacity can be increased by adding switches and routers. Wireless networks are a good option when traditional wired networks are too costly or difficult to install.
Power over Ethernet – PoE is an option for using a wired network to distribute both data and power.
PC with Web Browser – PCs can access live and recorded video over the Internet as needed.
PC with Video Management Software – PCs can record and store video from cameras, as well as view live and recorded video as needed.
Additionally, video management software can support video being accessed over smartphones or tablets.
Storage Devices – Video transmitted through an IP system can be stored on a server, a network device such as direct attached storage (DAS), storage area networks (SAN), network attached storage (NAS), or a PC hard disk.
Mobile Devices – IP-based systems can be easily configured to facilitate access to video via the Internet from smartphones, laptops, and other mobile devices.
Cyber Security
The confidentiality, integrity, and availability of data are critical for any organization. CCTV systems, especially IP-based systems, present a cyber-security risk because their video images and critical operational surveillance data is transferred and stored on a network.
Protecting information should be a high priority in security planning. Cyber security is a large and complex issue that extends far beyond the implications of a CCTV system.
However, issues such as hardware and software control measures, network control measures, and network security should be considered by any agency incorporating an IP-based CCTV system.
Integrating CCTV System
Organizations should strive to have all security systems and their subsystems linked together to ensure the system's components work together as a whole. Achieving systems integration is both a conceptual and a logistical challenge.
The below figure illustrates the many different layers involved in an integrated security system.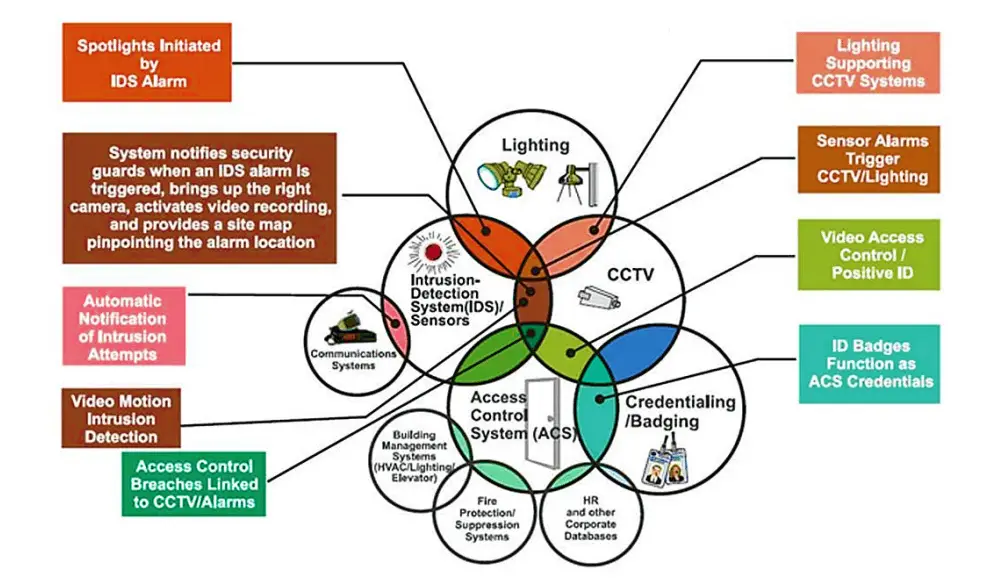 Newly designed CCTV systems have an advantage over existing systems because they can be designed from start to finish with current technology components from manufacturers that are easy to integrate.
When selecting CCTV devices, organizations should consider future needs and requirements, such as the potential for expansion, scalability, integration, and upgrading.
Some additional technology considerations include:
Ability to use a consistent hardware platform throughout the enterprise;
Off the shelf software and equipment, not proprietary;
Compatibility for data collection and storage;
Advanced software graphical user interfaces (GUIs) to integrate controls and displays;
Ability to create single security user profiles used by multiple security applications; and
Vendor support to facilitate, test, and commission system integration
An organization should consider system integration during the project planning and design phase. This applies to various types of projects that may impact the CCTV system including:
New CCTV systems;
Acquisition or expansion of existing structures into an existing CCTV system;
Newly designed and built structures;
Upgrades to associated parallel systems;
Adding new technologies into an existing CCTV system; and
Expansion of cameras (renaming cameras across stove-piped platforms could be a problem).
| | |
| --- | --- |
| Title: | CCTV Technology Handbook |
| Author: | U.S. Department of Homeland Security |
| Format: | PDF |
| Size: | 1.45 MB |
| Pages: | 66 |
| Download: | Click Here |