In this post, we will understand the concept of ERP in industrial automation. ERP stands for Enterprise Resource Planning.
It is necessary to understand various levels of industrial automation. There are so many hardware devices, software, IT infrastructure, and networking involved; that it is a must to co-relate things between them and understand what the difference between them is. 
Suppose you are working in an office and are not aware of the level of the various employees. This will hamper your knowledge about the company working and will also not teach you what to speak with whom.
For example, an engineer cannot talk directly to a director. He has to report to his immediate next higher level of team leader. Similarly, it is important to know what level in industrial automation can speak and co-relate things to the next level.
Enterprise Resource Planning in Industrial Automation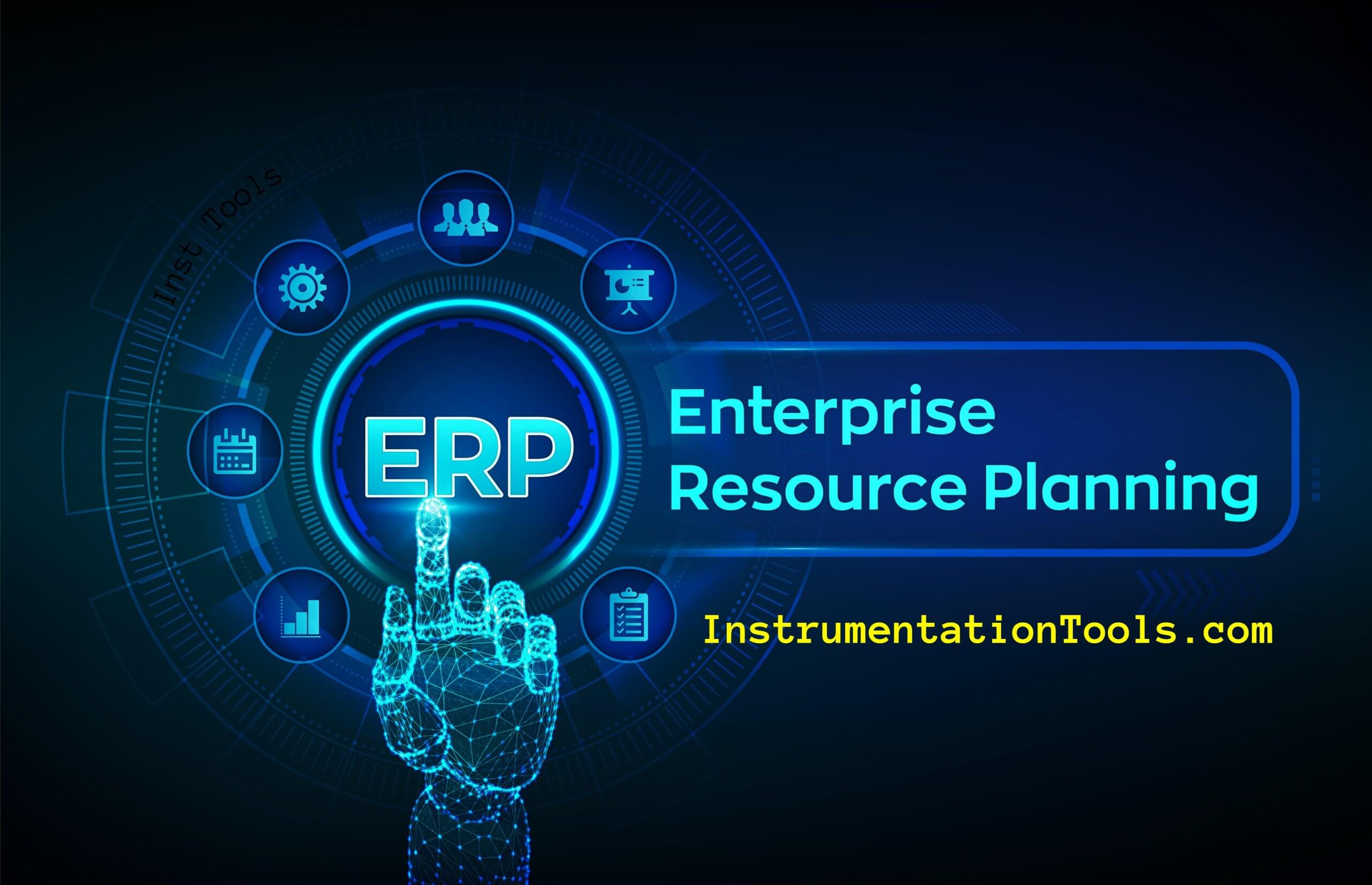 Basically, there are five levels in industrial automation – starting from L0 to L4. In this post, we will see the fifth level (L4). This level is used for business planning, logistics, and enterprise-level operations in a plant.
There are multiple departments in a company – like sales, purchase, HR, finance, logistics, production, inventory control, etc. If all the processes after manufacturing (MES) are not linked and are done manually, it will give the desired outputs; but will be very slow.
The production rate will decrease; because many persons will have to wait for other department personnel to wait for their next step. So, ERP (Enterprise Resource Planning) comes into the picture here.
ERP is an automation process that works on computer technology and automates all the processes of an office in an easy way. Data has been communicated automatically in a transparent way between the departments. This reduces time and increases efficiency.
Similar to MES, ERP is an information software that can be considered a central database for all the departments in a plant. This causes easy reporting, rapid implementation of tasks, and the main thing – automated processes in a plant.
ERP Software Functions
There are many functions of using ERP software. Let us have a look at them.
It helps in stock management. Earlier, due to the non-interlinking of departments, there were issues of stock going stolen, lost, or misplaced. But, due to ERP, you can get to know proper details like – shortage, opening, sale, purchase, and closing of stock materials. In today's world of large-scale demand and manufacturing, due to so many brands of items available in a single company, ERP helps in efficiently handling the materials.
Any product has its expiry date. If you have a proper record of expiry dates, from whom you bought, proper documents and receipts; and gather all these data in a single software like ERP, you can easily get to know the details of your product and reliably handle them. If you know proper expiry dates in advance, then you could manage your stock accordingly.
As it has inventory details also, you can easily find out which material has been placed in which place of the go-down and what the condition of it is.
One of its main highlights is alert management. Suppose a customer has bought a product from you. The software will have all the details of the customer as well as the product. This software is so smart that it automatically sends alert messages and notifications to that consumer when the product is about to be finished. This helps the customer in knowing his product availability and book his next available product with the manufacturer in advance.
Analyzing the behavior of customer patterns and delivering the goods accordingly to them; helps in increasing the profitability of the company to a great extent. That means, the software knows what product a consumer is buying, and accordingly, it will give suggestions to him for the matching products or to be used along with products. This enables the manufacturer to sell more of his products to a large extent.
It removes the guesswork and ensures that the decisions are taken on the basis of real-time facts.
It also simplifies finance and accounting to a great extent. Basically, it consolidates multiple business units, divisions, and GST registered units. It also provides better support for accounting standards and statutory requirements. When it comes to accounts, it is important to monitor cash flow, control credit, monitor payment policies, and monitor data for costing, valuation, and profitability. All these functions are done easily in ERP software.
These are only some of the general functions discussed. If you see the larger scenario, ERP helps in the following ways –
Financial management,
Big data analytics,
Business intelligence,
Asset management,
Human resource management,
Sales and marketing,
Service management,
Supply chain management,
Manufacturing,
Project management,
IoT, and
Customer relationship management.
So, if you see, it has basically covered all the departments of a factory and has integrated all of them into one software. Just access and the user is open to almost all the relevant data that he requires to manage.
Popular ERP Softwares
Some popular ERP softwares are mentioned below.
NetSuite
Microsoft Dynamics 365
SAP ERP
Oracle ERP Cloud
ERPNext, Dolibarr
TallyPrime
WebERP
Odoo.
In this way, ERP plays a very important role in large-scale industrial automation and obviously, in the fourth industrial revolution (Industry 4.0).