A "current to pressure" converter (I/P) converts an analog signal\ (4 to 20 mA) to a proportional linear pneumatic output (3 to 15 psig).
Its purpose is to translate the analog output from a control system into a precise, repeatable pressure value to control pneumatic actuators/operators, pneumatic valves, dampers, vanes, etc.
Principle :
Its force balance principle is a coil suspended in a magnetic field on a flexible mount.
At the lower end of the coil is a flapper valve that operates against a precision ground nozzle to create a backpressure on the servo diaphragm of a booster relay.
The input current flows in the coil and produces a force between the coil and the flapper valve, which controls the servo pressure and the output pressure.
Also Read :  Current to Pressure (I/P) Converter Theory
Calibration :
Required Apparatus:
1. Air Filter Regulator
2. I/P Converter
3. Master Pressure gauge (For Measurement of I/P Output pressure)
4. mA Source (to feed mA to I/P Converter)
Calibration Setup :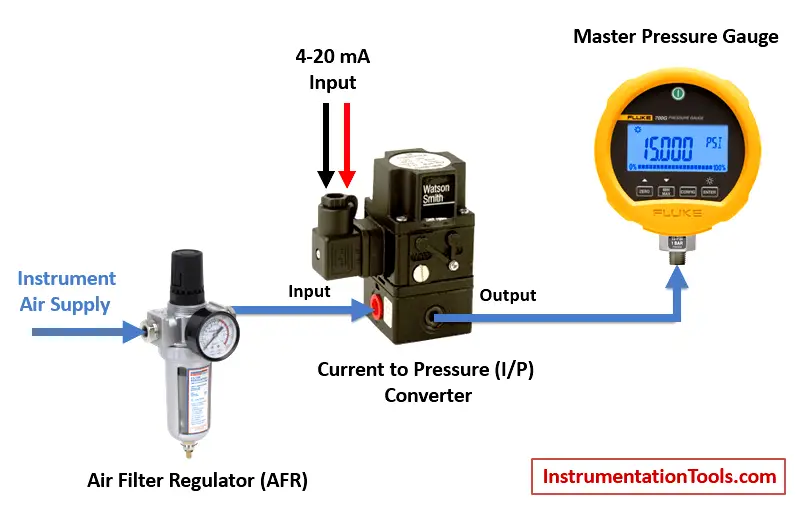 Calibration Procedure :
Inlet air supply to be set at 20 psi in AFR
Feed 4mA from source to I/P converter
Observe master pressure gauge , it should show 3psi
If it is not showing (3psi) adjust I/P ZERO up to obtain the 3psi
Feed 20mA from source to I/P converter
Observe master pressure gauge , it should show 15 psi
If it is not showing 15 psi- adjust I/P SPAN up to obtain the 15 psi
After completion of above procedure again feed 4mA-observe 3psi 20mA-observe 15psi
Up to achieve the correct output from I/P converter repeat the step 2 to 7.
After calibration following to be done:
All the readings to be entered in calibration report.
Calibration sticker to be adhesived.