This article covers Single Position Calibration of Temperature Bath.
Temperature Baths are available in many types.
They are as follows.
Liquid bath,
Dry well block,
Oven, Incubator,
Muffle Furnace,
Refrigerator,
Freezer, and
Temperature Chamber.
The temperature calibrators are also needed to be calibrated periodically. Here the unit under test (UUC) is the temperature bath.
Calibration Procedure of Temperature Bath – Single Position
The following calibration procedure will help you to calibrate the temperature bath with a single position method.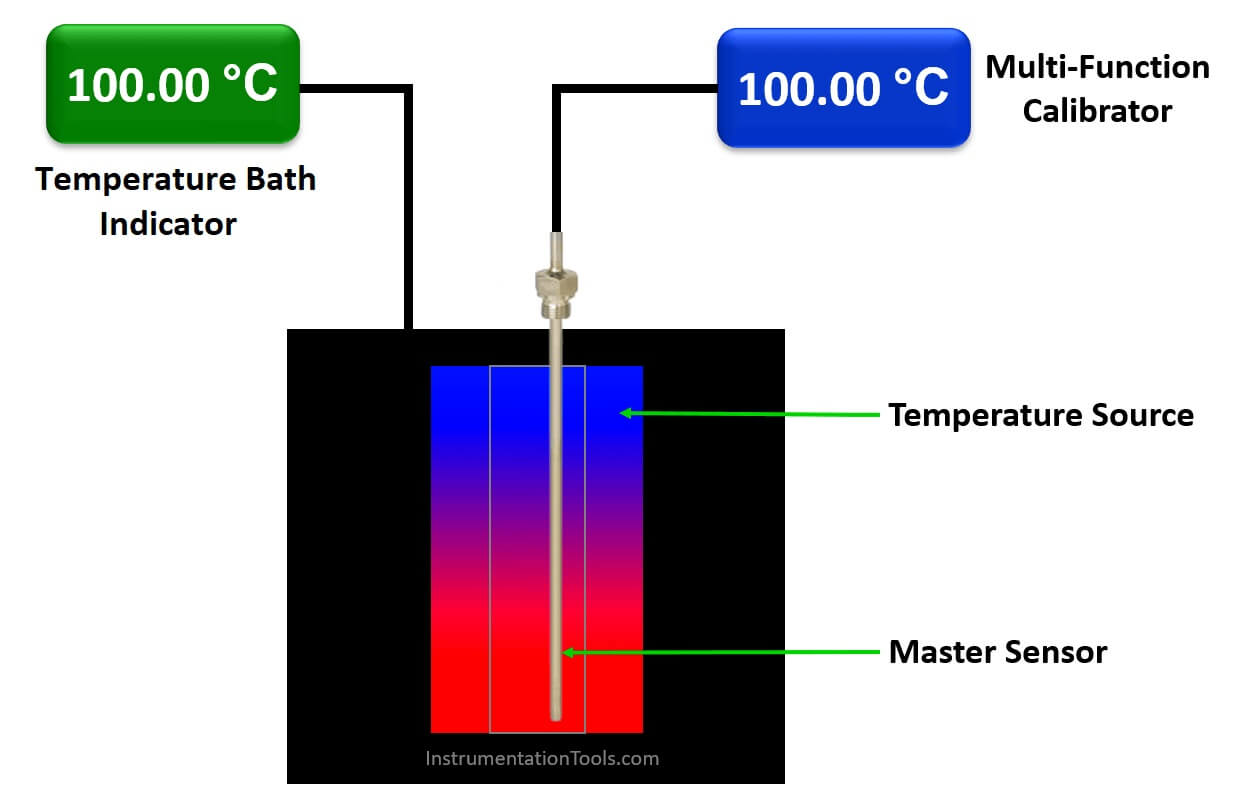 Step 1:
Insert the Master RTD Sensor/Thermocouple into the Temperature Bath (UUC) at Center Position of Temperature Bath.
Now connect a calibrated multi-function calibrator to this master sensor to read the sensor output in temperature units like degree C.
If you don't have a multi-function calibrator then you can use calibrated Multimeter. Note down the output and do the conversion to temperature using RTD or thermocouple standard temperature tables.
Step 2:
Decide the calibration points of the UUC before starting the actual calibration.
For e.xample
The calibration points of the Oven are 50, 100,150, 200 degrees Celsius.
The Calibration points of the Refrigerator are 2, 5 10, 15 degrees Celsius.
Discuss Calibration points with the end-user and according to the working range of the instrument, calibration points are decided.
If you had an old calibration record file then you can find the respective calibration points details in it.
Step 3:
Set the first calibration point on Temperature Bath (UUC).
Allow temperature bath to attend the desired set temperature and Stabilize at first calibration point.
Step 4:
Note down the UUC temperature reading displayed on the indicator of Temperature Bath and Master RTD Sensor/Thermocouple reading.
The temperature Bath shows two readings, Set temperature, and Actual Temperature. Note down the Actual temperature reading.
Take 5 readings at a single different setpoint in intervals of 30 sec.
Calculate the average reading for each calibration point.
Step 5:
Repeat Step 3 and Step 4 for other calibration points.
i.e., do the same calibration step for 100, 150, and 200 degrees Celsius.
Record all the readings in your calibration sheet.
If you liked this article, then please subscribe to our YouTube Channel for Instrumentation, Electrical, PLC, and SCADA video tutorials.
You can also follow us on Facebook and Twitter to receive daily updates.
Read Next: