Application of Vibration Sensor/Transducers:
Measurements   on   Structures   or   Machinery   Casings:
Accelerometers and Velocity Sensors Used in gas turbines, axial compressors, small and mid-size pumps.
These sensors detect high frequency vibration signals related to bearing supports, casing and foundation resonances, vibration in turbine/compressor vanes, defective roller or ball bearings, noise in gears, etc.
Displacement measurements relative to rotating shafts:
Proximity Probes (capacitance or eddy-current) Used in turbomachinery supported on fluid film bearings, centrifugal compressors, gears and transmissions, electric motors, large pumps (>300HP), some turbines and fans.
These sensors detect shaft static displacements, unbalance response, misalignment, shaft bending, excessive loads in bearings, dynamic instabilities, etc.
Advantages & Disadvantages of Different Vibration Sensors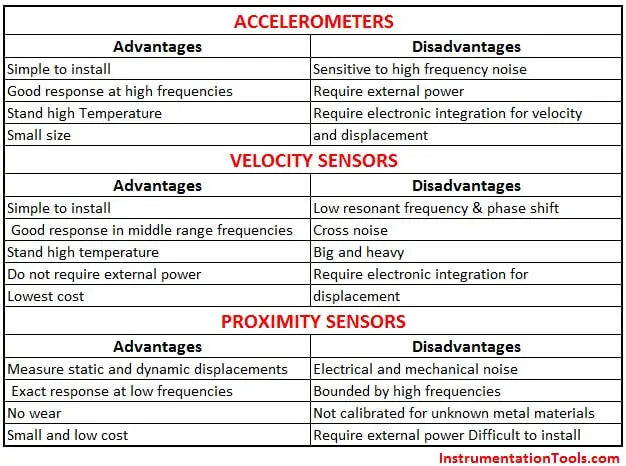 Also Read: Different Types of Sensors Principle Used in Vibration Measurement