Calibration checks of vibration Probe, extension cable and vibration monitor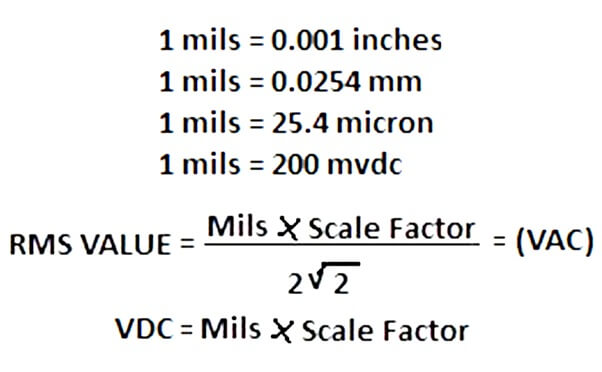 Calibration Procedure:
1. Physical check of vibration probe and extension cable for any damages, if it is please replaced with same one.
2. Check resistance of vibration probe and continuity of extension cable it should be 5 to 9Ω and 5 to 20 Ω
3. Use below equation and get reading for calibration of vibration probe.
4. Connect test equipment.
5. Adjust the spindle micrometer on the TK-3 test and calibration kit shown 0.51 mm (20 mils) (0.0254mm=1mils).
6. Insert the probe in to the TK-3 probe holder adjust the probe in the holder until the digital multimeter shows -3.00 ±0.10 VDC.
7. Adjust the micrometer to 0.20mm (8 mils) indication and the back it out again to the 0.25mm (10 mils) indication backless in the micrometer forced the o/p voltage and record it.
8. Increase the gap in 0.25 (10mils) increment by adjusting the micrometer record the voltage indication at each increment.
9. For each gap increment subtract the voltage at the high gap from the voltage at the low gap divide the result by in a system incremental scale factor of 7.87 ±0.79 v/mm (200 mv ±20 mv/mils).
10. Subtract the 0.25 mm (10 mils) voltage (-5 vdc) from the 2.28 mm (90 mils) (11 vdc) and divided by 2.03mm (80 mils). The result should ina system average scale factor (ASF) of 7.87 ±0.43 v/mm (200 mv ±11 mv/mils).
Author: D.Chakraborty
Read Next: