Learn how to use Single Push button to ON and OFF a Bulb using Ladder Logic in programmable logic controllers (PLC) control system.
I0.0  : Input Push-Button (Normally-Open)
Q0.0 : Output Coil (Bulb)
Q1.5 & Q1.6 : Flags
Single Push button Ladder Logic
As soon as the push button I0.0 (N-O) is pressed ,it becomes N-C and coil Q1.5 (flag) is energized. The another flag Q1.6 will not energize as the output coil contact  Q0.0 is N-O, which breaks the circuit to the flag Q1.6.
As soon as the flag Q1.5 is energized ,the contact Q1.5 (N-O) becomes N-C and out bulb coil Q0.0 gets energized and bulb becomes ON.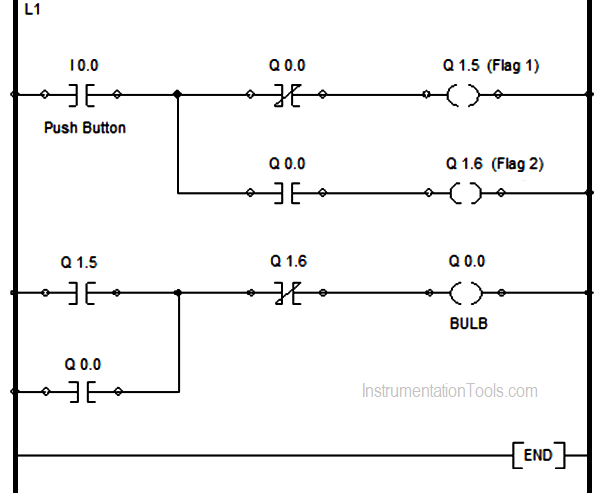 Now, if the push button is released the coil Q0.0 will remain energized because of latching applied as latch contact Q0.0 (N-O) in last rung. To switch off the bulb the push button is again pressed which closes the N-O contact of o/p coil Q0.0 and energizes the flag coil Q1.6.
Due to energize of flag Q1.6 , the N-C contact of this flag in last rung becomes N-O  and as a result of this ,the last rung goes false and output coil Q0.0   is de-energized and bulb goes OFF.
If you liked this article, then please subscribe to our YouTube Channel for PLC and SCADA video tutorials.
You can also follow us on Facebook and Twitter to receive daily updates.
Read Next: