Inhouse Moisture separator to remove moisture content for Pneumatic systems
The  moisture content is a specific challenge for the pneumatic system.This needs to be countered  in very effective manner so as to avoid the malfunctioning/probable breakdown .The problem is very dominant in the winter season with humidity playing a big role. Localized drain pots /moisture separators can be a very useful
The  challenge of moisture in process and Inst air
Generally the Compressors or the air supply equipment's are supported with the desiccant type air dryers .this always solves the problems of removing the moisture content in the air.The above statement is very correct if the distance between the compressor house and the usage point is small.But it is  observed that
The moisture content problems are more when
Distance between the compressor house and the usage point is longer
When dryer is not working properly
The desiccant chemicals/other drying media have seen their life.
More than designed tapping points are taken in the air line.
These are some of the problems associated with any industries employing pneumatic system.The problem of moisture /water content needs attention for efficient functioning of system
The  Basic Design of In-house Moisture Separator
The moisture separator can be made in-house with the available inventory or even the removed items from scrap.The material required for this is
1.Old pipe (50-100 mm Dia)
2.Manual Valve (2 Nos-size ½ ")
3.Manual valve with on/off Actuator (1 Nos-size ½ ")
4.Hardware like nipples,fittings (1 set)
As depicted in picture the pipe can be closed at both the ends by welding the ends with plate.The inlet valve is fitted to the lower portion of the pipe and the outlet valve and nipple is placed at the top end of the pipe.The drain valve is placed at the bottom end plate and if required we can have electrically operate the valve through a PLC system or we can have operate the valve manually as option.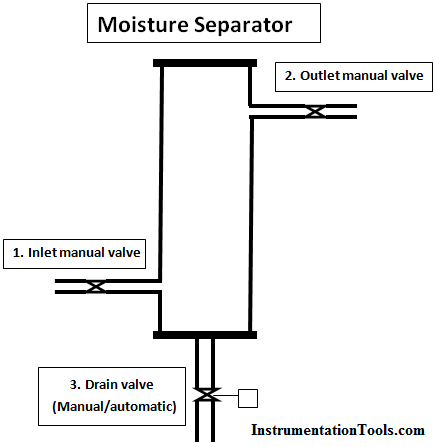 Application:
The moisture separator /pot can be used at the common inlet of air source at the usage section.
Like inlets of bag filters, sampling system,power cylinders etc.The drain will act as moisture separator for the equipment using the air either process air or instrument air.The above inhouse solution can be very effective to tackle the removal of moisture.
Benefits:
The benefits if listed are as below
1. No fresh investment from market,only used/removed parts can be used .
2. Additional precaution for air quality.
3. Increased creativity.
4. Kaizen example for team.
Article Written by: 
Sh. Pravin V. Maheshkar
Management & technical consultant/trainer  Freelance
Previously Manager –Inst  & Business excellence
(Hindustan zinc ltd ,Echjay steels ltd,total:23 yrs)