In general, there is no particular standard and codes that oblige the user to use certain oil in water sensor technology such as Infrared, solid state sensor, UV fluorescent, etc, . But so far, the most popular oil in water analyzer technology for offshore application is UV fluorescent sensor technology. UV fluorescent technology becomes most popular due to its long life time of its UV source and easiness of operability and maintainability of the equipment. Another consideration is that the UV fluorescent sensor technology has a high sensitivity and low measurement limit compare with other technology.
The operating principle of this oil in water UV fluorescence analyzer is utilizing a light emitting source to excite the oil molecule to a certain energy level. This excited oil molecule will emit back the light in lower wave length due to a relaxation state before. This emitting light is then called fluorescence light. Each oil molecule has a specific fluorescence wave length light. In this way the oil presence can be accurately detected by a fluorescence sensor.
See below picture showing an illustration of the fluorescence process.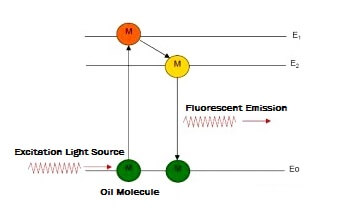 Article Source : Instreng