First I will list the proof/recommendation I found in vendor literature and also during one of the projects this was vendor recommendation for full vacuum condition.
As always it isn't good to accept anything without reason and logic so I have compiled possible reasons I could find for such installations/recommendations.
In FULL Vacuum Condition, MOUNT THE REMOTE DIAPHGRAM SEAL TRANSMITTER BELOW LOWER TAPPING.
Remote Diaphragm Seal Transmitter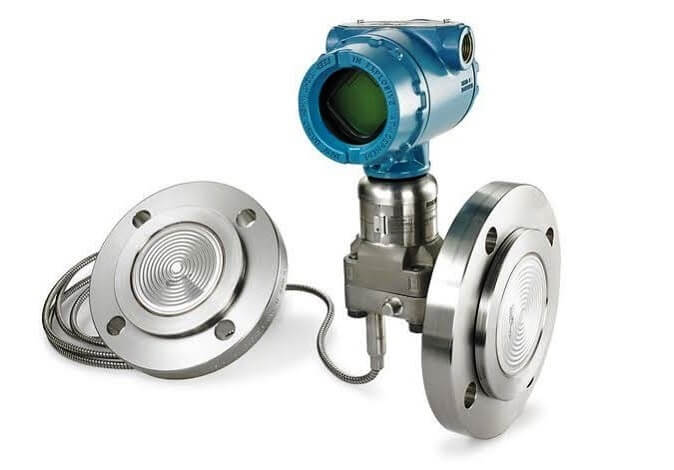 1) Let's start with BADOTHERM recommendation
Refer below the catalog front page and the snap of diaphragm seal installation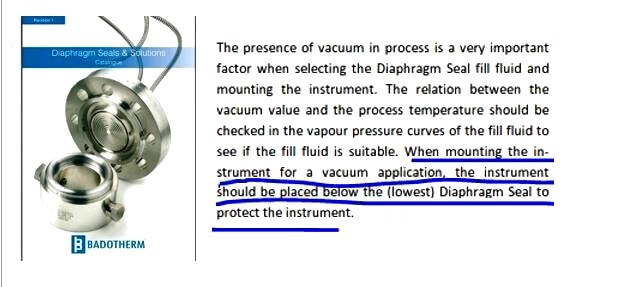 Reference: badotherm
2) Next EMERSON recommendation
Emerson Vendor recommendations /literature
Here's the link for reference (refer below sanp from below link that states for vacuum application the diaphragm seal must be below lower tapping point.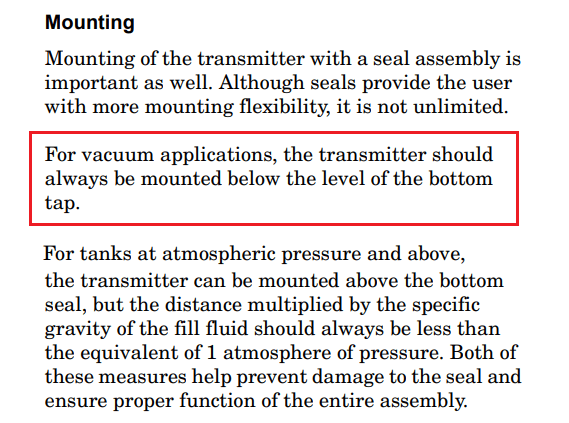 Reference: Emerson
NOW THE BEST PART WHY SO?
When it comes for reason for doing so they are related but slightly different so I have list all reason I could possibly find.
# REASON 1 (BOILING POINT DECREASES WITH DECREASE IN PRESSURE)
For example, water boils at 100°C at atmospheric pressure (101,325 kPa); at absolute vacuum, it boils at 0°C. This combined effect of pressure and temperature exists for all fluids and is as such a predominant factor for the selection of the Diaphragm Seal fill fluid.
Similarly,
The hard vacuum also caused the seal fluid in the level transmitters to boil (remember that boiling point is dependent upon pressure—with a decrease in pressure, the boiling point also decreases) and creates bubbles in the capillary.
# Reason 2 (TO MAINTAIN POSITIVE PRESSURE AT TRANSMITTER SIDE)

Take this example for DP level transmitter if our lower nozzle is at the bottom of the tank but our transmitter is 50 inches below. So at zero level when no pressure is experienced at the lower nozzle still the transmitter has to be calibrated for it (zero suppression). Similarly when Full vacuum is created the would still be some positive pressure acting on the transmitter
Refer vendor explanation above
# Reason 3 (BUBBLES TEND TO EXPAND SIGNIFICANTLY AS ZERO IS REACHED)
(I am personally not completely convinced by this reason but regardless I have listed it )
This is due to the fact that most fill fluids contain microscopic amounts of air or trapped gases, which tend to expand significantly as a pressure of absolute zero is approached.
So what it concluded from this explanation is as the positive head is maintained it opposes the expansion of these bubbles.
PS: This is as per best of my understanding I still have a long way to go but this is an attempt to share along the way what I am learning.
If anyone is clear about this concept please comment and correct or message personally if this needs correction I would be very grateful!
Credits:- Mick Vermeer who first introduced me to this concept !!!
Hope this helps !!!
Author: Asad Shaikh
Profile: Linkedin
Read Also: