In FOUNDATION Fieldbus systems (Note1), where a special software function block called "SPLT" exists to provide split-ranged sequencing to two valves.
The "SPLT" function block takes in a single control signal and outputs two signals, one output signal for each valve in a split-ranged pair.
Note 1 :  To review, Fieldbus is an all-digital industrial control protocol, where instruments connect to a control system and to each other by means of a single network cable. Signals are routed not by specific wire connections, but rather by software entities called function blocks whereby the engineer or technician programs the instruments and control system what to do with those signals.
Also Read : What is Split-Range Control ?
The function blocks shown in this example would typically be accessed through the graphic display of a DCS in a real Fieldbus system, lines drawn between the blocks instructing the system where each of the instrument signals need to go.
Foundation Fieldbus Split Range Valves
The function block diagram for such a system appears here: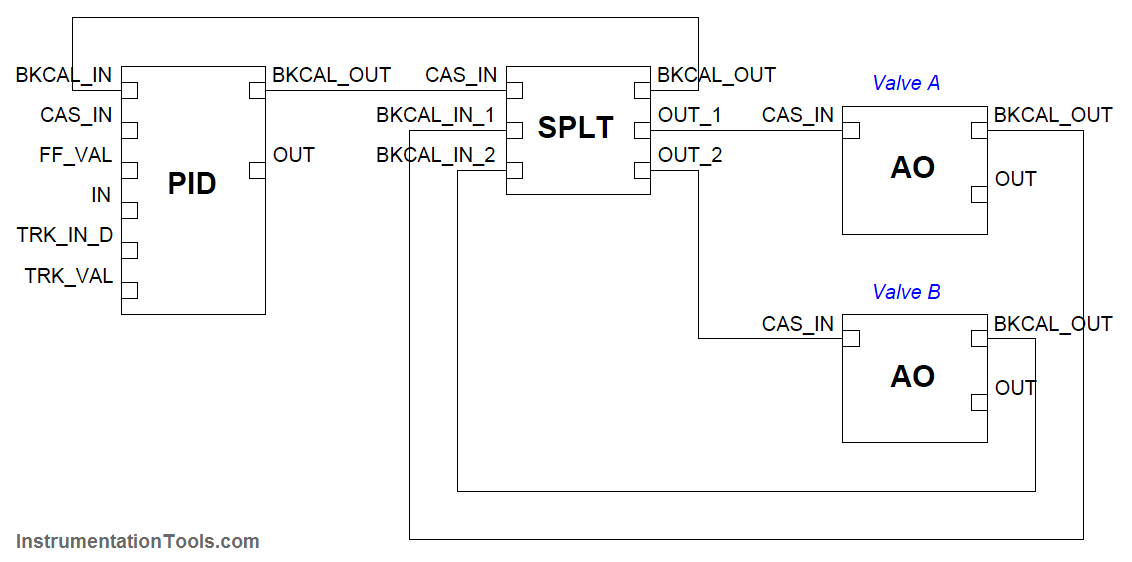 In this Fieldbus system, a single PID control block outputs a signal to the SPLT block, which is programmed to drive two unique positioning signals to the two valves' AO (analog output) blocks.
It should be noted that while each AO block is unique to its own control valve, the SPLT and even PID blocks may be located in any capable device within the Fieldbus network.
With FOUNDATION Fieldbus, control system functions are not necessarily relegated to separate devices. It is possible, for example, to have a control valve equipped with a Fieldbus positioner actually perform its own PID control calculations and split-ranged sequencing by locating those function blocks in that one physical device!
Articles You May Like :