Some of the common materials used in instrumentation cable design are PVC, PE, XLPE, LSZH, mica tape, steel wire armoring, metal braid, and lead alloy sheath.
Cables Materials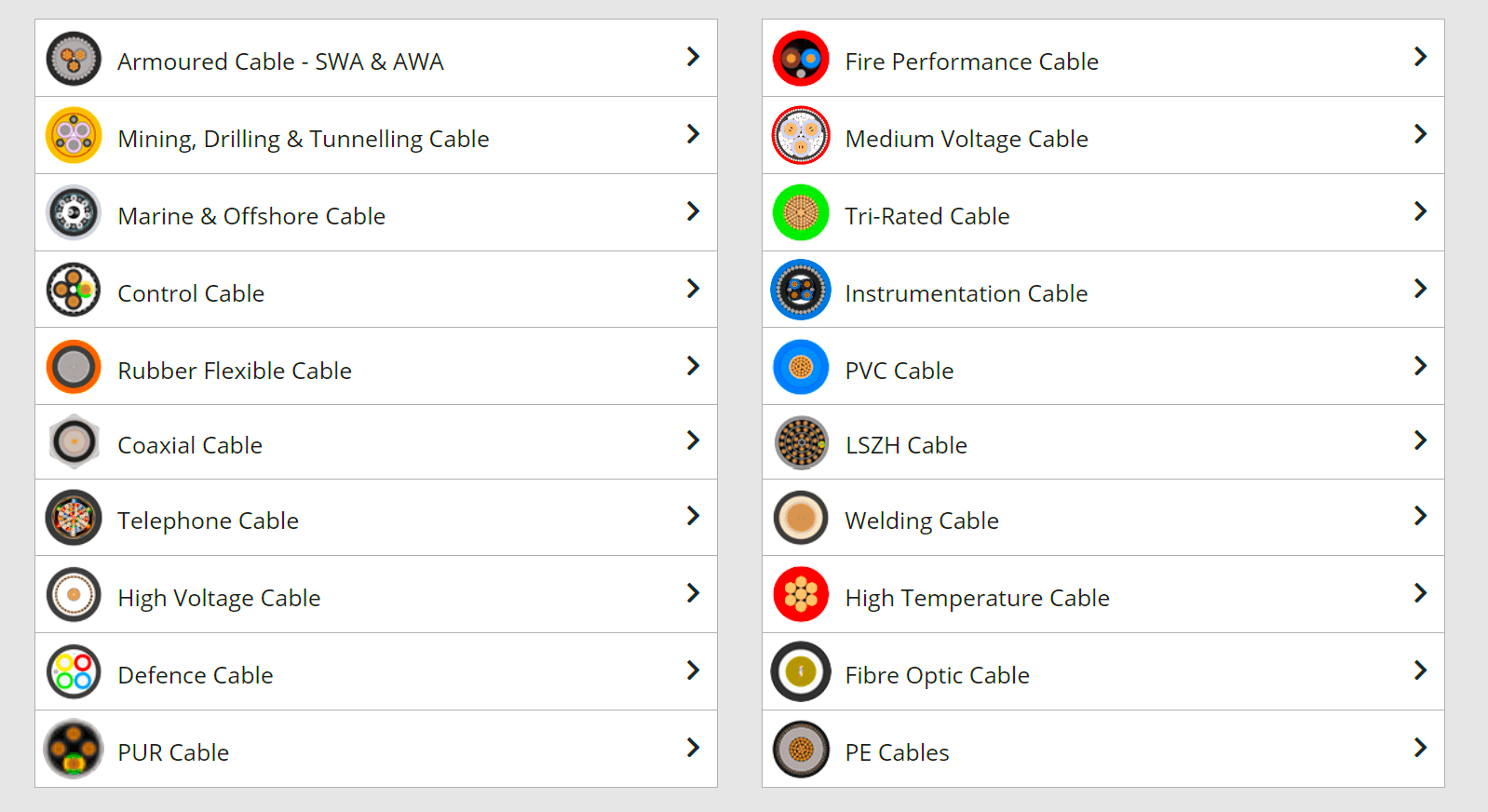 Polyvinylchloride (PVC)
Polyvinylchloride (PVC) is used as either an insulation material or as a sheathing material. PVC is a highly versatile material that has traditionally been used extensively across the cable industry. It is flame retardant and self-extinguishing.
PVC can be modified for a variety of applications including indoor and outdoor use, in wet and dry conditions, in conduit or direct burial, and for both high and low-temperature applications.
PVC also has resistance to a wide range of chemicals including some oils and solvents. PVC is replaced in certain applications by low-smoke, halogen-free materials, where there is a substantial risk to life and equipment in a fire situation.
Polyethylene (PE)
Polyethylene (PE) is used as either an insulation or sheathing material. It has excellent chemical resistance, including oils, and extremely low water absorption. It also has superior mechanical strengths and good low-temperature resistance.
PE cables tend to be somewhat more rigid due to the hardness of the PE material and are not flame-retardant. Due to its flammability, PE sheathing is generally used with cables for outdoor applications or for direct burial.
Cross-linking Polyethylene (XLPE)
Cross-linking PE improves the performance of the cable, increasing the temperature and chemical resistance. XLPE material is used mainly as an insulation material.
Low Smoke Zero Halogen (LSZH)
Low smoke zero halogen (LSZH) materials are used in place of PVC materials where there is a significant risk to life and equipment in fire situations. These cables do not produce halogen acid gases when they burn and do not release the significant levels of dense black smoke that the PVC equivalent materials would in the event of a fire.
Various additives can be added to these materials to improve resistance to chemicals including oils and solvents. Silicone rubber is used in applications where there is a need for extended temperature ranges, suitable for applications from -90°C to 180°C.
Silicone rubber is also used widely where cables are required to maintain circuit integrity under fire conditions.
Mica Tape
Glass-backed mica tape is extensively used in fire-resistant cables due to its exceptional performance as an insulation material in a fire situation.
Steel Wire Armouring (SWA)
Steel wire armouring (SWA) is used to offer a significant degree of resistance to mechanical impact.
SWA is composed of either round steel galvanized wires or flat steel galvanized wires helically wound around the bedding covering the insulated conductors.
Single or Double Layer of Metal Tape
Metal tape of either steel or brass is longitudinally wrapped around the bedding covering the insulated cores. This cable whilst offering a tough tight covering seal over the cores is also somewhat less flexible than the SWA version.
Tapes offer the most complete coverage. Steel tapes provide the best inductive protection whereas brass tapes are most frequently used for rodent protection.
Metal Braid
The braid is either galvanized steel or plain or tinned copper wires. Braiding these fine wires makes the cable more flexible and lightweight than the other means of mechanical protection, SWA, and metal tapes.
Lead or Lead Alloy Sheath
Lead sheathing offers the best protection against oils and chemicals and is essential where there is constant exposure to heavily polluted mud with hydrocarbon content.
Lead alloy is a lighter alternative to the chemical barrier offered by lead, it is frequently used in areas of high vibration.
Source: Elandcables