The CCNP R&S certification validates the competence and skills of network engineers. This credential is aimed at those professionals who desire to take up a job role in planning, verifying, troubleshooting and implementing local and wide area enterprise networks.
Cisco CCNP R&S Certification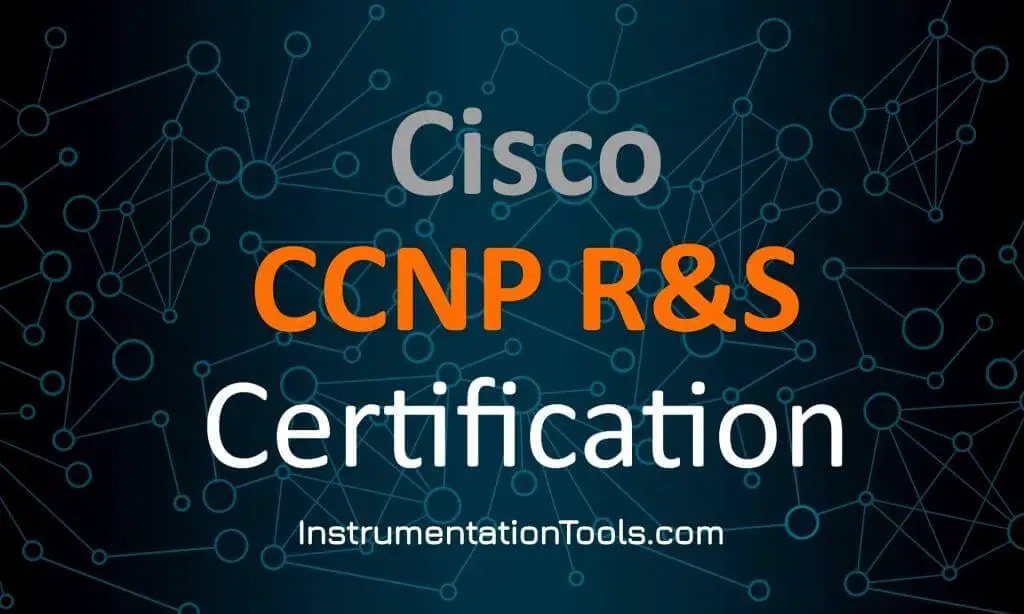 The certification contents offer the candidates the training and knowledge they need to develop best practices and hands-on experience. The CCNP R&S certificate is a job-role focused credential that uses lab-based learning to enables the students to optimize their skills and knowledge investment while enhancing their enterprise network skills value.
The ExamSnap.com (Cisco Certified Network Professional Routing and Switching) credential is intended for those network professionals who have a minimum of one-year experience in networking and who are ready to boost their career while working independently on the Cisco network systems.
The certification verifies one's skills and knowledge to plan, troubleshoot, implement and verify LANs (local area networks) and WANs (wide area networks) at the level of an enterprise network. It validates that the professionals can efficiently collaborate with other specialists on wireless, advanced security, video and voice solutions.
The CCNP R&S certificate holder scan be successful in the enterprise-level networking job positions, such as a network engineer, a systems engineer, a network administrator and a network technician.
CCNP Exam Details and Objectives
The candidates planning to pursue the CCNP R&S credential must be ready to go through the process that includes passing three different exams. They are Cisco 300-101 ROUTE, Cisco 300-115 SWITCH and Cisco 300-135 TSHOOT.
Each of these tests comes with their individual objectives and the students are required to go through all of them before writing the exam(s).
The Cisco 300-101 ROUTE exam is made up of 45 to 65 questions and the duration for the completion of the test is 120 minutes. It is available in two languages such as English and Japanese. To register for the exam, the candidates have to pay the fee of $300.
The Cisco 300-115 SWITCH exam consists of 30-40 questions and you have a total of 120 minutes for their completion. The test can be also taken in two languages: Japanese and English. To register, you are required to pay the exam fee of $300.
The Cisco 300-135 TSHOOT exam comes with 15-25 questions that should be answered within 120 minutes. The certification test is available in the English and Japanese languages. As with other two exams, you have to pay the sum of $300 as the exam fee before you can complete your registration for this test.
It is essential to mention that you can write ROUTE first before SWITCH and vice versa. TSHOOT is the last exam you have to write to earn your certification.
The CCNP R&S exam formats consist of multiple-choice questions, drag and drop, fill-in-the-blank, simulations, simlets and test lets. You can go through the Cisco exam tutorial on the certification page to learn more about the format of the tests and how to prepare to answer them.
To pass the CCNP R&S exams, you are required to score at least 75% of the total exam questions. It is important to mention that Cisco does not usually publish its exam passing scores as well as the details of its questions because these can change without any prior notice.
There are specific skills that are validated by the CCNP R&S certification. The candidates are required to cover these areas in preparation for their exams. The professionals planning to earn this Cisco professional-level certificate must be able to carry out the following tasks:
Configuration and implementation of EIGRP-based solutions
Development of multi-area OSPF Network as well as configuration of OSPF routing
Installation of IPv6-based solution and documentation of the implementation results
Configuration ofeBGP routing and implementation ofeBGP-based solutions
Configuration and implementation of IPv4/IPv6 redistribution solutions
Creation of Layer 3 Path Control Solutions along with broadband connections
Implementation of Security Extension of the Layer 2 solutions
Establishment of the required resources and implementation of VLAN-based solutions
Configuration and design of Switch-based Layer 3 services
Implementation of advanced VoIP, wireless and video support solutions
Implementation of High Availability and confirmation of utilizing show and debug commands
Maintenance of network and development of plan to monitor the performance
Troubleshooting OSPF, NAT and EIGRP (multi-protocol systems)
It is essential to mention that the fee for each exam is per single attempt. This means that if you fail the test you have registered and paid for, you will have to pay another exam fee to retake it.
Exam Prerequisites
The professionals seeking to earn the Cisco CCNP R&S certification must have earned the CCNA R&S credential first. This is very crucial as the candidates who do not have this associate-level certificate will be required to take the required exam(s) for CCNA first and pass them before attempting the CCNP R&S tests.
It is also recommended that the students have between one to three years of networking experience before writing the exams. This is to equip them with the foundational knowledge and skills required to understand the contents of the certification tests.
Exam Training and Courses
In preparation for the CCNP R&S certification exams, it is crucial to engage in serious study to increase your chance of success in the test(s). There are various training and courses related to the ROUTE, SWITCH and TSHOOT exams that you can explore online.
You may want to start your study from the learning platform offered through Cisco. The Cisco Learning Network offers the candidates details of the tests as well as some recommended materials to help prepare for the exams.
In addition to this website, there are online platforms that offer video tutorials and other preparation tools for the CCNP R&S exams, such as ExamSnap, Exam-Labs, PrepAway, ExamCollection, etc.