In this article, you will learn the different types of temperature calibrations, their working principle, advantages, and disadvantages.
Temperature Calibrators are categorized into
Temperature Sensor Simulators and
Physical Temperature Sources.
Temperature Sensor Simulators
The temperature sensor simulators are only of a few types.
These sensors are clear and make it easy to understand the difference.
But some sensors are precise and they may feel some difficulty in visualizing the difference.
Temperature Sensor Simulators are further classified into
Bench Top Temperature Sensor Simulators
Portable Temperature Sensor Simulators
Documenting Process Calibrators
Bench Top Temperature Sensor Simulators
These are also known as Multi-Function Calibrators or Electrical Calibrators.
These Bench Top simulators are specially designed for the laboratory where calibration is only performed in the laboratory.
These Bench Top simulators are used for testing and calibrating readouts, indicating measured temperature.
A Bench Top simulator produces high measurement accuracy.
Compared to portable simulators these bench-top simulators provide more measurement functions.
A benchtop simulator includes a lot of additional electrical calibration output signals.
These electrical signals can be used to calibrate, & test all types of electrical measurement devices such as hand-held multi-meters, temperature readouts, and displays.
Portable Temperature Sensor Simulators
Portable temperature sensor simulators are smaller in size.
These are easy to handle & provide easy transportation.
These simulators run on a battery power supply.
They can be used to check temperature sensor circuits such as 4-20 mA transmitter systems in the production area (On site), oven displays, & PLC systems optimized for this work.
The Documenting Process Calibrators (DPC)
These Documenting Process Calibrators are considered powerful portable simulators.
These DPC calibrators have a lot of software options, & various features to adopt the calibration needs of industrial processes.
Some DPC calibrators run automated test sequences, record results, and control other test and calibration instrumentation.
These connect to data systems that are commonly used in factories and industrial process control.
Physical Temperature Sources
Physical Temperature Sources are broadly categorized as
Dry-Block (Dry-Well) Calibrators,
Thermocouple Furnaces or Ovens,
Temperature Baths,
Infrared Calibrators,
Test Chambers,
Temperature Fixed-Points.
Dry Block Temperature Calibrators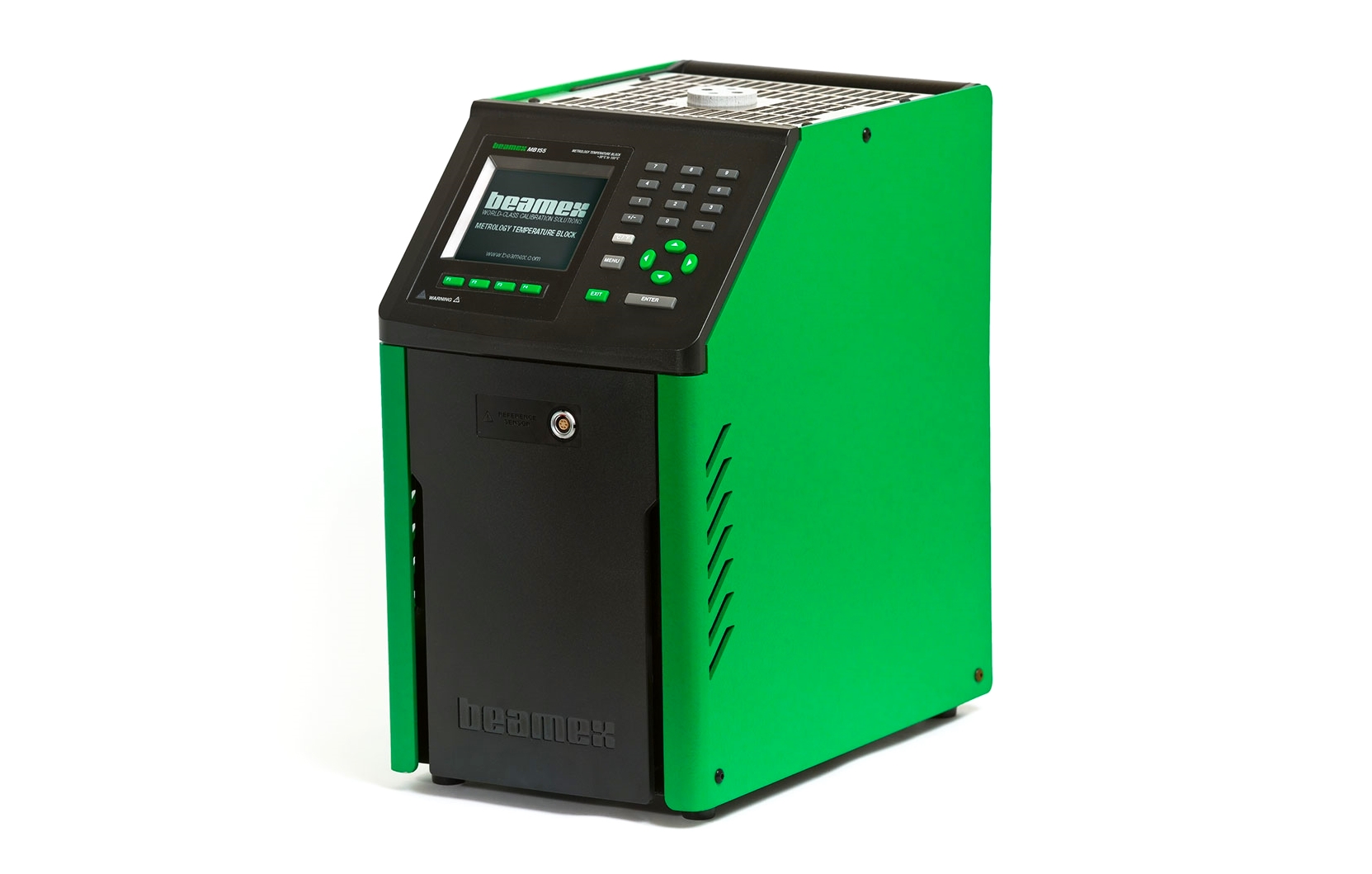 The name Dry Block implies that these calibrators do not use any fluid to perform calibrations.
The calibrator metal block gets cooled or heated up when the device under test such as a temperature probe or sensor, is inserted in it.
Generally, A dry block calibrator consists of an internal sensor, & a readout screen to indicate the temperature of the Device Under Test to be compared.
A reference thermometer is inserted in dry-block calibrators with enough measurement wells to obtain minimum uncertainty.
Some dry-block calibrators are built with readout and reference thermometer input for minimum uncertainty measurements where external thermometer readout is not required.
The Dry Block calibrator readout display indicates both temperatures for comparison.
Thermocouple Furnaces or Ovens
A thermocouple furnace is another type of dry-block calibrator for temperatures above 500 Degrees Celsius.
This is called a "Thermocouple Furnace" because most RTDs and PRTs are not suitable for extremely high-temperature ranges.
Metrology Well
Metrology well is another member of the dry-block calibrator family.
This is suitable for high-accuracy measurements.
Metrology well uses zone-controlled heaters for better Axial and Radial specifications than Dry well.
Types of Metrology Wells
Metrology wells are categorized into 
Lab grade models.
Field grade models.
These field-grade model Metrology well are available with a process electronics option to provide a 4 to 20 mA loop circuit for testing and calibrating measurement systems of range 4 to 20 mA.
Thermocouple & RTD input is proposed to minimize the number of instruments needed to do on-site work.
Advantage of Dry Block Calibrators over Simulators
Dry Block Calibrators provide actual temperature calibration of the sensor.
Minimizes risky sensor errors.
Dry blocks are generally more portable compared to simulators.
These do not require any kind of fluids.
A simulator can only simulate the sensor.
Dry blocks move from one test temperature point to another more quickly.
Dis-Advantage of Dry Block Calibrator
Temperature sensors drift over time.
They need to be checked continuously.
Less accurate compared to temperature baths with a reference thermometer.
Measurement of odd-shaped sensors is Difficult, & impossible in a dry block.
The difficulty of sensor fitting in metal blocks, & test inserts with a snug fit.
Temperature Bath Calibrators
Temperature Bath Calibrators perform calibrations using stirred fluid in a tank as a transfer medium.
Requires fluids of various types, based on application and calibration.
Temperature bath calibrators heat or cools the fluid to the required test temperatures.
These calibrators consist of a built-in temperature control system to display bath temperature.
Some calibrators are designed with an external thermometer system for accurate measurement of bath temperature.
The uniformity, & Stability of temperature baths are so well such that a high-grade thermometer is best suited for low uncertainties.
Temperature baths calibrators are more accurate with external reference sensors compared to dry blocks.
Generally, fluid tanks offer more space for the simultaneous calibration of maximum sensors.
A fluid tank also offers simultaneous calibration of odd or large-shaped sensors.
However, calibrator stability is temperature baths shift one test temperature point to the other test temperature point slowly consuming more time compared to dry block calibrators.
Infrared Temperature Calibrators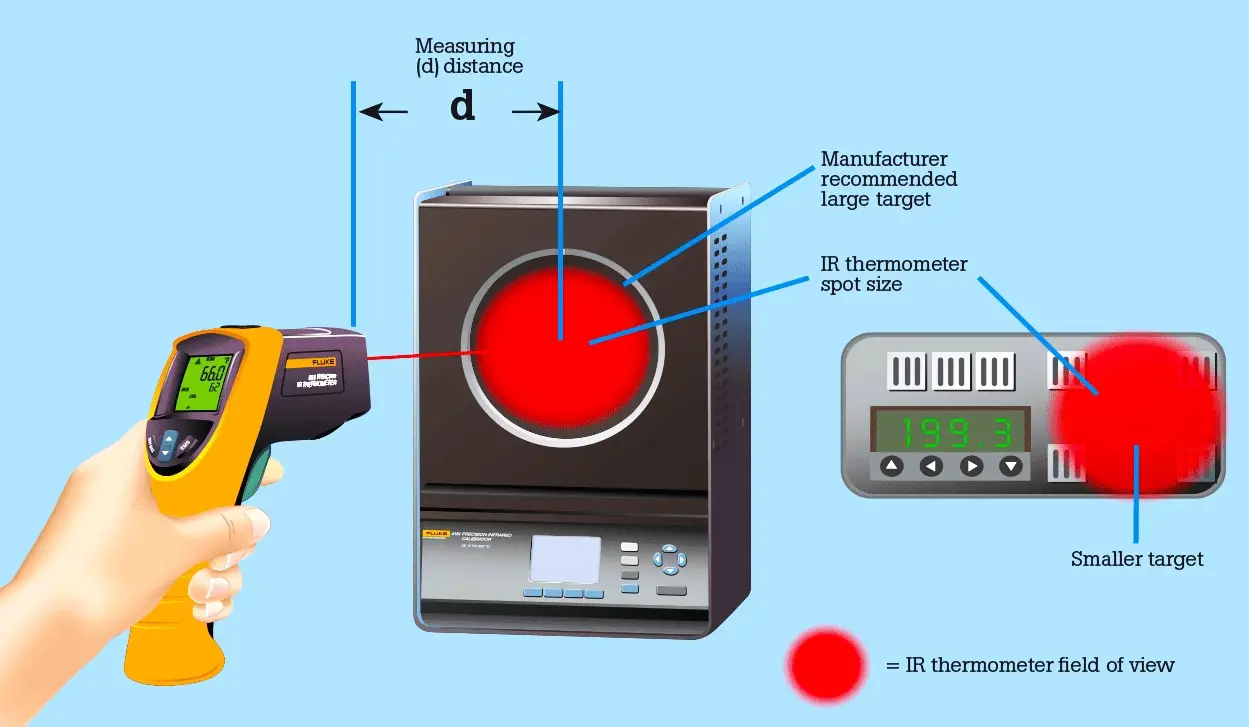 Infrared temperature calibrators' uses a flat-plate metal disc or cavities heated or cooled to various temperature test points.
These are used only for calibrating temperature sensors based on infrared systems.
Calibration can be performed using the infrared measuring device to measure the radiated temperature of the black body.
Black body infrared calibrators challenge thermal radiation.
Some infrared calibrators use reference thermometers such as PRT or thermocouples.
The problem with infrared calibrators is the variation in emissivity.
Infrared Temperature Calibrators are calibrated radio-metrically which means these are calibrated with a reference IR thermometer.
Temperature Fixed-Points
Temperature Fixed Points are temperature points based on the natural freezing and melting temperatures of pure materials.
The melting point of water is considered a usual fixed point
most laboratories used water ice baths to investigate thermometers and sensors at 0 °C  for calibration.
These calibrators are special devices required for calibrating Standard Platinum Resistance Thermometers.
This calibrator provides a triple-point of the water temperature of about 0.01 °C.
Advantages of Temperature Fixed Points
They are fairly, & easy to build,
They provide very good accuracy.
Disadvantages of Temperature Fixed Points
Change in temperature points if not built properly.
The water boiling point is much more sensitive to altitude, hence it is hard to use
If you liked this article, then please subscribe to our YouTube Channel for Instrumentation, Electrical, PLC, and SCADA video tutorials.
You can also follow us on Facebook and Twitter to receive daily updates.
Read Next: