The Below Figure depicts the control scheme for single-element drum level control. In this configuration, only the water level in the drum is being measured (hence the term " single element" ) . LT- 1 is an electronic differential pressure transmitter with a high static pressure range.
The high side of the transmitter is connected to the bottom of the drum. Because of the drum's static pressure, the low side of the transmitter is connected to the top of the drum above the water/steam interface. This provides a reference for the transmitter by cancelling the static pressure effect and allowing only the water hydrostatic head to be measured.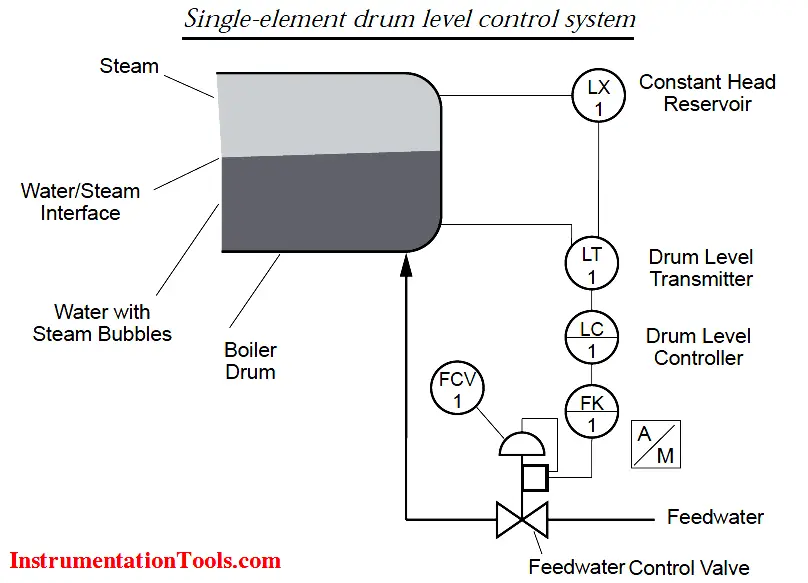 A constant head reservoir is required to maintain a consistent head in the reference leg of the transmitter. This is often referred to as a "wet leg" The output of the electronic DP transmitter is the process Input for the  Controller, (LC-1), and the output is then compared to a drum level set-point. Any discrepancy between set-point and drum level causes an output from the controller in compensation.
Because controller action is reverse, as the drum level Increases, a resultant output signal will decrease to close the feedwater control valve. The output of the Controller is fed to the feedwater control valve (FCV-1). If the feedwater valve is pneumatic, an lP (current-to-pressure) converter is required to change the Controller current output to accommodate the pneumatic valve.
Note that the response from the controller to the feedwater control valve is reactive; i.e. feedwater is added only in response to a drop in drum level. This type of control is acceptable if steam load changes are not dramatic because the controller can respond well to steady demands. In applications where steam load changes become frequent and unpredictable, a reactive strategy is better suited. This type of system requires more field devices for input.
Source : ABB