Check valve is used to stop back flow in a piping system. This is also called Non return Valve (NRV).
Types of Check Valves
Check valves are available in the following designs:
Swing Check Valves
Tilting Disk Check Valves
Wafer Check Valves
Disk Check Valves
Piston Check Valves
Ball Check Valves
Duo-Check Valves
Non-Slam Check Valves
SWING CHECK VALVE
Swing Check Valves are available in straight body design and y-pattern design. The disk is suspended from the body by means of a hinge pin and seals against the seat which is integral with the body.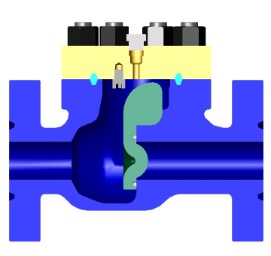 These valves are typically used in sizes 2 inches and over. Swing check valves can be installed in both horizontal and vertical position. They are not suitable for pulsating flow.
Closure response of swing check valve is slower compared to lift check valve due to longer disc travel and inertia of disk.
Industry Codes and Standards
Valve Design :     BS 1868 / API 6D
Pressure Testing : BS 6755-I
Face To Face : ANSI B 16.10
Flange Drilling : ANSI B 16.5 / BS 10 Table / DIN / IS / JIS Std.
Butt Weld End : ANSI B 16.25
Face to Face : ANSI B 16.10
Socket Weld End : ANSI B 16.11
Screwed End : ANSI B 1.20.1(BSP/NPT)
TILTING DISK CHECK VALVE
Tilting Disk Check Valves fit between two flanges and provide a compact installation for large diameter applications.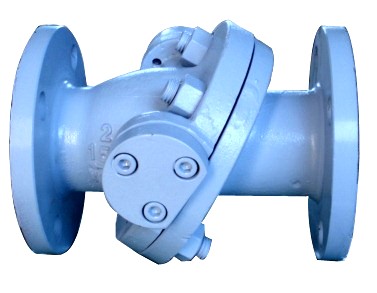 These valves can be installed in horizontal and vertical lines.
They provide a quick closing response and are particularly suited for pulsating flows with compressible fluids.
WAFER TYPE CHECK VALVE
Wafer Type Check Valve has short face-to-face dimensions and low weight allows a simple space saving installation between the companion flanges.
The valves are suitable to mounting between weld neck or slip on type companion flanges of different standards.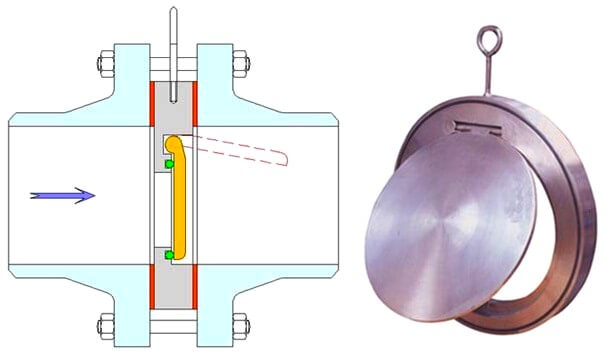 They are specially developed for applications where a low-pressure loss is essential. Opening and closing of the valve will take place at an extremely low-pressure difference over the valve disc.
The eccentric disc shaft combination with the disc seat guarantees a positive shut off returning media. Wafer check valves are becoming the preferred type of check valve for most applications, due to their compact design and relatively low cost.
DISC CHECK VALVE
The Single Disc Check Valve (Wafer Type Disc Check Valve) consists of four main components: the body, a disc, a star guide and a spring.
The Disc check valves are opened by the pressure of fluid and closed through compression spring as soon as flow stops thus preventing reverse flow.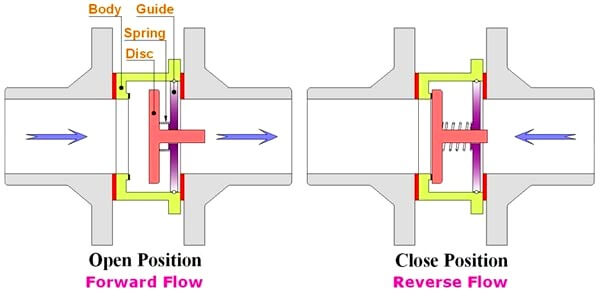 The design of Wafer Design, Sandwich Type Single Disc Spring Loaded Check Valves allows them to be installed between any flanges of different standard and in any position; including vertical pipelines where the fluid flows downwards.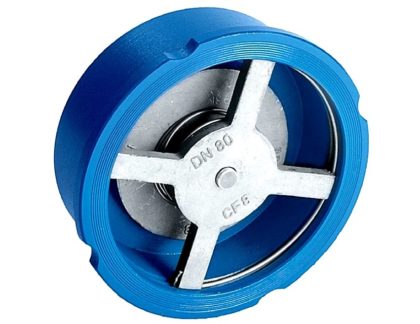 PISTON CHECK VALVE
Piston Check valves are generally used to protect pumps or similar equipment, allowing the flow only in one direction and preventing flow reversal due to back pressure.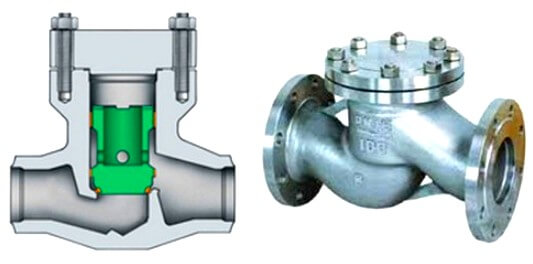 The piston check valves are designed with globe valve bodies, producing an increased drop pressure in the pipeline. This design provides a tight seal as well as a fast reaction to the closure impulse.
Metal seated check valves may not provide drop tight sealing when used in gas system or fluid system with low back flow pressure or fluids containing particles.
BALL CHECK VALVE
The ball check valve is one of the few check valves that works well in both water and wastewater applications.
Ball check valves are simple in operation and commonly used on small pumps and in low head systems.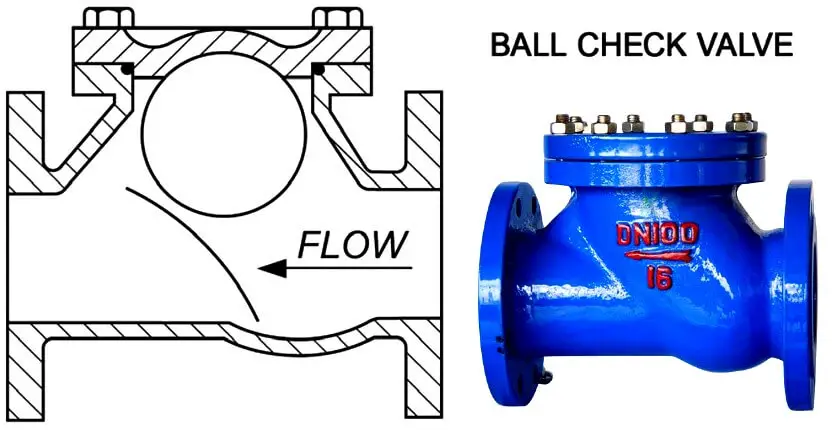 Consider adding an optional roll-bar to the piping system for safety; ball check valves have the highest tendency to slam due to the ball's high inertia long stroke.
When ball check valves encounter high pressures and dynamics, severe slamming may result.
DUAL PLATE WAFER CHECK VALVE
The Dual Plate, Wafer Check Valve employs two-spring-loaded plates hinged on a central hinge pin.
When the flow decreases, the plates close by the action of torsion spring before flow reversal takes place.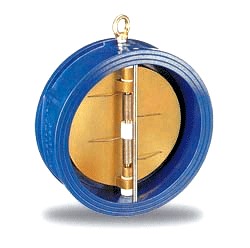 All features put together make the Dual Plate Check Valve as the most efficient & versatile design. It is also referred to as SILENT CHECK VALVE. 
It is much easier to install between standard gaskets and line flanges, and therefore is more cost effective to install and to maintain. Its design complies with API 594 and API 6D, testing with API 598.
It is also called as Butterfly Check Valve.
NON-SLAM CHECK VALVE
The swing check valve closes abruptly because of gravity, and causes pressure surge resulting in shock waves.
These high pressure waves causes sever stress on the piping system.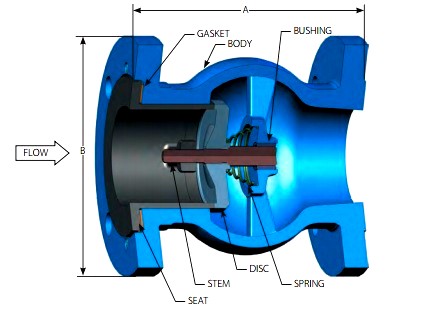 This problem can be minimized by installing a Non-Slam type check valve. Non-Slam check valve do not rely on gravity. As the upstream velocity of the fluid slows the spring assist on the valve start to close the disc.
By the time the upstream velocity comes to 0, the disc is completely closed. With the reverse flow eliminated, the force necessary to produce water hammer on either side of the valve are substantially reduced.
Read Next: