Snap-Acting Relay change ports to switch or lock in secondary air source when the main supply pressure fails below a predetermined set point.
In the event of supply or pilot pressure failure, the positive action relay with one common and two inlet or outlet ports will automatically:
Switch from main to auxiliary supply pressure
Lock an actuator in its last position
Extend or retract an actuator stem
Divert flow or pressure from one device to another
Snap-Acting Relays have an integral pilot which eliminates the extra piping and connections required with other lock-up valves. Compact and lightweight, the relays are easily piped and mounted.
Snap-Acting Relay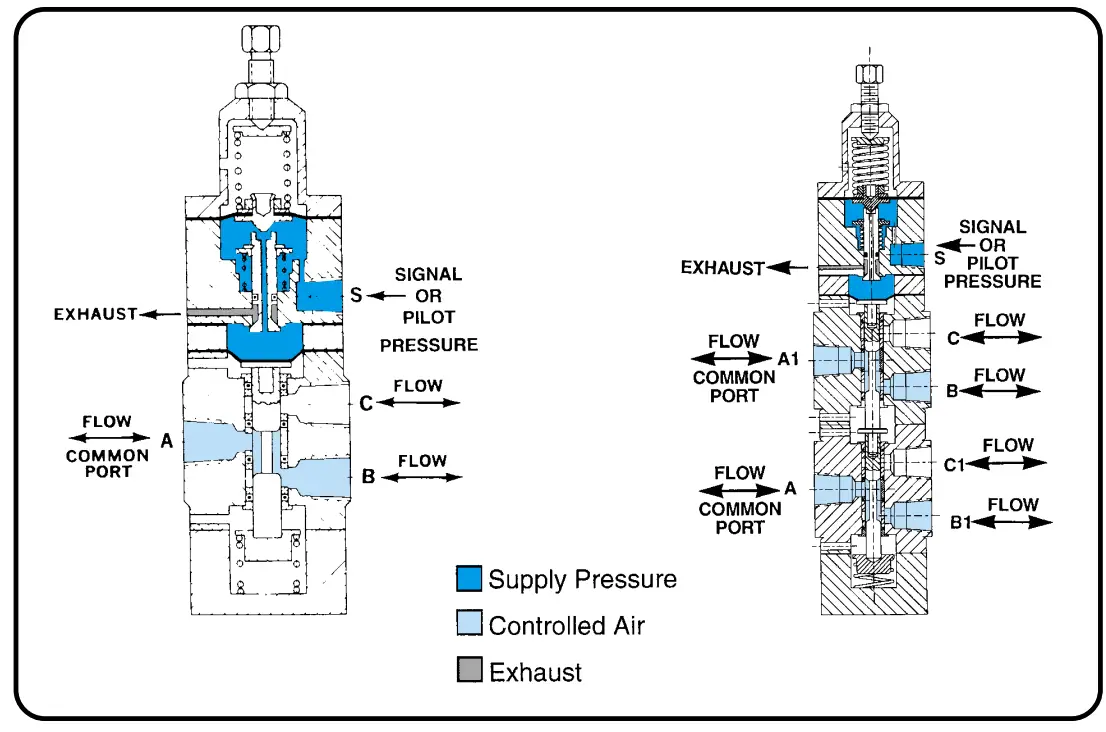 The pressure at which the relays will actuate can be adjusted to any point between 25 PSI (172 kPa) and 85 PSI (586 kPa). Signal or pilot pressure acting in the upper diaphragm overcomes the force of the spring in the bonnet and permits air to flow into the lower chamber.
This pressure buildup forces the spring-loaded spool valve to open common Port "A" to "B". When the pressure drops below the preset point, the exhaust port opens and common Port "A" is switched from "B" to "C" by releasing the spring loaded spool valve
The spool valve will return to its original position ("A" to "B" when the pressure to the pilot is less than or equal to 20% greater than the set point.
For example, if the set pressure is 50 PSI (345 kPa), the unit will return to its original position when the pressure to the pilot builds up to approximately 60 PSI (414 kPa).
Note : The above mentioned pressures are for reference only, These will change as per make/model.
Source : masonika
Articles You May Like :