Instrumentation Word Game is a puzzle to find hidden technical words in a grid of jumbled letters. Improve your memory power and learn the basics again.
The definitions of the words will be displayed at the bottom of the puzzle whenever a new word will be revealed.
Supported Platforms:
Only Desktop or Tablet.
Not supported for Mobiles.
For Android Mobile Users: Download Instrumentation Game
Choose the level difficulty. Select one of the below options to start the puzzle game.
Tip: Zoom the puzzle game using +A And -A  as per your screen size before the start.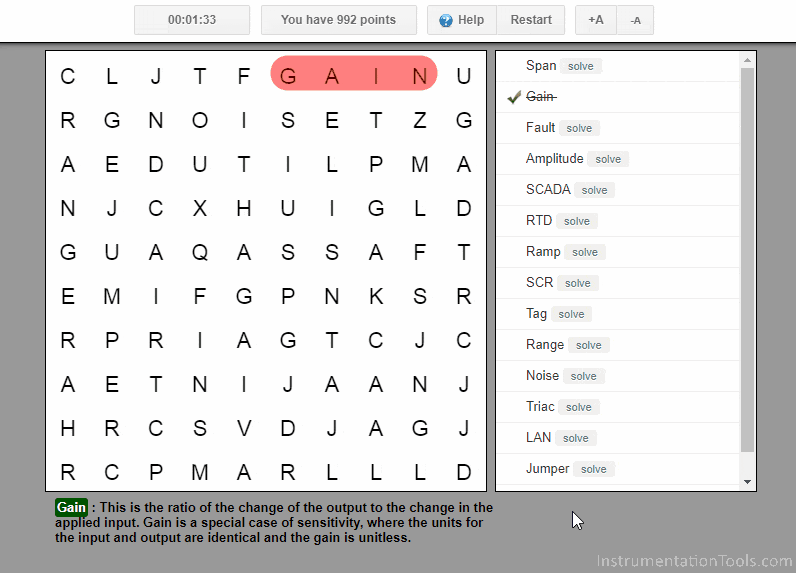 Note:
You will have a total of 1000 points during the start of the game.
Find and mark all the words inside the box before your points fall to zero.
The words may be horizontally, vertically, diagonally and even backwards.
If you give up searching for a word use the "Solve" button next to the word.
A timer will starts automatically and your points will be deducted after every 5 seconds.
When you found a word then you will be awarded with points.
You can use +A and -A to increase or decrease the font size of the puzzle.
The list of words displayed on the right-side. Find them in the puzzle.
There is no sequence in finding a word. You can find any word.
Words will be updated after clicking on "Restart".
This is a inital version of game. We will improve the game settings and contents in the next versions.
Share your game experience with us through below comments section.