A proximity Switch is a sensor able to detect the presence of nearby objects without any physical contact.
Application

:-
Proximity switches provide better alternative to the conventional electro-mechanical limit switches for position sensing. It is a best solution to all linear / rotary counting applications. They find wide applications in Machine tools, Foundries, Rolling mills, Automobile, Textile, Pharmaceutical, Material handling and all automation systems in general.
Construction

:-
The Proximity Switches are generally available in tubular enclosures with diameter from 4 mm to 140 mm. These enclosures are made of Stainless Steel, Nickel Plated Brass Tube or Engineering Plastics as required by the application.
These switches are totally epoxy potted to meet IP-67 grade of protection. The switches are also available in various other shapes such as Rectangular, Slot, Block, Button and Insert type modules. Our Proximity Switches meet CE requirements.
Also See: Proximity Switch Animation
Types of Proximity Switches:-
A critical element of sensing, automation & control, Proximity Switches are available in Inductive, Capacitive, Optical, Ultrasonic & Magnetictypes based on the object sensing principle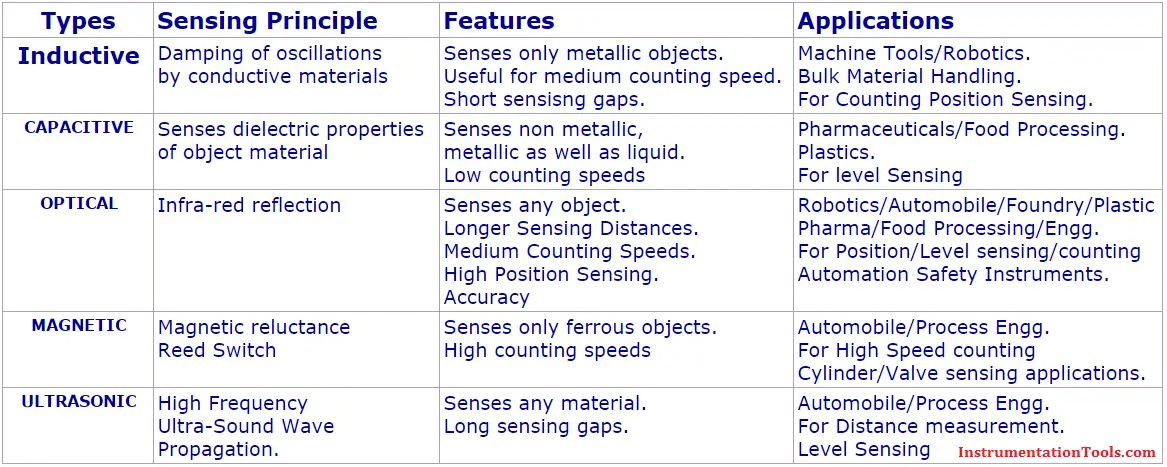 Advantages:-